Not The Worst News For 'You're The Worst' Fans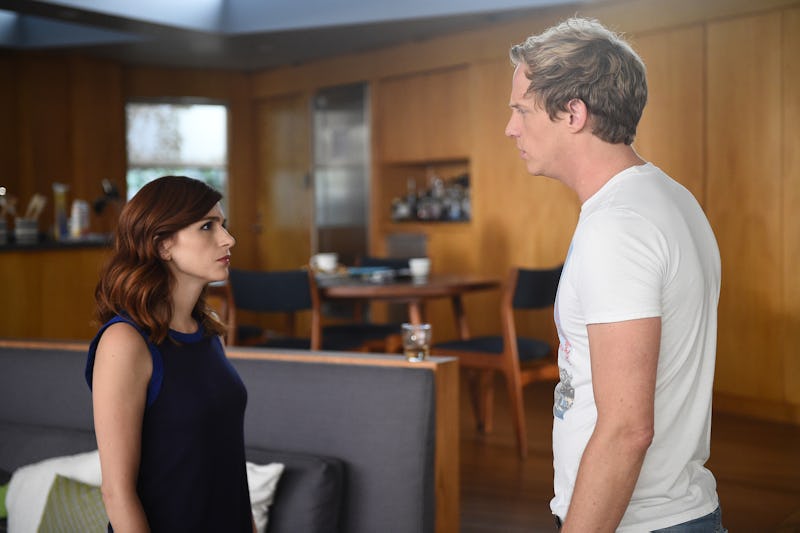 I've got good news, and I've got bad news for fans of You're the Worst. The good news is that two — count 'em, two — all-new episodes of the critically acclaimed FXX comedy will be airing this Wednesday, Nov. 16 at 10 p.m. ET. The bad news is Wednesday night also marks the Season 3 finale of the series. And now cue the question: When does You're the Worst return for Season 4?
And here's some more good news: FXX already announced in September that You're the Worst will indeed return for Season 4, as reported by Deadline. Though that announcement unfortunately didn't come with a specific premiere date for Season 4, it did say that the upcoming installment is slated to bow sometime in 2017. Well, it could be worse.
While we wait for the official premiere date for Season 4 of You're the Worst to be revealed, I might as well do some speculating about that date. It seems likely that Season 4 of You're the Worst will debut in the second half of the year, probably in the late summer or early fall since Season 1 premiered in July 2014, Season 2 dropped in September 2015, and Season 3 arrived in August 2016, according to TV Guide.
Now, You're the Worst is definitely one of the most unique comedies on TV today, so it's going to be hard to get through the next several months without any new episodes. But in case you haven't switched on the old boob tube or streamed something in a while, we're in the midst of another golden age of television, and networks, streaming services, you name it, are filled with comedies like You're the Worst that are existential and romantic all at the same time. Here are some of the best that'll make you laugh, cry, and have a good, long think, too.
Girls
Girls has made us ponder a lot about love and life over the past five, soon-to-be-six seasons on HBO, covering issues of gender, age, race, and much more, all through the eyes of flawed and relatable 20-somethings Hannah (Lena Dunham), Marnie (Allison Williams), Jessa (Jemima Kirke), and Shoshanna (Zosia Mamet). Just because the sixth and final season of Girls premieres next year on HBO doesn't mean that you'll stop learning from the trials and tribulations of these young women. At least you can always find Girls to stream on HBO Go, HBO Now, and some seasons on Amazon Video.
Love
This Netflix original series has such a simple name, but that's just about where things stop being easy when it comes to this comedy. In Love, whose first season is available to stream on Netflix now, main protagonists Mickey (Gillian Jacobs) and Gus (Paul Rust) deal with the ups and downs of their relationship with each other and other people. Love will build you up and break you down, just like love itself.
Catastrophe
The title of this comedy is pretty dramatic, but when you're a woman living in London who's just gotten pregnant by an American tourist who's about to head home, that can perhaps be pretty catastrophic to the life you had in mind for yourself, don't you think? Well, Catastrophe, whose first two seasons are available to stream on Amazon Video now, is all about what happens next.
Casual
Casual (Seasons 1 and 2 are available to stream on Hulu now) is a family comedy that follows a bachelor brother and recently divorced sister as they move in together and raise her teen daughter. But there's also lots of dating and relationship talk in this show. And as you may have been able to guess, keeping things casual is a lot harder than it looks.
Fleabag
Fleabag, whose first season is available to stream on Amazon Video, is all about the titular character's relationships, from lovers to family to friends to herself. As you'll see in this British series, sometimes that last one can be the hardest to cultivate and keep healthy.
Togetherness
The word "together" may be in the title of this HBO comedy, but the characters in this show usually seem on the verge of coming apart. In the two seasons of Togetherness available to stream on HBO Go and HBO Now, you'll see that a greater understanding of love does not necessarily have a direct correlation with age.
But even with all of these exceptional series at your fingertips, here's hoping that You're the Worst's signature brand of comedy returns sooner rather than later.
Images: Ron P. Jaffe/FX; Giphy (6)