10 Literary Scarves That Will Make Your Heart Warm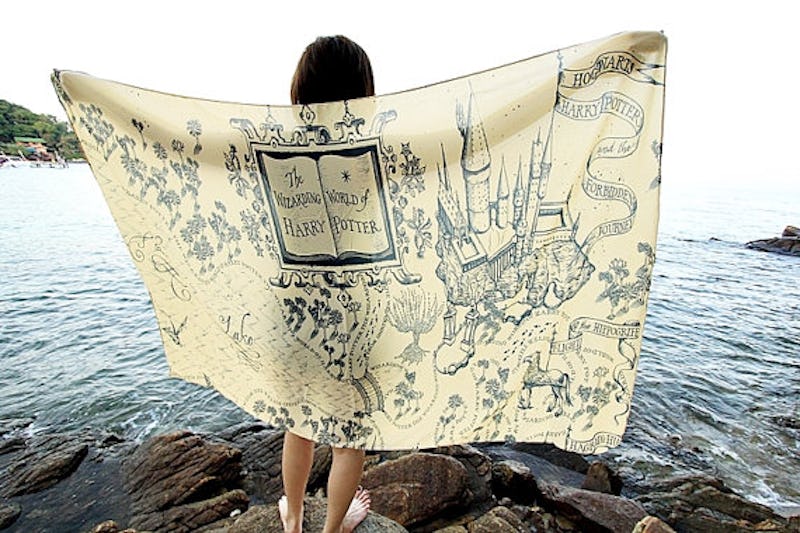 In colder seasons, your wardrobe improves by 100 percent, because you get to wear scarves. If you've ever been outside without a scarf and then added one to your outfit, you know that this can make a huge difference in terms of warmth… and, of course, style (you can tie scarves in so many different ways!). Scarves can add everything from color to texture to book references to an outfit. That's why these literary scarves are the perfect accessories for the winter ahead.
On chilly autumn afternoons, or cold winter evenings, all you want to do is curl up by the fire and read, right? However, if you must leave your reading nook and venture into the freezing outdoors, you're going to need the appropriate clothing. You're going to need a scarf. And since you have to leave your book behind (well, let's be real, your book will still be in your purse even if you leave the house), you might as well take it with you in the form of a scarf. These literary-inspired scarves will warm your neck and your heart with their book references, so you'll feel cozy all winter long.
Pride And Prejudice Scarf
I declare there is no enjoyment like reading, closely followed by the enjoyment of wrapping this Pride and Prejudice-inspired scarf around your neck. It features text from the book, and it is a truth universally acknowledged that Austen herself would approve of this scarf.
Pride and Prejudice Scarf, $48, Storiarts
Gryffindor Scarf
If you still don't have a Gryffindor scarf (or a Ravenclaw, Hufflepuff, or Slytherin scarf) now is the time to finally show your Hogwarts spirit in time for Fantastic Beasts.
Gryffindor Scarf, $29.95, Harry Potter Shop
Marauder's Map Scarf
Of course, if you already have a Gryffindor scarf like the diligent Harry Potter fan you are, check out this lovely Marauder's map scarf. It features an illustration from the Marauder's Map and is a nice size so you can drape it over your shoulders like wizards' robes.
Marauder's Map Scarf, $28, TheOhlala on Etsy
Hamlet Title Page Pashmina
This scarf has the design of Hamlet's title page, and you can choose from a variety of colors. To buy or not to buy is NOT the question, because you definitely want this scarf.
Hamlet Pashmina, $44, Cyberoptix on Etsy
Library Scarf
Check out this warm library scarf and you'll never be cold again. It will bring back memories of well-loved library classics, all while showing off your love of literature.
Library Scarf, $35, UniversalZone on Etsy
American Authors Signature Scarf
Featuring signatures of famous American authors from Frederick Douglas to Louisa May Alcott to Mark Twain, this scarf is a subtle nod to your literary favorites.
American Authors Signature Scarf, $38, ModLux on Etsy
Sherlock Quote Scarf
This cozy scarf features a Sherlock Holmes quote embroidered on soft fleece, for when you need to do some deduction but the weather is cold.
Sherlock Quote Scarf, $23.95, Nufnufcreations on Etsy
Elvish Script Scarf
Even the smallest scarf can change the course of history, right? That's probably not what the Elvish script on this scarf says, so LOTR fans will have to work out the real translation.
Elvish Script Scarf, $35.72, RoobyLane on Etsy
Catcher In The Rye Scarf
This lovely and light silk scarf is perfect for autumn days when you want to sport your love for Salinger. Its bright colors are reminiscent of the book's iconic design... and not phony whatsoever.
Catcher in the Rye Scarf, $29, Millionairefabric on Etsy
Personalized Litograph Scarf
If you want tons of options for which book to feature on your scarf, Litograph has you covered. They offer personalized scarves with book options from Wonder to The Count of Monte Cristo, so every lit-lover can find the perfect book scarf.
Litograph Scarf, $39, Litographs
Image: TheOhlala/Etsy (1)