Emily Has A Big Moment In The 'GG' Revival Finale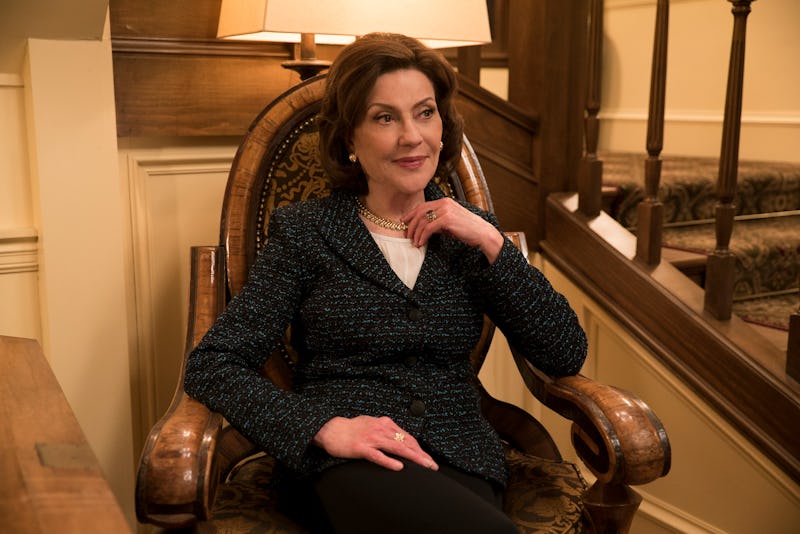 Sound the horns for the Gilmore Girls revival, because Netflix are spoiling us. While we're almost at the end of the marathon waiting-game that has been whiling away the time before the hotly-anticipated Netflix revival of the cult classic, Netflix has decided this is the best possible time to lift their review embargo. Amongst the other details that have already been revealed by reviewers is the fact that Emily Gilmore has a big moment in "Fall." Under the headline "Kelly Bishop is a national treasure," TVLine states: "A fact cemented in "Fall." I'm not going to tease what is arguably the revival's most crowd-pleasing moment — you'll know it when it happens."
This has me all sorts of intrigued: Emily Gilmore is one of the show's prickliest, but also unusually sympathetic, characters, and I'm exhilarated to hear that she'll get a crowd-pleasing moment — not something you'd necessarily associate with the complex character. On November 14, a TVLine interview was published with Lauren Graham (Lorelai), who confirmed that much of the revival with center on Lorelai and Emily's troubled relationship:
"The healing that happens between Lorelai and Emily is such a long time coming... and because Richard's absence is such a big part of our story, it really meant a lot to me to grow their relationship a little bit."
Arguably, the significant moment in "Fall" is going to finally give us the Lorelai/Emily conversation we've always wanted, something implied in the TVLine interview when Graham suggests her dialogue with Luke is fine but her dialogue with Emily is what's really watchable. Both women have historically been extremely emotionally guarded in two very different ways. Lorelai refused to broadcast how abandoned her mother made her feel and hid her feelings behind a rapidfire series of jokes. Emily Gilmore refused to even engage on the topic at all. But we're coming back to a very different family setting: the revival plans to address actor Edward Herrmann's death by mirroring it onscreen.
Richard Gilmore is dead, and Lorelai and Emily will be in the middle of grieving him. While both older Gilmore women are very comfortable in their ways, it's hard to imagine how a family death of such significance wouldn't cause a change in the way they relate to each other. After all, it stresses that life's short, and any differences in how two women conduct their lives may not be substantial enough reasons to not enjoy the mother-daughter relationship the pair could be having.
Later in the TVLine interview, Lauren Graham states "I think Emily gets Lorelai in a way that feels... like our show, but grown up." Given this and the fact that TVLine has revealed that Lorelai and Emily are in therapy, I don't think it's a stretch to assume that this important crowd-pleasing moment will center on Lorelai and Emily breaking new ground in their relationship with each other, whether in a therapist's office or while discussing Richard.
So, if you've been more preoccupied with whether Lorelai will work things out with Emily than if Rory would work things out with Jess, it looks like "Fall" is going to have you covered. Get ready for a moment that's going to give all of us navigating tricky mother-daughter relationships hope.
Images: Netflix (3)