'Empire' Tackles A Woman's Right To Privacy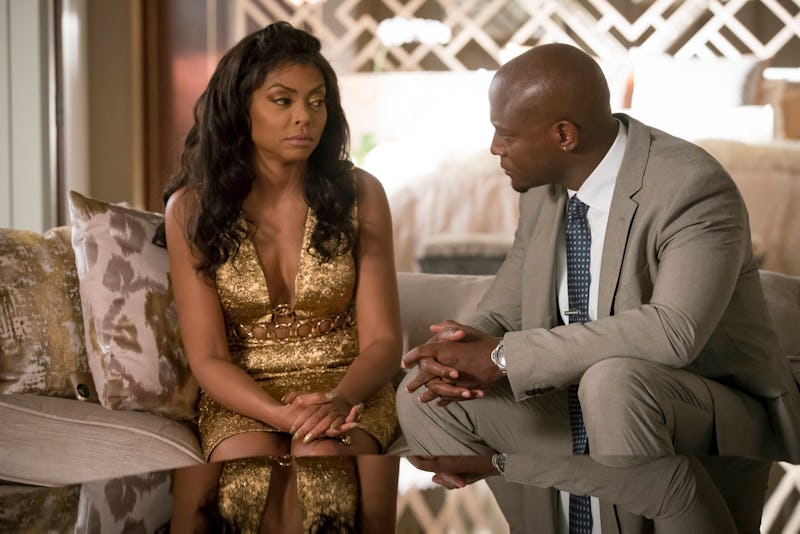 From what I've seen over the past three seasons, Empire Enterprises doesn't seem like a very friendly place for a woman to thrive. Lucious Lyon isn't exactly a respectful, loving person to his wives, girlfriends, and daughter-in-laws, but somehow, Cookie, Anika, Becky, and Tiana have carved their own path forward. Now, it seems like Empire's ladies may have their first male ally. Angelo Dubois gave an inspiring speech on women's rights on Empire , and it's only a matter of time (I think) before he and Cookie start getting serious.
Dubois has only had eyes for Cookie since they met, but her past has given her pause; how could an ex-con be a suitable choice for a man that wants to be mayor? After Empire Enterprises is hacked, documents, videos, emails, and images come flooding out. Among those, unfortunately, are nude photos of Cookie. Cookie breaks up with Dubois because of this. She doesn't want to be scrutinized for her past, and the scrutiny will certainly come in a race for mayor of New York. That's totally understandable. Why live the bad times in your life twice? Cookie has certainly been through enough, and she says that it could ruin his chances to be mayor.
After leaving a function, Dubois is asked by the press about his relationship with Cookie, and he decides that he's not going to take it any longer. Dubois tells the press that it's their fault that Cookie broke up with him, that he wanted to get to know her, and that it's all ruined now. He also says (as he begins taking off all of this clothes) that she, even as a woman, is entitled to a reasonable degree of privacy and that it's no one's business who she is dating, who she sends photos to, and what her past looks like. She should be able to do what she wants, just like a man can.
A shirtless Taye Diggs lambasting the press for women's rights? Did the writers of Empire take a peek into my dreams or what?
Cookie is, of course, watching this all of television, and she is bolstered by Dubois' words. I mean, who wouldn't be? He's showing just how much he cares for her by standing up for her in the press and potentially ruining his campaign for mayor. How will the people of New York deal respond? Well, if it were me, I would be cheering from the rooftops. Hopefully, Cookie will rethink her breaking up with Dubois and say "boy, bye" to all of the press that are trying to pry into their relationship. I can dream, and Cookie can, too.
Images: Chuck Hodes/FOX; Giphy (2)