'Empire' Opened A Crucial Conversation For Women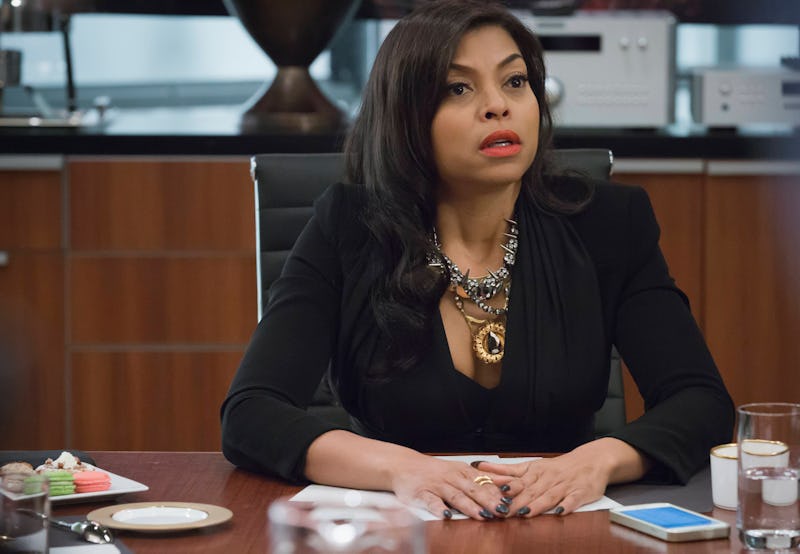 Cookie Lyon of Empire is arguably one of the most interesting characters on television today. She is instigator and soother, truth teller and liar, nurturing hand and tortured soul. Cookie is the everlasting gobstopper of Empire — every time we get to another layer, there's always something else beneath the surface. In "Death Will Have His Way," the first episode in the latter half of Empire 's second season, Cookie revealed a personal secret — she and Lucious had a miscarriage before her three boys were born.
How did we get to this admission? In winter finale, viewers saw Rhonda, Andre's pregnant wife, get pushed down the stairs of their mansion by an unknown assailant. "Death Will Have His Way" revealed the worst — though Rhonda survived, her unborn son did not, and now the whole family is in mourning. Cookie is usually a person who tries to hide her feelings, but, in this case, she seemed to feel that the only way to relate and mourn with her family was to reveal her own miscarriage. Before Andre, Jamal, and Hakeem were born, Cookie was pregnant with a baby girl — she and Lucious were so excited, and, when she miscarried, they were devastated.
The American Pregnancy Association reported that miscarriage is the most common pregnancy loss occurrence, according to the American College of Obstetricians and Gynecologists, and anywhere from 10 to 25 percent of "all clinically recognized pregnancies will end in miscarriage." So, Cookie's experience is one shared by many women.
TV shows have covered the topic before, albeit not often. For example, HBO's Big Love featured a miscarriage and Grey's Anatomy also did in their dramatic hospital shooter episode. But, Cookie's admission was a different kind for TV. Her miscarriage wasn't just a plot point. Cookie's sadness is still palpable, and even though she went on to have three healthy children, she still feels that loss. By talking about it on the show, Cookie is helping make it OK for other women to talk about their experiences and mourn them, too.
Rhonda lost her baby following her fall down the stairs, and she seems to be taking a different approach to her mourning than Cookie did. Of course, Rhonda's miscarriage was very traumatic and is still fresher than Cookie's was, since hers happened over 30 years ago, but Rhonda's go-to emotion seems to be anger, not sadness. She is angry with God for not saving her baby, even though she begged for Him to — Rhonda even told Andre, her faithful husband, that God did not exist because of it. Rhonda is blaming both herself and God for her fall, and she is angry that she has suffered this. And, you know what? That's also OK.
There's no right way to feel following a traumatic incident like a miscarriage. Cookie is still plagued by sadness, and Rhonda is angry at the loss of her baby. Every woman is different, and every pregnancy is different. This storyline of Empire is so important because it shows that there is no wrong response to this kind of tragedy; women's experiences differ — and it's OK to talk about that.
Images: Chuck Hodes/FOX (3)