Unicorn Tears Can Now Be A Part Of Your Skincare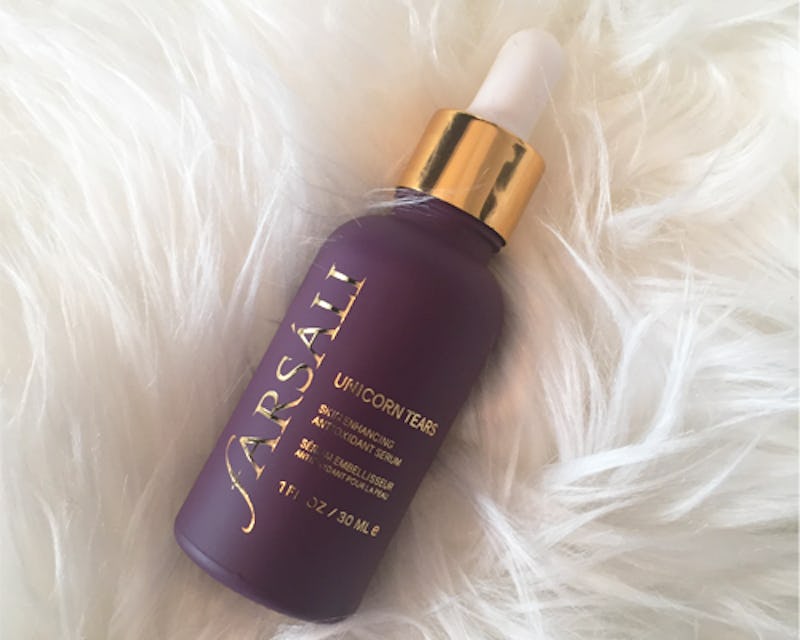 With tons of different skincare items out there, it's hard to find one that can do it all. Until now that is. Farsáli created Unicorn Tears facial serum that goes above and beyond your typical oil. I'm talking a product that you can use for your skincare or makeup needs. Because when you name your item after a mystical creature, you know it has to be something special.
When you name a product Unicorn Tears, people notice. Farsáli is best known for their Rose Gold and Volcanic Elixir Facial Oils, but now they're stepping up their skincare a notch. Instead of just moisturizing the face, they have something that will take care of multiple needs all at once. Whether you're looking to primer you face, eyelids, or just use as an everyday serum, Unicorn Tears are for you.
So what makes the mystically titled skincare serum so great? Well, according to the site, it's oil free, great for all skin types, and free of sulfate and parabens. Basically, it works for everyone. And if you're wondering what Unicorn Tears smells like, it's Ylang Ylang. Who knew! All jokes aside, this sounds like a truly amazing skincare item that will work for a variety of different people.
Farsali Unicorn Tears Limited Edition, TBD, Farsali
The serum is available for pre-sale on Dec. 7. That means that you can order it and have it under the tree in time for the holidays. This is truly the gift that keeps on giving.
Unfortunately, the price is being kept a secret until it goes on pre-sale. The two other serums on their site are $37 to $70, so I'm willing to bet that this new addition will be the same. There is a possibility that it could be slightly higher, since it does a little more than the others though.
Farsali Unicorn Tears Limited Edition, TBD, F arsali
I don't know about you, but I'll be adding this to my holiday wish list!
Images: Farsali (2)