The 5 Best Brushes For Your Hair Type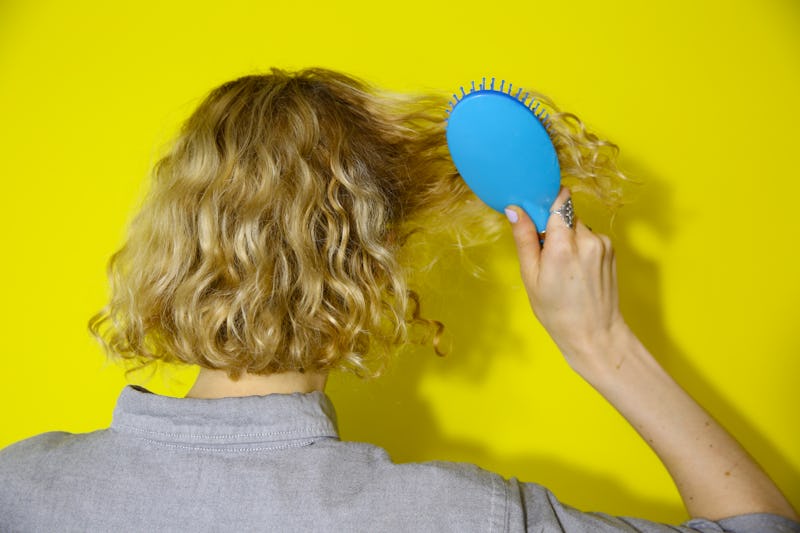 Full disclosure: I don't brush my hair. Because of its thick, curly texture, I've always found that using any kind of brush makes it frizz out in a way that makes me look like Monica Gellar in Aruba. For years, I've been ignoring my moms pleas to "please run a comb through your hair before leaving the house." As it turns out, though, I've been doing it wrong this whole time. Apparently, different kinds of brushes work best for different hair types, and the paddle brush I've been using my whole life is decidedly the wrong kind for me.
Brushes, like every other haircare product we use aren't a one-size fits all thing, so it's important to find the one that's right for you. Our hair textures and needs are all so, so different, and we deserve to be able to customize our routines in the most effective ways possible.
To find out the best fit for each hair type, I consulted the experts, and here's what they have to say. Now that I'm 25, it feels like as good of a time as ever to start brushing my hair. Who's with me?
Here's what you need to know when choosing the best brush for you.
1. For Straight Hair
Cricket Centrix Heat Boss Paddle Brush, $23.25, Amazon.com
For all you straight haired ladies out there, I have plenty of paddle brushes I can apparently no longer use and am happy to send your way. "Because of its flat wide shape, it helps in smoothing as well as preventing static," says Brian J O'Connor, Creative Director of goodDYEyoung. "It's perfect for thick long hair in the winter to help out with all those fly-aways from scarves and hats."
These brushes also work if you don't have naturally straight hair, but want to blow dry your own curls straight. According to Melissa Peverini, Cricket Ambassador and Celebrity Stylist, paddle brushes provide a cushion that gathers hair and keeps it on a flat surface, which allows it to smooth out as it's heated or cooled.
2. For Curly Hair
Cricket Ultra Smooth Conditioning Comb, $6.95, Ulta.com
Brushes are the enemy of curly hair (as I know from personal experience, and have now officially confirmed with the experts). "Curls frizz when too many bristles or small teeth run through the hair by breaking up the curl pattern, so a wide tooth comb keeps the separation and definition of the curls," says Peverini. Opt for a wide tooth comb, instead, which is the best option for not disturbing your natural curls.
3. For Tangled Hair
Cricket Coconut Detangling Brush, $12.95, Amazon.com
Best reserved for post-ocean or post-sex hair, the detangling brush is the best kept secret for not waking up with a knotty nest on top of your head. "With flexible bristles and air cushion pad, this will eliminate breakage and massage the scalp to stimulate circulation," says Peverini. "These bristles will glide through the tangles and bounce back." The fine bristles also make the brush more effective, and help with breakage and split ends as well as detangling.
4. For Hair That Needs Bounce
Cricket Centrix Heat Boss Thermal Brush, $24.95, Amazon.com
No matter how hard I try, I'm not sure I'll ever master the art of the round brush, and that is a sad reality for me to face. After all, a round brush is the secret to a #flawless blowout. "It allows your hair to take on a more round shape giving it more bounce and shine," says O'Conner. "Round brushes can do many things, depending on the shape, size, and bristles used."
5. For Static Hair
Cricket Static Free Fast Flow Brush, $7.49 , Amazon.com
Goodbye, winter hat hair. The technology behind anti-static brushes is not only really, really cool, but it actually works. "They eliminate fly-aways by preventing static electricity by having anti-static brush materials," says Peverini. "Some materials create more charges than others when you brush."
Images: Courtesy of Brands