'Allied' Isn't All Fiction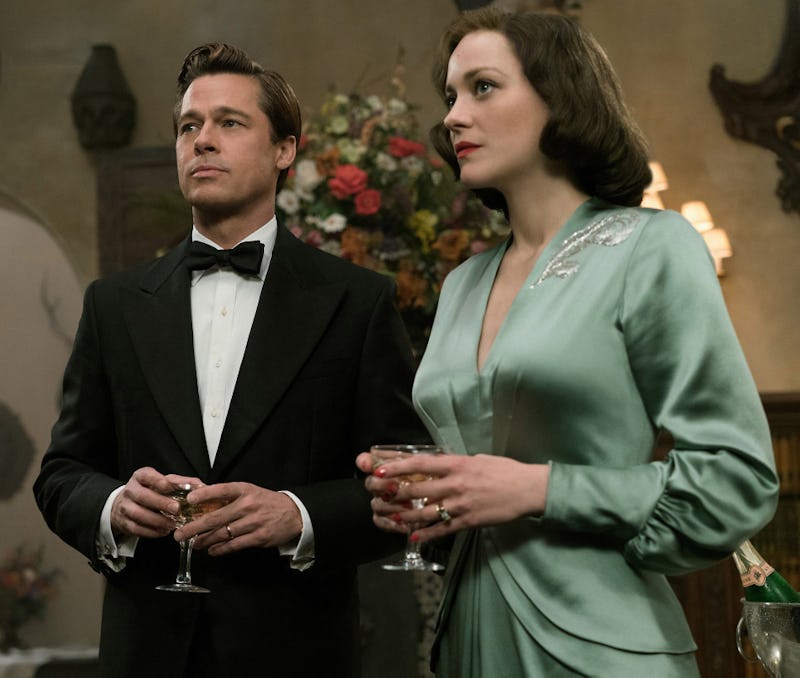 In the new film Allied, Brad Pitt and Marion Cotillard portray a pair of spies who fall in love while undercover together during World War II. After they marry, have a child, and begin a life together, Pitt's character is informed by British officials that his wife may actually be a Nazi spy. He's assigned to execute her, but instead goes against orders to try and prove her innocence. It's quite the thrilling tale, but is Allied a true story?
Supposedly it is — but the details are a little tough to iron out. The movie is mostly fiction, and was written by screenwriter Steven Knight, whose previous credits include films like The Hundred Foot Journey and Burnt. Knight told Collider's Steve Weintraub that he based the script on a purportedly true story about spies in love in World War II Britain that someone told him when he was 21. "This is a very odd story," Knight said. "I was in Texas working as a dishwasher and doing all sorts of weird things. I was going out with an English girl at the time and her auntie lived in Texas ... and she got talking about her brother who had been in the S.O.E. (Special Operations Executive), the British Secret Service if you like, and she told me this story that just stayed with me. I've always known it would be a film, and now it's gonna be the ultimate."
Michael Ordoña of the San Francisco Chronicle goes into further detail regarding the story told to Knight, and says the writer described the tale as being about a Canadian spy and a French schoolteacher who joined the Resistance and fell in love. "In Knight's description," Ordoña wrote, "The couple married in defiance of the norms of their profession, in which something called the 'Intimate Betrayal Rule' apparently existed: If one turned out to be a double agent, the other would be expected to prove his or her loyalty by killing the traitor — or be executed him or herself for high treason."
It's somewhat difficult to determine what's true and what's not in Allied. As far as Knight knows, the story told to him nearly 40 years ago by a secondhand or possibly even thirdhand source was true, but it's impossible to prove. Furthermore, the movie is only loosely based on the supposedly true tale. So while it's possible that the film was indeed inspired by a real event, Allied is definitely at least partly a work of fiction.
Images: Paramount Pictures