See Photos Of Kylie Cosmetics' Holiday Shadows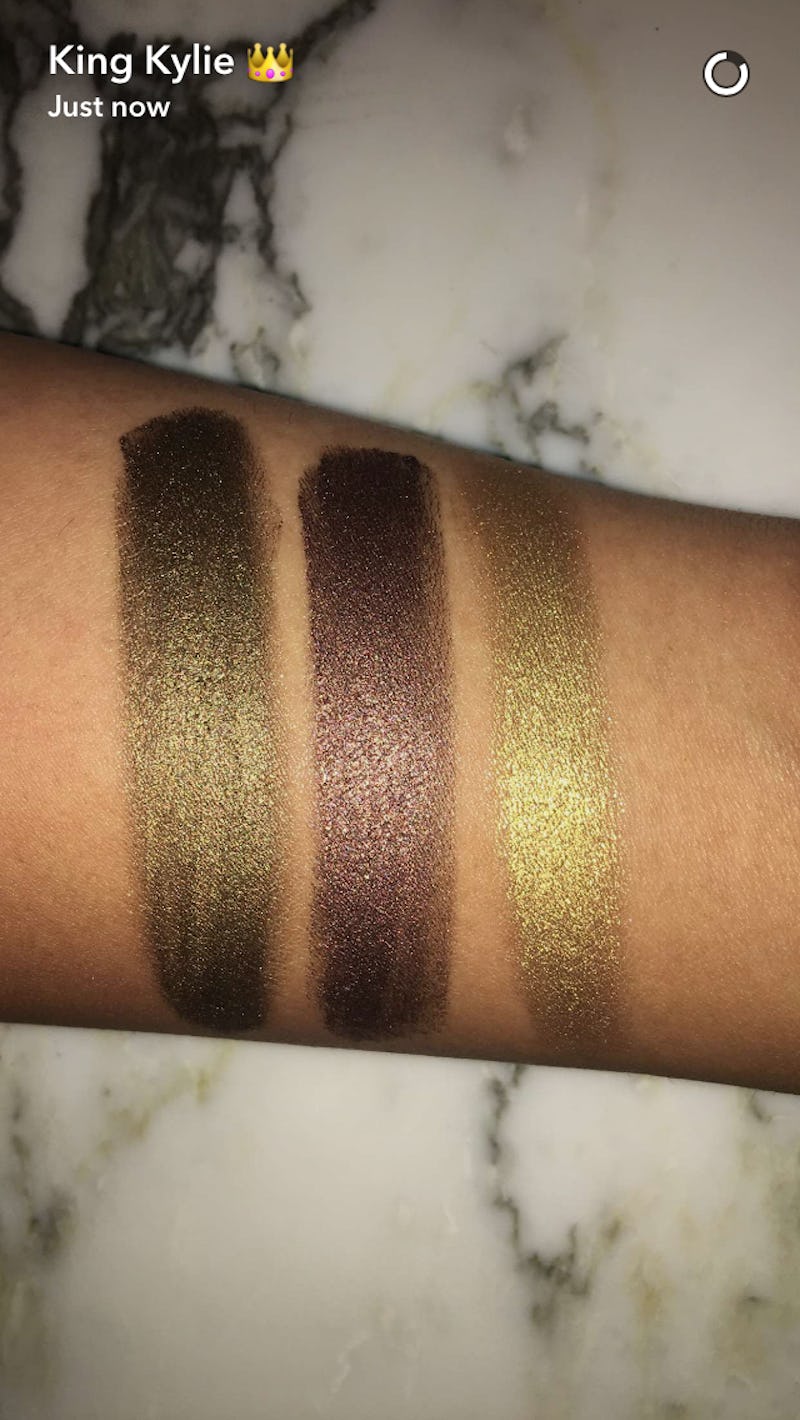 If you haven't already noticed, Kylie Jenner is on a roll with her makeup brand. Just when you thought she might be taking a break from breaking the internet with her regular product launches and announcements, the youngest of the Kardashian/Jenner clan went and released the Kylie Cosmetics holiday edition collection, including some new, killer creme shadows.
True to Jenner's ways, she showed off her latest winter collection on Snapchat to all of her fans. Naturally, everyone's going ga-ga over it all, especially because this collection is major. Not only will there be glosses, an exclusive KyShadow palette, matte lip kits, a full size matte and glitter gloss set, there are brand new creme eyeshadow shades! We also can't forget about the exclusive makeup bag. I'm overwhelmed just by the amount of products there are to obsess over.
While Kylie's Lip Kits have become a signature in the beauty industry, Jenner has also been turning her attention towards eyeshadows, with her KyShadow palettes. For her holiday collection, she's expanded past the usual palettes and added more creme shadows, like she did in her birthday collection. This collection has three individual creme shadows to choose from: Golden Plum, Camo, and Yellow Gold. With shimmery goodness and a high volume of pigment, these shades are perfect for your holiday parties. Keeping it neutral with just enough shimmer to catch anyone's eyes, you'll want to get your hands on these pronto.
Jenner created the perfect winter beauty wonderland as she made the epic announcement.
Golden shimmer for the holidays is all the rage this season.
A gunmetal army green is completely unexpected for your eyes.
A warm hue to create the perfect smoky eye? Sign me up!
I'm not sure about you, but after seeing these swatches, I melted.
We still don't know when the products will be released, but I have a feeling it'll be sometime soon!
Photos: kylizzlemynizzle/Snapchat (5)