The Kylie Cosmetics Lip Set Has Glitter & Matte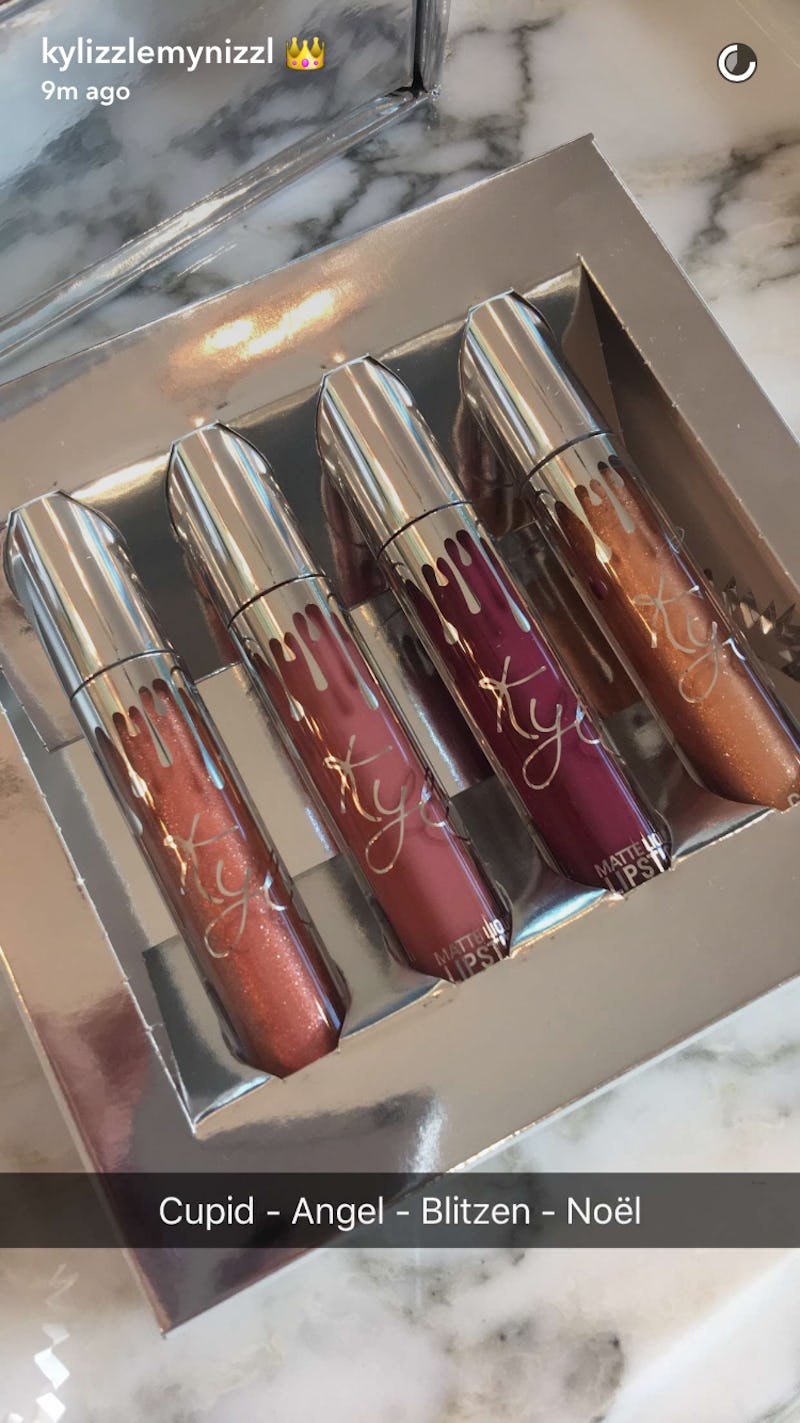 In case you missed today's beauty news, Kylie Jenner announced her new Kylie Cosmetics holiday edition, a limited edition collection of products (some brand new, some restocked) that are designed to celebrate the holiday season. So what exactly does that mean? She's re-releasing some festive shades from her previous collections and introducing a bunch of holiday-themed new products.
From the re-launch of mini mattes (holiday edition this time) to three new creme shadows to a brand new Kyshadow palette, Jenner was pretty much blowing up Snapchat with all the announcements on Tuesday. In fact, there were so many new products to announce that she actually had to take an intermission in the middle of her big Snapchat announcement.
One of the products in particular caught my eye, and it was what I'm going to refer to as the holiday edition lip set (in order to avoid confusing it with the other sets in the collection). It's a combo of two full-size matte lip kits and two full-size glosses, all new shades specifically made for the holiday edition collection. The names of the shades — Blitzen, Angel, Cupid and Noel — are obviously designed with the holiday season in mind.
Aren't they gorge? It looks like Cupid is a peachy glitter gloss, Angel is a mauve-y pink, Blitzen is a warm berry hue and Noel is a festive gold gloss. Together, they make a perfect combination of shades that are going to be a go-to for every holiday occasion you have coming in the next several months.
Although Jenner hasn't released any more information about when the pieces from the holiday collection will be released or how much they'll cost, rest assured I'll be sharing that information as soon as we know.
Image: kylizzlemynizzle/Snapchat