Kylie Cosmetics Mini Mattes Are Back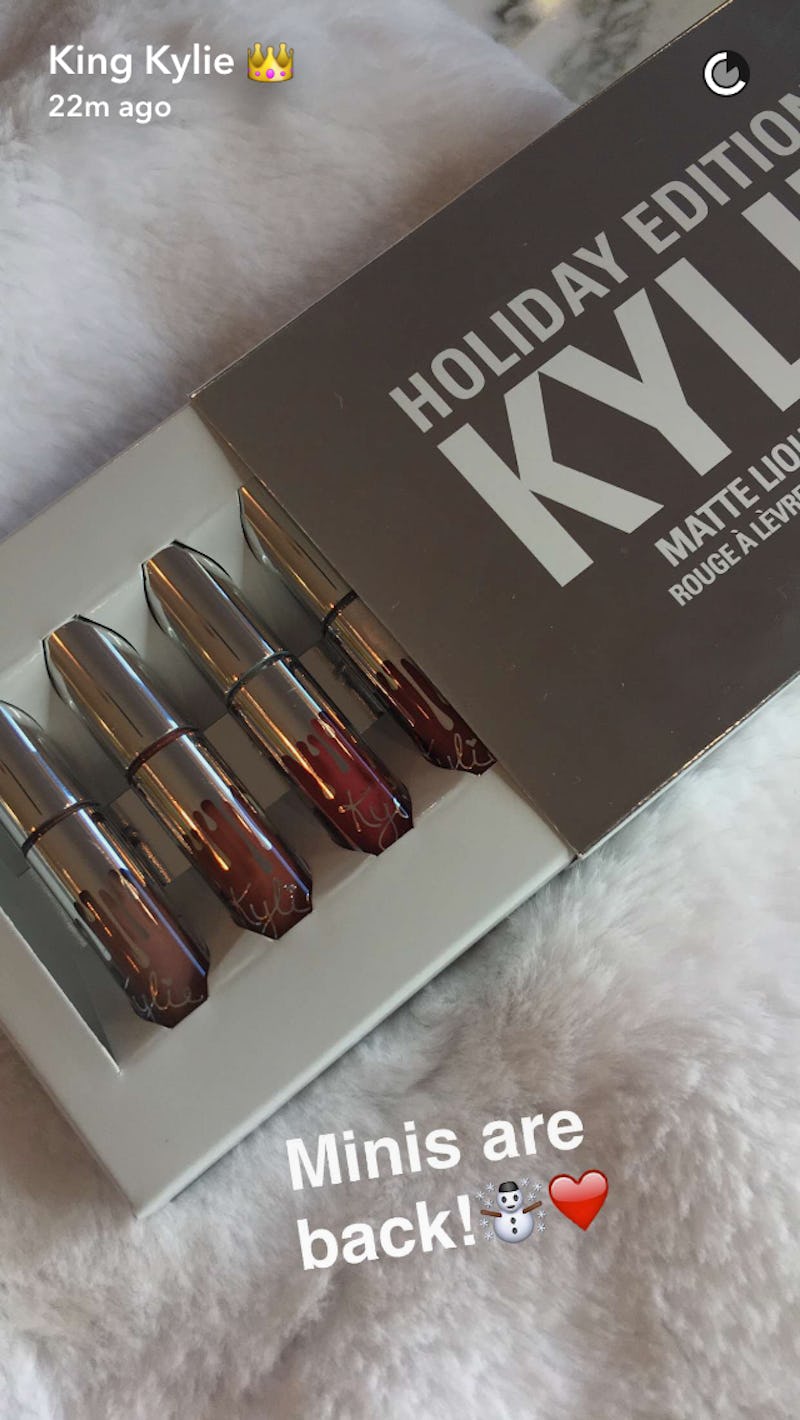 Kylie Jenner attempted to one-up her own birthday collection today when she announced what's in the Kylie Cosmetics holiday edition, and the time she's spent hyping the collection on Snapchat might all make sense now that I've seen my favorite items are back in the mini matte holiday edition.
When Jenner released her birthday collection last year, the one item I absolutely had to purchase was the mini mattes. I loved that you could get six shades in one reasonably priced package, and it was a nice mix of nudes, pinks and reds. Plus, the mini size of the lip kits means they're super easy to transport in a mini clutch, and they're less likely to dry out than some of the bigger lip kits.
Considering my love of the mini mattes, I was understandably super pumped when I heard the Kylie Cosmetics holiday edition would include a new version of the mini mattes. Jenner announced the holiday edition items on Snapchat Wednesday, and the first reveal was the new collection of mini mattes. So what exactly is in this version? It's four shades you've seen before— Moon, Ginger, Kristen, and Lovebite — and two brand new ones — Angel and Vixen.
Here are the details on the shades in case you're not a Kylie Cosmetics expert like me. Moon is a taupe-y nude, Love Bite is a plum shade, Ginger is a warm orange-y brown, and Kristen is a berry shade. Now what about those new shades? Here they are swatched by Jenner on Snapchat.
It looks like Vixen is a dark, rich berry shade and Angel is a sweet poppy pink shade. This new product is just the tip of the iceberg when it comes to the Kylie Cosmetics holiday collection, but it's definitely the one I'm most excited for.
Images: @kyliecosmetics/Instagram; kylizzlemynizzle/Snapchat (1)