'AHS: Roanoke' Channeled Another Ryan Murphy Show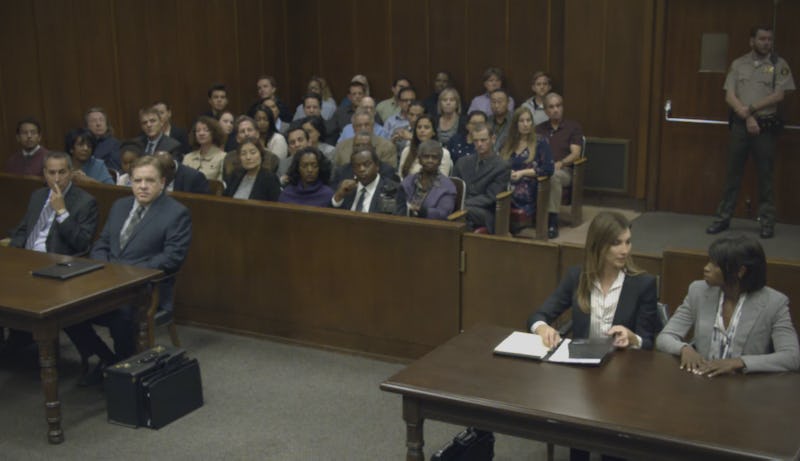 If you thought you were watching a new season of American Crime Story during the season finale of American Horror Story: Roanoke, you weren't alone. During Lee's murder trials on American Horror Story , it started to feel like Ryan Murphy's The People v. O.J. Simpson with footage from the trial and interviews with the jury and the lawyers. The comparisons only kept coming once Lee was acquitted and I think this might mean that Murphy is officially the master of the realm of TV.
Yes, AHS: Roanoke featured Sarah Paulson and Cuba Gooding Jr. from The People v. O.J. Simpson playing husband and wife (Marcia Clark and O.J. Simpson as a married couple?!), but Lee's trials were what really made American Horror Story seem like American Crime Story. Season 6 definitely played with the public's obsession with reality TV and true crime, and so it was pretty hard not to compare Lee's crack'd special (a spoof on Oxygen's Snapped) to things we had previously seen this year on The People v. O.J. Simpson — especially when you had a DA so convinced of Lee's guilt.
Even before the episode aired, a Twitter user had made the comparison between the Murphy-run shows, but the audience's amusement (and outrage) only grew once the finale premiered.
Of course, the majority of the AHS: Roanoke season finale was nothing like The People v. O.J. Simpson and Lee's trial relied heavily on how you can't prove supernatural elements — which is very unlike the real Simpson trial. Still, it seems that on some level, Murphy knew exactly what he was doing by not only linking past seasons of American Horror Story, but by giving a little nod to his other anthology series as well.
Image: FX