These Thanksgiving Recipes Are Easy As — Well, Pie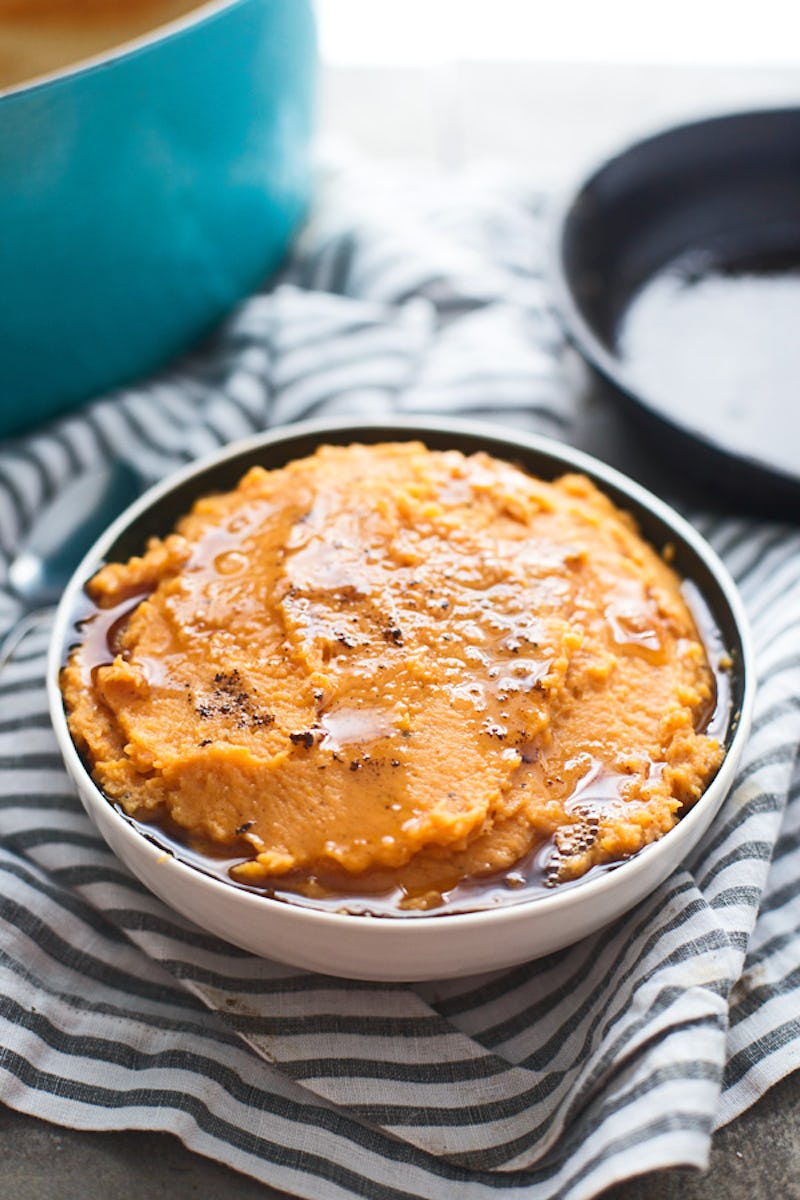 Who wants to spend all of Thanksgiving in the kitchen? If you don't, then these 13 easy Thanksgiving Day recipes are the way to go, simplifying both traditional and non-traditional side dishes. From cornbread stuffings and cheddar breads to grilled cauliflower and roasted Brussels sprouts, there's something in roundup below for everybody.
Thanksgiving can be delicious without being ridiculously hard, and if there's one thing these 13 recipes prove, it's just that. Spending too much time in the kitchen on Nov. 24 can lead to irritation and exhaustion. Don't let that happen to you. Plus, if you're hosting a Thanksgiving gathering at your home, then you want to be sure you have lots of time to spend with your friends and family (instead of cooking). I know that people have a tendency to get really worked up about following family recipes and the like, but you know what, I have to ask, is it really worth it?
Even if you only want to swap out a few of your Thanksgiving recipes for the ones below, I promise you that it will be a huge time saver. As for those of you who are preparing to make your very first Thanksgiving dinner, these recipes can help ease you into the process gently. Cooking's not always easy, but in the case of these 13 easy Thanksgiving Day recipes, it actually is.
1. Cornbread Dressing With Sausage And Pecans
Don't feel like making a turkey this year, but still want some bomb stuffing? A Farm Girl Dabbles has you covered with its Cornbread Dressing with Sausage and Pecans recipe. No turkey required! Deliciousness guaranteed.
2. Apple Cider Cheddar Bread
Sounds fancy, right? But guess what, all you have to do is combine the ingredients in a mixing bowl, top it with apple slices, and bake it! This Apple Cider Cheddar Bread recipe will beat out any biscuits on the Thanksgiving Day table. Thank you, A Cozy Kitchen!
3. Roasted Fall Veggies
Forget the boiling, the mashing, and the pickling. Instead, take it easy on yourself this year with this simple Roasted Fall Veggies recipe from A Better Happier St. Sebastian. You literally only have five steps here: Toss vegetables with olive oil, arrange them on a baking sheet, roast them, flip them, and serve them drizzled with additional olive oil. All I have to say is "yum."
4. Roasted Brussels Sprouts With Pancetta
This Roasted Brussels Sprouts with Pancetta recipe by A Pretty Life in the Suburbs only requires six ingredients... four of which are olive oil, balsamic vinegar, salt, and pepper. I bet you can guess the other two. Astonishingly low-maintenance and astonishingly delicious.
5. Best Mashed Potatoes
Want to up your mashed-potato game this year without going overboard? A Spicy Perspective's Best Mashed Potatoes recipe should be your go-to. It's amazing what a little cheese, pepper, and chives can do for a recipe, isn't it?
6. Bacon, Pear, And Blue Cheese Macaroni And Caramelized Onions
Making your own macaroni and cheese might sound intimidating, but Adventures in Cooking walks you through the simple steps of its Bacon, Pear, and Blue Cheese Macaroni with Caramelized Onions in a few easy-to-follow steps. You'll never make boxed macaroni again.
7. Balsamic Roasted Carrots With Sunflower Seeds And Thyme
Apron and Sneakers' Balsamic Roasted Carrots with Sunflower Seeds and Thyme may just be my new favorite carrot dish ever. Seriously, have you ever seen this orange vegetable look so enticing before? I know I haven't, and I think your Thanksgiving guests will agree.
8. Slow Cooker Lighter Buffalo Blue Cheese Chicken Dip
Thanksgiving isn't just about the main course, it's also about the appetizers. Anything made in a slow cooker is perfect for the novice cook. including this Slow Cooker Lighter Buffalo Blue Cheese Chicken Dip by Wholefully (formerly known as Back to Her Roots). You just set it and forget it!
9. Sweet Stuffed Dates, Three Ways
These Sweet, Stuffed Dates, Three Ways are another excellent choice when it comes to simple Thanksgiving appetizers to share with your friends and family. The recipe comes from Big Girls Small Kitchen, and no matter how fancy these treats look, they're relatively easy to whip up!
10. Slow Cooker Pecan Pie
Didn't know a pie could be made simply? Closet Cooking's Slow Cooker Pecan Pie is one of the easiest pie recipes I've ever seen. The best part is the magic happens in the slow cooker. There's really no reason now to go the store-bought route this year with your desserts.
11. Grilled Cauliflower With Oregano And Capers
Fire up the grill, you guys, because this Grilled Cauliflower with Oregano and Capers is going to make your mouth water. The recipe, from The Brewer and The Baker, is as basic as it gets, and you know what? It totally works.
12. Four Ingredient Mashed Sweet Potatoes With Brown Butter And Brown Sugar
The name of this dish really says it all: Four Ingredient Mashed Sweet Potatoes with Brown Butter and Brown Sugar. Leave it to Cooking For Keeps to come up with a four-item recipe that will blow your taste buds out of the park.
13. Smoky Paprika Popcorn; Parmesan, Garlic, And Black Pepper Popcorn; Lime And Chili Popcorn
Popcorn, another great appetizer idea that won't fill up your guests. The Crepes of Wrath provides three unique recipes (Smoky Paprika Popcorn; Parmesan, Garlic, and Black Pepper Popcorn; Lime and Chili Popcorn) to up your popcorn game and impress your guests... simply, of course.
Images: Courtesy of Blogs