This Is A Next Level Safety Pin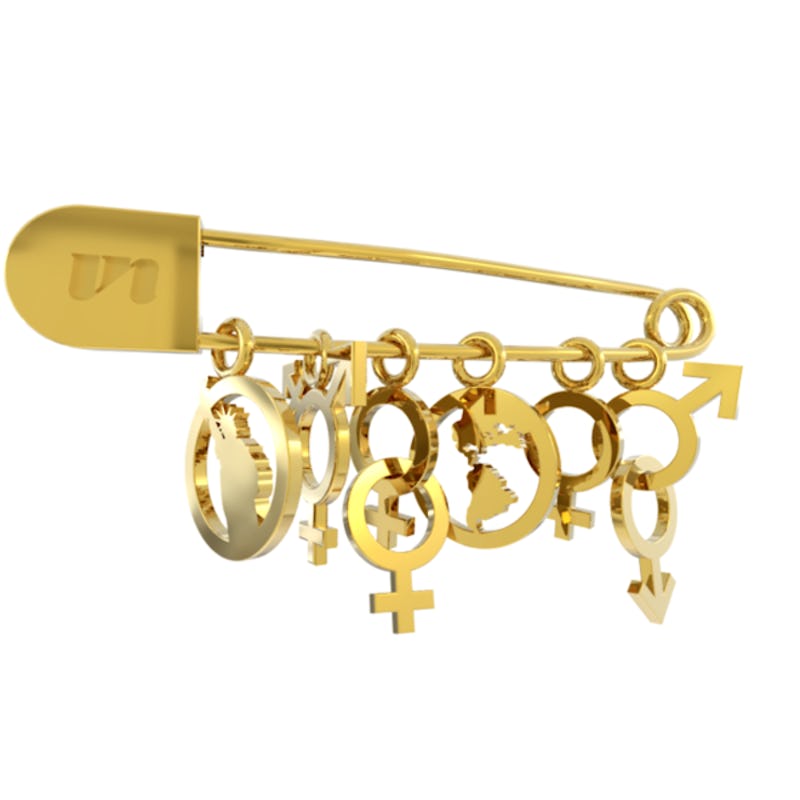 I have an awesome new addition to the #SafetyPin movement that I think you're going to love as much as I do: The Ally Pin from Unbound. But before I get into why I love it, here's a quick recap of the #Safety Pin movement: Soon after the election, there was a call for allies to wear safety pins on their clothing as a sign of solidarity with queer people, immigrants, POC, and anyone else who might be facing harassment right now. The symbol was directly borrowed from activists in England, who started wearing safety pins after a spike of racist abuse following Brexit.
And while the gesture was undoubtedly well-intentioned, the safety pin movement almost immediately started getting criticism from people of all ethnicities and races for being, at best, simply not enough and, at worst, an empty, self-congratulatory pat on the back for liberal white people who didn't want to be thought of as one of the "bad" ones. "So if you must wear the safety pins because you believe in the message behind it, go ahead," Crystal Lewis writes on Romper. "But that cannot be where your role as an ally stops."
Which is where the Ally Pin from Unbound comes in. This gold-plated pin can be purchased on its own or with charms, including All Genders, Lady Liberty, Globe, Venus, Dual Venus, and Dual Mars. Unlike a regular safety pin which, as Demetria Lucas D'Oyley points out in The Root, doesn't monetarily benefit anyone, each charm is associated with a charity that gets 100 percent of the proceeds: All Genders to It Gets Better, Lady Liberty to KIND, Dual Venus and Mars to The Trevor Project, Globe to Women's Funding Network, and Venus to Planned Parenthood. Unbound is offering up the pin with all six charms for $69, the pin alone for $12, or the pin with a charm of your choice for $15.
"The whole Unbound team has been feeling helpless and disillusioned since the election," Polly Rodriguez, founder and CEO of Unbound, tells Bustle. "We wanted to create something beautiful that allowed people not only to champion the organizations that need their financial support, but also to wear something that symbolizes inclusivity and hope for the future."
And beyond that, Rodriguez and her team hope that the unique look of their Ally Pin will encourage people to not just pin a symbol on their shirts but actually talk about the things that matter to them.
"We all hope that the ally pins will serve as a mechanism for individuals to start a conversation," Rodriguez says. "Because at the end of the day, the root of all our problems as a country right now stems from a lack of open, vulnerable conversations about how we feel — on both sides."
If you've been having mixed feelings about the safety pin movement or you just want to take it a step further, check out the Ally Pin from Unbound, find a protest in your area, and get a friend to commit to going with you. And then go make a recurring donation to one of these organizations. Because you know that being an ally means doing all of the above.
Images: Unbound; Giphy