15 ~Magical~ Harry Potter Beauty Products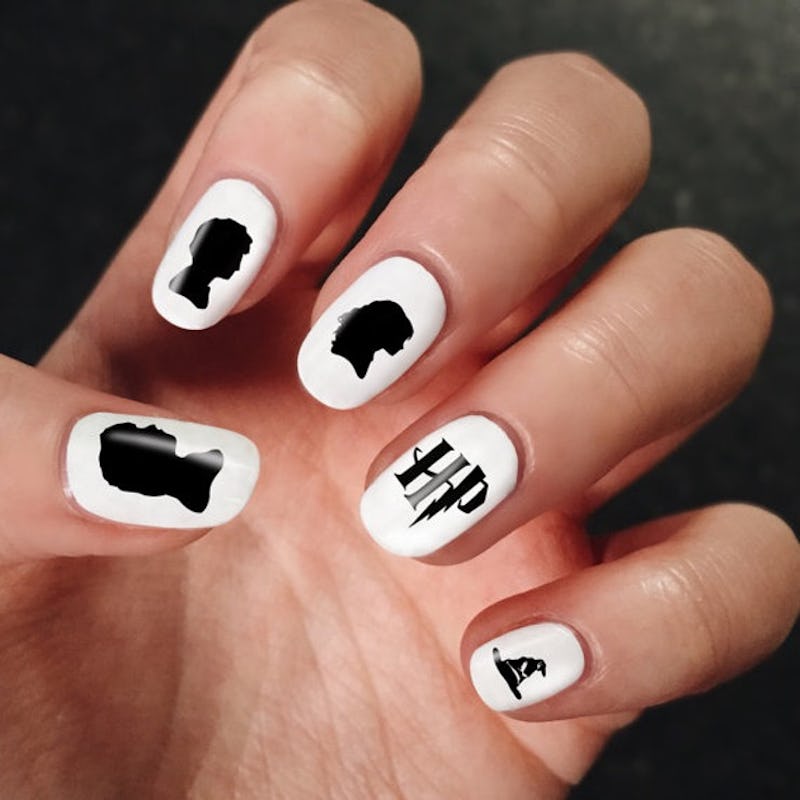 Harry Potter has a surprising connection to the world of beauty products. Harry's ancestor, Fleamont Potter, actually quadrupled the family fortune by inventing and selling Sleekeazy's Hair Potion, a treatment for unruly hair. Hermione used this product to style her hair for the Yule Ball, so you know it really works. And since Harry uses this fortune to fund his life at Hogwarts, he has Fleamont — and beauty products — to thank for his education. In honor of Harry's ancestors, let's take a look at these Harry Potter beauty products that are guaranteed to add a little magic to your morning routine.
Fans of beauty products are probably disappointed that they can't shop in the wizarding world for items like Sleekeazy's. Personally I could really use some magic when it comes to fixing my hair. Muggle products are hardly as enchanting as magical hair tonic, and they usually don't include ingredients such as dragon hair and gomas barbadensis.
However, you can still find Harry Potter-inspired beauty products if you know where to look. No, you can't shop in Diagon Alley, but there are still places where Muggles can find magical beauty supplies. And you don't even have to change your money to Sickles and Knuts to purchase these supplies. You can channel Hermione's Yule Ball beauty routine with some of the following Hogwarts-inspired beauty products.
The Wizard Highlight And Contour Palette
This beautiful palette includes highlights in the shades of unicorn hair, Hedwig, and Butterbeer foam. It includes contour colors in dragon scales, Pigwigeon, and Firewhiskey. The palette comes with a Kings Cross Hogwarts Express ticket. Need I say more?
The Wizard Highlight And Contour Palette, $50, AWhimsicalWillow on Etsy
Sorting Hat Bath Bomb
Place this bath bomb in the water to find out which house you will be sorted into. The water will be red for Gryffindor, yellow for Hufflepuff, blue for Ravenclaw, or green for Slytherin — and the scent is Butterbeer, AKA butterscotch and vanilla. True magical luxury.
Sorting Hat Bath Bomb, $7.95, WrathOfTheBath on Etsy
Pumpkin Juice Bubble Bath
If you can't get enough of pumpkin spice, and you're ALSO Harry Potter-obsessed, this bubble bath was made for you. It's scented like spices and pumpkin, and will make you feel as if you're at a sumptuous Hogwarts feast.
Pumpkin Juice Bubble Bath, $8, CherryPitCrafts on Etsy
Magic Wand Brush Holder
While you're waiting for Storybook Cosmetics to restock their HP-inspired wand makeup brushes, pick up this adorable brush holder labeled "magic wands." For everyone who's a true wizard when it comes to contouring.
Magic Wand Brush Holder, $25, PotteryByKelsey on Etsy
Mischief Managed Cosmetic Bag
Keep all your makeup in one place with this Marauders-inspired cosmetic bag. It's a subtle hint to everyone that makeup conceals your true werewolf nature, right?
Mischief Managed Cosmetic Bag, $8.33, Hot Topic
Amazing Trio Makeup Bag
Can't fit all your beauty products in one cosmetic bag? Here's another great Harry Potter-inspired makeup container, complete with pictures of everyone's favorite trio: Harry, Ron, and Hermione.
Amazing Trio Makeup Bag, $26.50, happybagco on Etsy
Butterbeer Lip Balm
Taste Butterbeer without making the trek to the Three Broomsticks: all you need is this Shea and Cocoa butter lip balm. It's all natural and tastes of vanilla and butterscotch, guaranteed to warm you from your lips to your heart.
Butterbeer Lip Balm, $3, CherryPitCrafts on Etsy
The Boy Who Lived Full Collection
This epic collection comes with 10 eyeshadows, a face highlight, and a lip jelly, all complete with art featuring HP characters. Truly enchanting.
The Boy Who Lived Full Collection, $42, Brija Cosmetics
HP Nail Decals
Take your manicure to the next level with these HP nail decals, featuring character silhouettes, the "HP" icon, and the Sorting Hat. Even a novice manicurist like myself can easily apply these nail stickers for a magical, professional-looking manicure.
HP Nail Decals, $29, Fantasmagory on Etsy
Drooble's Gum Lip Balm
This lip balm is made with coconut oil, flavor oil, avocado oil, candellila wax, and wweet almond oil — and the flavor is one of your favorite wizarding world candies, Drooble's best gum. They don't sell this on the Hogwarts Express trolley, but if they did, it would definitely be a bestseller.
Drooble's Gum Lip Balm, $3.50, FromthePage on Etsy
After All This Time Eyeshadow Collection
This loose eyeshadow collection comes with shades such as "Christmas jumper," "mischief managed," "liquid luck," and "wit beyond measure." It's a must-have for every beauty-obsessed HP fan.
After All This Time Eyeshadow Collection, $28.35, MostThingsInBetween on Etsy
Veritaserum Polish
The truth is that HP fans will fall in love with this potion-inspired polish.
Veritaserum Polish, $10, LynBDesigns on Etsy
The Philosopher's Stone Soap
This soap comes in the scent of minted citrus and sea salt. It will leave you refreshed and ready to reread the first book in your favorite series.
The Philosopher's Stone Soap, $7, theHouseOfWormwood on Etsy
Hogwarts Hairbrush
This wooden hairbrush is engraved with a woodburner and features designs inspired by Harry Potter, from the Hogwarts crest to the Sorting Hat. Use it to comb in some Sleekeazy's and you'll be set for the Yule Ball.
Hogwarts Hairbrush, $17.11, ChibiPyroFable on Etsy
Petrificus Totalus Highlighter
This HP-inspired highlighter is cruelty free and contains no harsh chemicals. It'll stop everyone in their tracks.
Petrificus Totalus Highlighter, $15, Touchofglambeauty on Etsy
Image: Brija (1)