How To Make Vegan Cranberry Sauce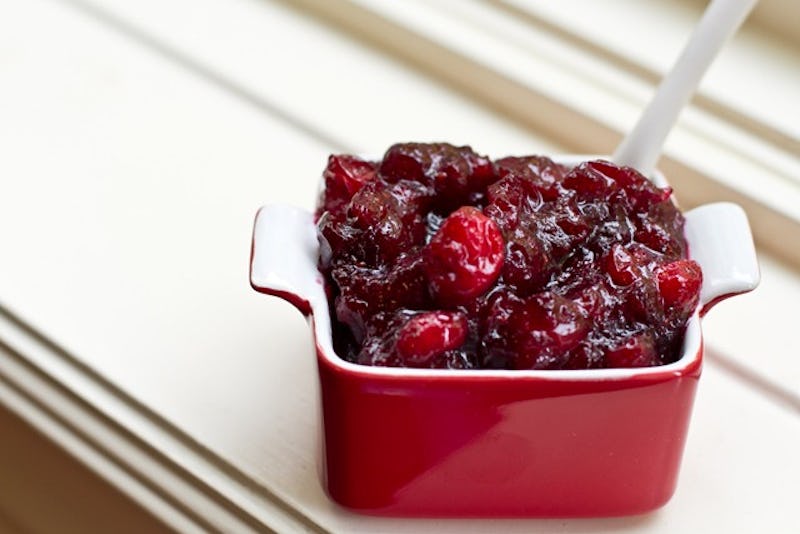 What is no Thanksgiving dinner complete without? Cranberry sauce. While some of us love the stuff that comes straight out the can, though, many of us also have to wonder: Is cranberry sauce vegan? In a word, the prepared stuff typically isn't — but luckily for us vegans, there are many recipes to make vegan cranberry sauce right at home.
I know, I know: It's a cranberry sauce, so how the heck are there animals involved? Well, many canned or prepared cranberries sauces contain gelatin, which is a protein made from boiling animal skin, tendons, or bones in water. Some homemade cranberry sauces also contain honey as a sweetener, so in that case, it's vegetarian, but not necessarily vegan.
On the bright side, there are plenty of delicious vegan cranberry sauces you can make at home. Once you have the ingredients, they're also pretty intuitive to make — no complicated cooking techniques required. People universally love cranberry sauce on their turkey (or Tofurky, as the case may be) and it's a great side to keep in the fridge for the days after Thanksgiving when people are putting together plates of leftovers. And hey, even if you aren't necessarily vegan, switching it up and having a few options for cranberry sauce is a great way to spice up the meal without spending a ton of extra money on ingredients or wasting a lot of time in the kitchen.
While definitely not exhaustive, these are some great places to start for vegan cranberry sauce recipes:
Classic Cranberry Sauce
This simple cranberry sauce, courtesy of Oh She Glows, is basically a recreation of the kind your mom made when you grew up.
Cranberry-Pear Sauce
Also from Oh She Glows, this cranberry-pear sauce is pretty innovative. Not only does the pear give it a nice flavor, but it changes up the texture, too!
Cranberry-Orange Relish
Brought to us by Lana's Cooking, this cranberry-orange relish will delight all the citrus fans at the table, no doubt about it. In fact, the orange makes it a nice side for winter holiday dinners, too!
Spiced Berry Jam
If you've ever felt like cranberry sauce is just too tart, worry no more. This spiced berry jam from Bare Root Girl combines cranberries with mixed berries to sweeten the taste naturally. As a bonus, this recipe works as well with frozen fruit as it does with fresh!
Cranberry Relish
If you like your cranberry sauce tart, this vegan cranberry relish is the way to go. Because it is quite puckery, Brenda over at A Farmgirl's Dabbles suggests pairing it with something creamy and rich, like a soup. Mashed potatoes, anyone?
Red Wine Cranberry Sauce
If you don't already follow Budget Bytes, you're making a huge mistake! This blog is a gem if you cook on a budget and try to make the most of all of your ingredients. This recipe breaks down the literal cost per serving and lets you use red wine — win-win, right?
Happy holidays, everybody!
Images: Courtesy of Blogs