ColourPop's Full Sized Holiday Lip Kits Are Gorg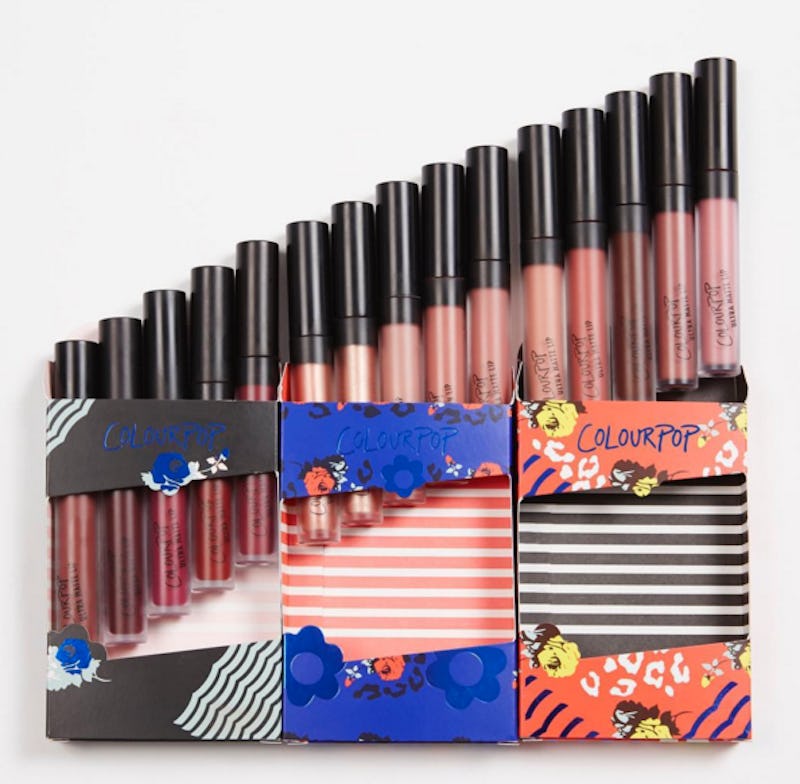 ColourPop just keeps the goodies coming. As if their adorably packaged record kits weren't enough to get you excited to unwrap products from the brand this season, then their new lip sets surely will be. What's in ColourPop's Full Sized Holiday Lip Kits? You're going to absolutely love these shades.
The brand released three new lippie bundles on Nov. 18, and you're going to have a hard time choosing a favorite. Each set contains five different liquid lipsticks and/or glosses and retails for only $25. The For Fox Sake Kit has minimalistic nude shades that are easy to wear each and every day. The Forever Or Never Kit contains some pastels, I'm talking dusty rose and dirty peach-type hues, as well as mauve and a darkened red. Last, but not least, the Blues Baby Kit holds a range of burgundy-colored Ultra Matte Lips.
All of the shades aren't exclusive to the Holiday 2016 Collection, but you can't find them bundled together quite like this unless you shop while the season lasts. And trust me, there's nothing not to love about the way these are arranged. Whether you're all about a minimal pucker, want a dramatic pout or would prefer a mix of both, there's something here for you and everyone on your gift-buying list, too!
Each of these lip options are available to shop on the ColourPop website now.
You won't want to miss your chance to grab these, especially since they're only $25. You save $5 when you shop this bundle! The only thing better than lipstick is extra cash, so this purchase is a win-win.
These are the gorgeous shades you'll find in the For Fox Sake set.
For a mix of light and dark hues, cop the Forever Or Never lippies.
Rock a different deep color on your pout for the entire holiday season with these burgundy lipsticks in your possession.
1. For Fox Sake
For Fox Sake Lip Kit, $25, ColourPop Cosmetics
You'll keep these on rotation all season long.
2. Forever Or Never
Forever Or Never Lip Kit, $25, ColourPop Cosmetics
Forever or never? I choose forever!
3. Blues Baby
Blues Baby Lip Kit, $25, ColourPop Cosmetics
All of the wine lippies you could ever need are in this line-up.
Images: colourpopcosmetics/Instagram (1); Courtesy ColourPop Cosmetics (3)