The Kylie Cosmetics Stocking Is Highly Coveted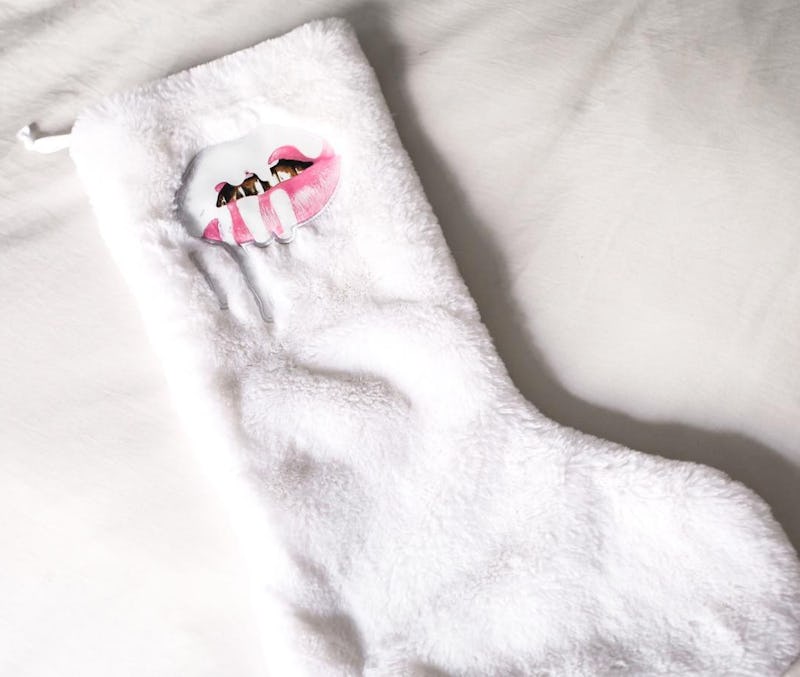 While the mix of colors Kylie Cosmetics offers are real good, the Holiday 2016 Collection is what dreams are made of. The new eyeshadows look exceptionally luscious, and the fluffy white stocking is the cherry on top. Uber cozy-looking and emblazoned with Jenner's trademark dripping lips, it's a Christmas stocking gone millennial makeup guru — and luckily for fans, a gift with purchase on Black Friday. But given Jenner's love for the 'net (she's basically a poster child for Instagram makeup) will the Kylie Cosmetics stocking be available on Cyber Monday?
At the moment, it doesn't look like it. The latest info on the matter comes from the Kylie Cosmetics Instagram, of course, where she posted a photo of the stocking accompanied by the caption, "STOCKINGS are gift with purchase if you order on BLACK FRIDAY." If the stockings were going to be part of a Cyber Monday promotion as well, she probably would have let us know there.
That being said, Jenner is a fan of the delayed reveal and outta-nowhere news, and has been known to drop info in the middle of the night. How she builds up tension for a list of prices, it's hard to say. She has a gift.
But until Jenner posts otherwise (maybe if stock doesn't run out?) the stocking is looking like a one day-only deal.
All the more incentive to stock up when the collection drops. Judging from Twitter, it's not going to be around for long.
The memes have spoken.
Set your alarm for the 21st.
Images: via Kyliecosmetics/Instagram