7 Jane Austen Candles To Gift This Holiday Season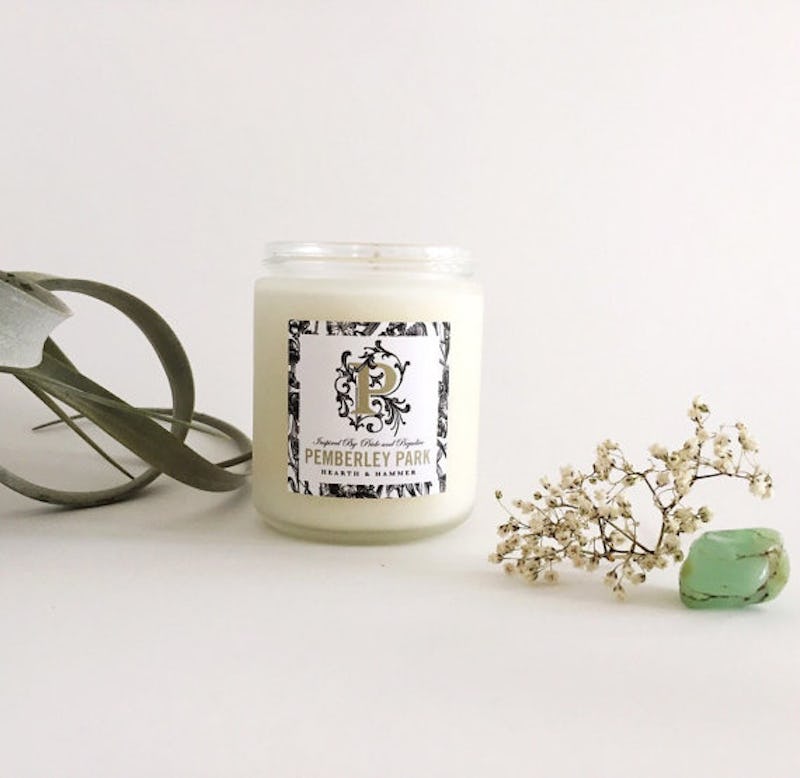 Looking for the perfect holiday gift for the book nerd in your life? Don't fret because there's tons of amazing presents to gift from Etsy, especially for the Jane Austen lover. Candles are the perfect gifts for book nerds, and have always have been one of my favorite gifts to receive and give. They're easy, thoughtful, come in a ton of different, interesting scents, and are the perfect go-to gift whenever you can't think of what to give someone.
And when it comes to book nerds, there's nothing better than spending a chilly winter night snuggled up with a book, reading by candlelight. Think about it — Jane Austen did the exact same thing back in the 18th century. She was either reading or writing by candlelight, letting the soft breezes of the countryside accompany her. So really, do I need to further explain why candles inspired by the classic author is a great gift? Pair it with a cozy blanket or brand new book and you may as well be Santa Claus.
From candles that'll remind you of the alluring Mr. Darcy, and candles that'll make the Jane Austen wanna-be writer feel at home, here are 7 perfect candles to give to your favorite book nerd this holiday:
1. A Customizable Jane Austen Candle
This Jane Austen candle recommends using either a Cranberry Crush or White Jasmine scent, but at checkout you're allowed to customize it with whatever scent you'd like. There's even an antique book scent!
Jane Austen Soy Candle, $16, Etsy
2. Jane Austen's Writing Desk Candle
For the writer who happens to be Jane Austen's number one fan, there couldn't be a better fit. Placing it at your own writing desk — or whoever you gift this to — will surely create a Jane Austen-era feel with scents of crisp lilacs and sweet berries.
Jane Austen's Writing Desk Candle, $16.50, Etsy
3. Elizabeth Bennet Candle
This English lavender scented candle will remind you of Elizabeth's graceful but spunky personality. And it comes with a surprise quote and necklace — what could make for a better gift?
Elizabeth Bennet Candle, $12, Etsy
4. Mr. Darcy Candle
For any Jane Austen fan who dreams of being swept up and surrounded by the handsome Mr. Darcy, there couldn't be a better fit. According to the Etsy shop owner, the candle combines the scents of Florentine iris, herbaceous clover, French verbena, rich violet leaves, sandalwood and ambergris, making a manly yet elegant aroma.
Mr. Darcy Candle, $12, Etsy
5. Pemberley Woods Candle
This candle will pull you into one of Austen's novels and bring you back to the 18th century with its scent of woodlands, fresh rain, and English Garden, along with notes of other woodsy scents.
Pemberley Woods Candle, $13, Etsy
6. Pemberley Park Candle
Can't get enough of Mr. Darcy's estate? Don't worry, there's also a Pemberley Park candle with scents you'll fall in love for just like Elizabeth and Darcy: sweet golden rose, white tea, and fern.
Pemberley Park Literary Candle, $18, Etsy
7. Pride and Prejudice Candle
If you'd rather just sum up the entire love story between Elizabeth and Darcy, I'd recommend this Pride and Prejudice candle smelling of sweet linen, honeysuckle, and jasmine.
Pride and Prejudice Candle, $16, Etsy
Images: HearthandHammer/Etsy