Abroad For Thanksgiving? Here's How To Celebrate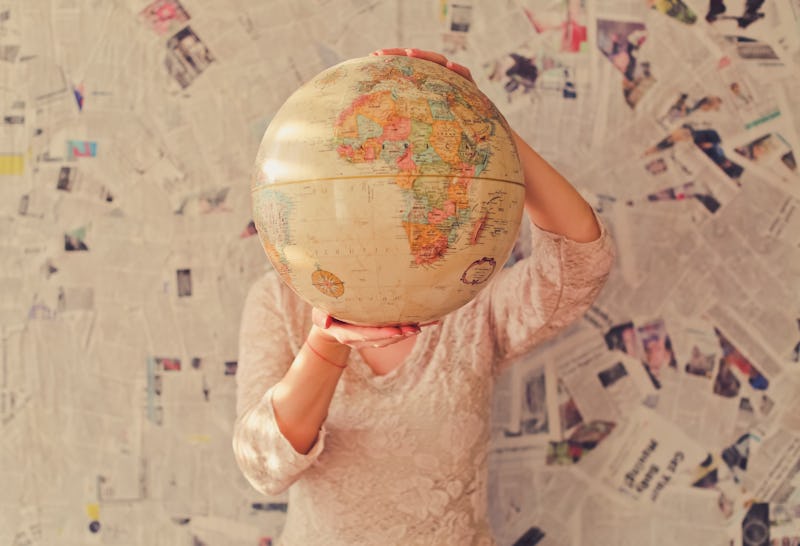 Are you an American who's going to be abroad this Nov. 24? If so, you may be wondering how to celebrate Thanksgiving abroad. It's a fair question! Considering that Thanksgiving is only celebrated in the US, there are really hardly any other places on the planet that cook up turkeys and pumpkin pies on the fourth Thursday of each November. However, just because you're not in the homeland of Thanksgiving doesn't mean that you can't celebrate it from abroad.
Thanksgiving is a popular holiday in the United States, probably because of its much anticipated feast and the practive of being grateful that both go hand-in-hand with the day. You know what though? You can feast in foreign countries, and you can be grateful anywhere. True, you might not get to indulge in your mother's famed stuffing recipes, but we all have to make sacrifices every now and then.
Instead of spending the holiday pouting about the fact that you won't be in the United States to celebrate, change your attitude and you may be surprised to see what good can come of it. Your Thanksgiving holiday may be a little different than it normally is, but that doesn't have to stop it from being something extraordinary all in its own right.
1. Have a Potluck With Your Fellow "Americans"
Whether you're studying abroad, working abroad, or traveling abroad, chances are that you've been bumping shoulders with some fellow Americans wherever you are. Wrangle up all of your American friends in the vicinity for an impromptu Thanksgiving potluck dinner no matter where you are. You have to admit, it's a great way to meet people.
2. Skype With Your Family Back Home
Even if you can't be at home with your family, you can still see their lovely faces thanks to modern-day technology. Get on a Skype session with your loved ones if you're abroad this Thanksgiving. It's the next best thing to actually being there beside them.
3. Remember To Be Thankful
At the heart of it, Thanksgiving really isn't about the food — it's about being thankful. You don't have to be in America to do that. You can be thankful no matter where you are. (And to be honest, if you're traveling abroad, you probably have a lot to be thankful anyway!)
4. Coordinate A Friendsgiving
There are few things as fun as teaching your non-American friends about American traditions. Thanksgiving definitely falls onto that list. Invite your foreign friends to a Friendsgiving while you're abroad. It's the perfect excuse to hang out with your buddies all day long and eat very good food.
5. Find A Restaurant That Serves Turkey
While it's not the most common menu item, it's not impossible to find turkey on a restaurant menu. In fact, in many countries, it will be a lot easier to find a restaurant that serves turkey than finding an entire frozen one on the grocery store. (Pro-tip: If you're in the U.K., some pubs even offer "Thanksgiving" meals on the day of.)
6. Make Your Own Dinner With Whatever Ingredients Are Available
Can't get your hands on a turkey this year, but still love the tradition of cooking on Thanksgiving? Don't let that stop you from cooking up a memorable dinner. Sub out the turkey for duck and the pumpkin pie filling for an apple filling if you must. It's all still delicious.
7. Go On A Trip
If you don't want to celebrate Thanksgiving in a traditional way, then don't! Instead, take a trip somewhere. If you're in Paris, head to Rome; if you're in Taiwan, head to Japan. You get the idea.
Images: Slava Bowman/Unsplash; Giphy (7)