All The Guest Stars In The 'Gilmore Girls' Revival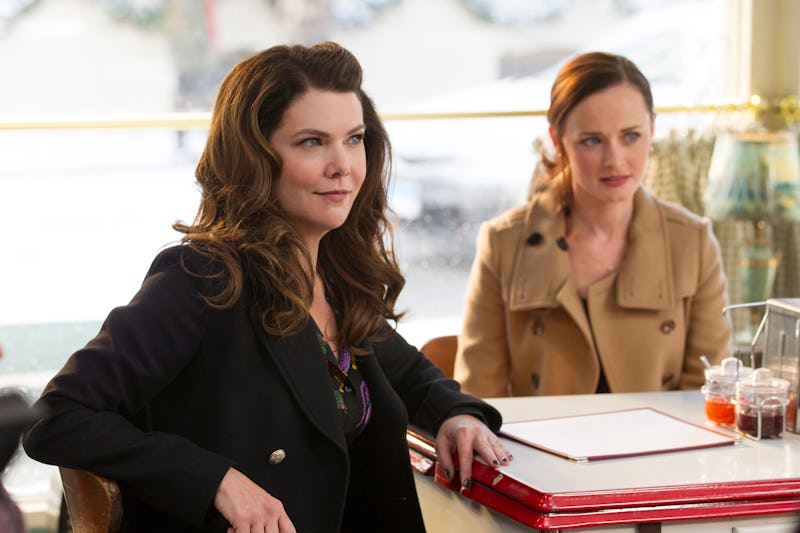 There are so many things to love about Netflix's Gilmore Girls: A Year in the Life, which premieres Nov. 25, but one of the best parts about it is all the people who have returned to reprise their roles. Stars Hollow just wouldn't be the same without Sookie, Jackson, Lane, Kirk, Babette, Taylor, and so many others. But in addition to those familiar faces, there are so many awesome guest stars and cameo appearances in the Gilmore Girls revival. There are spoilers ahead for Gilmore Girls: A Year in the Life, so stop reading now if you don't want to know who plays who.
From celebrity chefs to Tony-award winners, these exciting new faces grace Stars Hollow (and beyond) as themselves or various characters in the four-part revival of the beloved 2000s TV show. Gilmore Girls: A Year in the Life takes viewers back into the world of Stars Hollow and everyone's favorite mother-daughter pair, Lorelai (Lauren Graham) and Rory Gilmore (Alexis Bledel). In the four new extended episodes on Netflix, fans are literally taken through a year in the life of the Gilmores now — and all the fan favorite characters have grown since the original series ended in 2007, yet they've also stayed true to themselves.
But part of the fun of the show is seeing who drops by the Gilmore world— and many big names do come on by throughout episodes "Winter, "Spring," Summer," and "Fall."
1. Roy Choi (Himself)
If you've ever chased down a food truck, you have this Los Angeles-based chef legend to thank for making the trend popular. Choi is the inspiration behind the movie Chef and the mastermind behind the famous Kogi BBQ trucks, among other acclaimed restaurants in LA. So foodies will be delighted to see Choi hosting a pop-up dinner at the Dragonfly Inn — that is, until Lorelai fires him for not being Sookie.
2. Rachael Ray (Herself)
The quintessential Food Network cook and morning show host also does a short stint as the Dragonfly Inn chef, but like Choi, Ray isn't the beloved Sookie. Seriously though, Sookie is the best.
3. Melissa McCarthy (Sookie)
And yes, then Sookie finally reunites with Lorelai. This is considered a high-profile cameo now, because McCarthy has deservedly become a comedy superstar since the original Gilmore Girls series ended.
4. Sutton Foster (Violet)
The Tony Award-winning actor and self-proclaimed Gilmore Girls superfan appears in the revival as Violet, a struggling actor in the Stars Hollow Musical and a role created for her, according to an interview with Entertainment Weekly.
Foster is new to Gilmore world, but she's a frequent collaborator with creator Amy Sherman-Palladino. Her Gilmore Girls character name could be a reference to the musical Violet, in which Foster starred in and Sherman-Palladino produced. Before starring in Younger, Foster headlined the short-lived series Bunheads, also created by Sherman-Palladino.
5. Mae Whitman (Marcy)
Graham's former Parenthood co-star makes a brief, but memorable cameo in Gilmore Girls: A Year in the Life .
6. Christian Borle (Carl)
The two-time Tony Award-winner guest stars as Carl in the episode "Summer," in which he co-stars with ex-wife Foster in the Stars Hollow musical, as reported by Playbill. According to the publication, Borle and Foster became big fans of the show when they used to watch it together.
7. Alex Kingston (Naomi Shropshire)
The Doctor Who alum plays an eccentric, but elegant Brit who Rory works with on a book proposal.
8. Vanessa Marano (April)
Yep, the Switched at Birth actor returns as Luke's daughter in the revival series.
9. Danny Strong (Doyle)
The actor is now the co-creator and executive producer of the Fox hit TV series Empire, but Strong makes a brief cameo as Paris Gellar's now-ex-husband Doyle — who is also now a big shot screenwriter (ahem).
10. David Sutcliffe (Christopher)
Sigh. Of course, Christopher makes a cameo, because he just can't stay away from the Gilmore women.
11. Chris Eigeman (Jason Stiles)
Lorelai's ex-boyfriend and Richard's former colleague makes a cameo at the Gilmore patriarch's funeral.
12. Dan Bucatinsky (Jim Nelson)
The former Scandal star makes a cameo as a big time editor with whom Rory meets with at Conde Nast.
13. Gregg Henry (Mitchum Huntzberger)
Yep, Logan's father briefly returns in the revival and he seems to have softened towards Rory.
14. Paula Anka (Himself/Paul Anka The Dog)
The legendary singer himself returns to the series for another cameo in another Lorelai dream sequence.
15. Julia Goldani Telles (Sandee)
The Bunheads and The Affair actor plays the CEO of the website SandeeSays, which is pursuing Rory for her work.
16. Carole King (Sophie Bloom)
The Gilmore Girls theme song singer reprises her role as Sophie Bloom and even belts a few notes of one of her famous tunes.
17. Jared Padalecki (Dean)
The Supernatural star drops by to step back into the role of Rory's first boyfriend.
18. Stacey Oristano (Allie)
The former Bunheads actor plays a character named Allie in the revival.
19. Milo Ventimiglia (Jess)
Be still my heart. The This is Us star returns to the series in his breakout role, sending Team Jess hearts a-flutter everywhere.
20. Emily Bergl (Francie)
The leader of The Puffs indeed returns for one more showdown with Paris Gellar.
21. Matt Czuchry (Logan)
The former Good Wife actor returns to the role of Rory's college boyfriend.
22. Jason Mantzoukas (Robert Castellanos)
The Brooklyn Nine-Nine actor appears in the episode "Spring" as Naomi's laywer.
23. Kerry Butler (Claudia)
The actor steps into the challenging role of being Emily and Lorelai's therapist.
24. George Anthony Bell (Stanley)
The actor and dialogue coach for the show made a cameo as Stanley at the cemetery in "Summer."
25. Peter Krause
Graham's Parenthood co-star and boyfriend made a cameo as a park ranger (who calls himself Park Ranger) who Lorelai encounters on the Pacific Crest Trail in "Summer."
26. Jason Ritter
Graham's Parenthood co-star also makes a cameo as Ranger Bill on the Pacific Coast Trail in "Summer."
More to come...
Images: Saeed Adyani/Netflix; staceyoristano/Twitter