You Get This Many Kylie Holiday Mini Mattes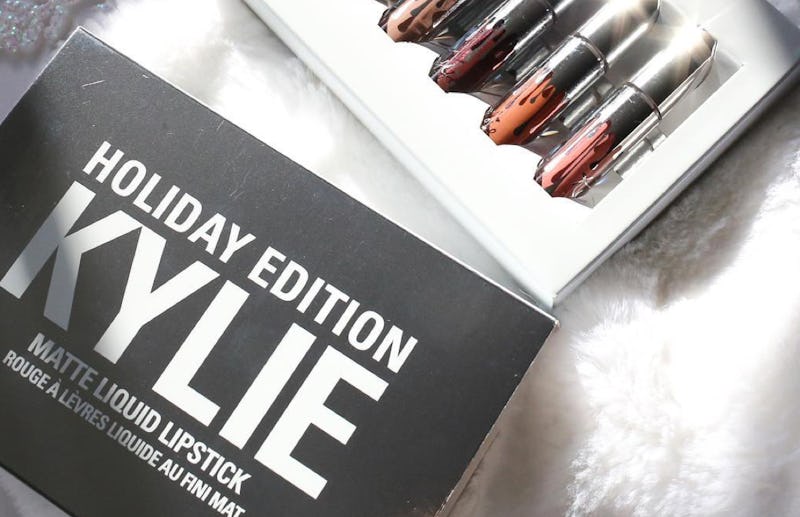 It a Mini Matte encore! Kylie Jenner's 2016 Birthday Edition featured a collection of six Mini Mattes. It included tiny versions of six Lip Kits, which is the brand's hero product, minus the accompanying x matching lip liners. The Kylie Cosmetics 2016 Holiday Edition Collection also features a Mini Matte collection, with two exclusive and brand new shades and four existing shades which were not included in the prior mini set. The Holiday Edition Collection drops on Monday, Nov. 21 at 4 p.m. ET/1 p.m. PT. How many Mini Mattes are in Holiday Edition?
There are six shade included in the set. This time out, you get Vixen and Angel, which are holiday exclusives. Also included are Ginger, Moon, Kristen, and Love Bite from the Summer and Fall 2016 collections.
At first, the tubes in the Mini Matte set may seem tiny. But the collection boasts several shades of a long-lasting formula, which means fans can create custom looks by combining swipes of shades and not have to re-apply several times a day. Additionally, the portable size allows users to tote several lippies without taking up precious handbag or pocket real estate and to change their lipstick shade to suit their mood.
Since the matte liquid lipsticks are Kylie Cosmetics' cornerstone product, it makes sense to do another collection of minis so customers can sample a variety of shades. It's a Mini Kit!
The best thing about six, smaller-sized matte beauties is that you can sample the shades and then purchase full-sized versions if you happen to fall in love with one of the hues.
This was the Mini Matte set from the gold-dipped Birthday Edition.
Images: Kylie Cosmetics/Instagram (3)