Jyn & Cassian Lead This New 'Rogue One' Teaser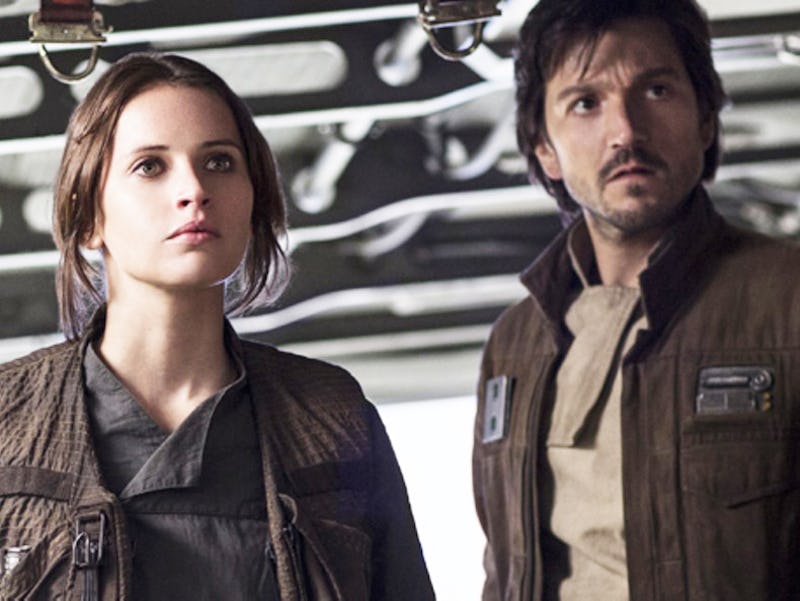 I didn't think it was possible for the Star Wars franchise to come out with a movie that felt more kickass and feminist than The Force Awakens, but the new Rogue One TV spot has proven me wrong. As the Dec. 16 release date approaches, everyone's getting more and more desperate for any and all information about the new spin-off. On the one hand, I'm sorry to tell you that most of the footage is stuff you've seen in trailers and teasers before. But wait. One thing that is new is that you get to see the camaraderie between the rebels, the way Jyn Erso leads, and — most importantly — the way the rest of the team defers to her.
It might seem like a small thing, particularly in a 45 second trailer. However, the production team has done an excellent job of making Jyn Erso the focal point of almost every shot, painting a clear picture of her as a confident, competent, independent leader who truly doesn't need anyone else. But, hey, she'll take the help if it's offered. One of the new bits of dialogue is delivered by Felicity Jones, as Erso calmly utters, "I'm not used to people sticking around when things go bad" over interspersed scenes of weapon fire and violence.
This doesn't just mean that people frequently let our hero down; it means that she's grown both accustomed to, and skilled at, handling things on her own. In short, Jyn Erso is a boss, a fact that's only underlined by the way Diego Luna speaks to her in return. As Captain Cassian Andor, he pledges his support for Jyn Erso and her cause, not by saying, "you need our help" or "let us help you," but with a simple, "we want to help."
Again, it might not feel like much, but words matter, and, in this case, Andor is showing a deference to Erso that makes me want to go skipping into the sunset, I love it so much. He's self-aware enough to acknowledge that he hasn't been reliable in the past, but seems ready to change his ways if it means he can fall in line under Jyn Erso. We'd all be lucky to have a leader like her, and I personally feel lucky to get to see a movie in a few short weeks that has such a strong, badass woman in the lead role.
Image: Walt Disney Pictures/Lucasfilm