15 Holiday Gifts For Trump's America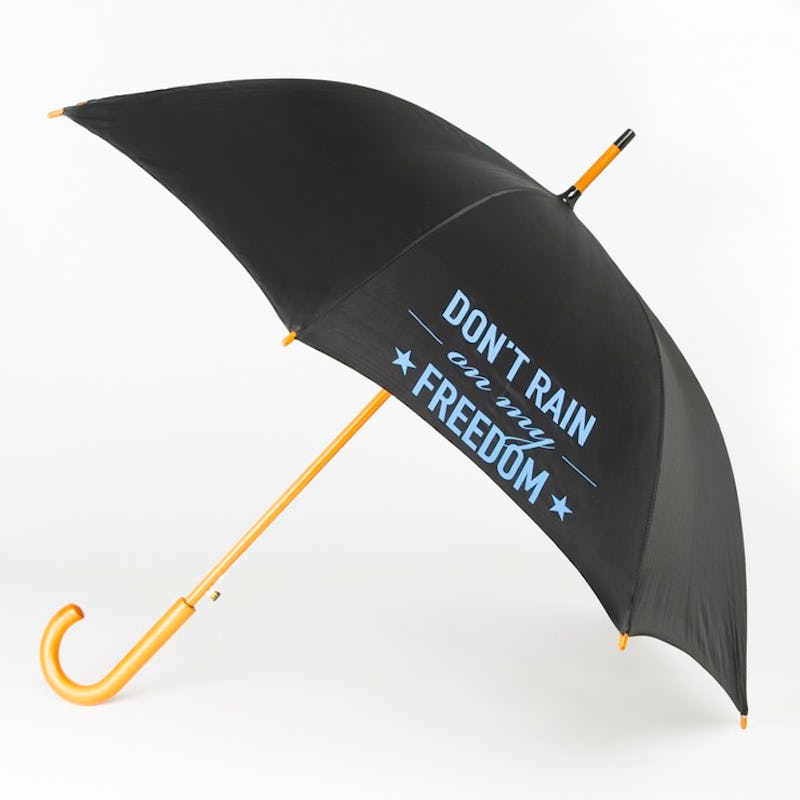 It can seem rather indecent to be thinking about gifts when the nation is gripped by continuing political and social unrest. President-elect Donald Trump's America is hardly feeling particularly festive right now, particularly for immigrants, LGBT people, minorities, women and, I dunno, basically everybody who doesn't want to live in the 1950s. But, on the good side, giving can be positive: not only can it bring people together, you can give the gift of activism, awareness, and support. This festive season is likely to be a contentious one, so why not channel all that ho-ho-ho goodness into filling the stockings of loved ones with holiday gift ideas to combat Donald Trump's America?
From gifts that directly fund organizations that support civil rights to books that will open eyes, this can be a holiday season that really does some good. If anything good has come out of the hateful nonsense that's followed the 2016 election, it's been the overwhelming support, physical and monetary, that's flowed into places like the American Civil Liberties Union and Planned Parenthood as people become determined to keep them open and safe. Why stop that in the festive season?
Activists deserve presents too, and you can do everything from giving donations in their name to finding them snazzy objects that declare their support for human rights, environmental protection, and decency while also funding important protective structures. Do you know somebody who'd be proud and honored to unwrap a guide to digital activism under the tree? Why not get shopping for the sake of the future?
Hoodie, $38, Planned Parenthood
Women's rights are human rights, and Planned Parenthood has already pledged that its doors will stay open no matter what Trump throws at it; but you can help it out in a fashionable way (which also emphasises the diversity of care PP provides.)
LGBTQ Tote, $15, Revel & Riot
Terrified of what might happen to the community in this new atmosphere of intolerance and hatred? Non-profit Revel & Riot's tote bag "is about the wastefulness of hate, discrimination and injustice. It's a phrase to sum up the collective exasperation of LGBTQ people and allies who want and end to inequality, bigotry and enforced normativity."
If you haven't read this and you consider yourself woke, you need to read it. Now. Rankine's multi-award-winning prose poetry is one of the most famous pieces of political American art in years, and speaks beautifully and sadly about the truth of American racism.
Don't Rain On My Freedom Umbrella, $23, ACLU
Want to make a difference, flaunt your respect for the nation's laws and Constitution, and donate to the ACLU at the same time? This snazzy umbrella will help stop Trump from raining on your civil rights parade. Get it here.
Digital Revolutions: Activism In The Internet Age, Symon Hill, $10.00
The world's gone mad, but activism is changing to keep up with the shifts in politics and technology, and you deserve to be in on that. This book looks at everything from the Arab Spring to Slutwalk and buying it helps Amnesty International continue their work. Get it here.
Limitless T-Shirt, $26, Blck Store
The official Black Lives Matter store stocks multiple pieces of merchandise, though T-shirts and hoodies with the name of the movement are currently sold out. In their place, though, there's this inspiring T-shirt.
Rescue Gifts, $114, Rescue.Org
Refugees haven't exactly been made to feel particularly welcome in the United States at the moment. Make those who are still in transit and likely to suffer through the winter in temporary camps across Europe slightly more comfortable by giving warm clothing via the International Rescue Committee.
This Changes Everything, Naomi Klein
Concerned about the potential havoc that a Trump administration that doesn't believe in climate change will wreak on the environment? Naomi Klein's recent climate change opus won't change your mind, but it will make you furious and encourage you to get active.
"Love Conquers Hate" Bracelet
Love Conquers Hate Bracelet, $14, HRC
The Human Rights Campaign is one of the main organizations in the country fighting for the equality of all LGBTQ people under the law, and they're a bit frightened about what happen to their rights under a Trump Presidency. Help support their work and broadcast your beliefs with this braided metal bracelet. Cute and spreading a message of love. Win-win.
Adopt An Animal, $39-$79, Sierra Club
Nobody protects the American environment in quite the same way the Sierra Club does, and they're offering new opportunities for people to get involved by sponsoring wild animals; you have a choice of everything from manatees to tarantulas. The animals will need your help in Trump's America now more than ever, too.
UNICEF Bracelet, $40, Target
This is a fascinating way to get kids involved in activism and help people around the globe: the UNICEF Kid Power Band donates part of its initial purchase price to UNICEF, but it's also part of a program that allows kids to earn points through going on "missions" and adventures, and all of those points are converted into food packs for malnourished kids worldwide.
The p*ssy grabber is president. How are we going to cope? Let's start with validating excellent voices about the experience of sexism and objectification in modern society. Valenti is, as always, on point for every feminist reading list.
Lush Charity Pot, $8-$28, Lush
Lush donates 100 percent of the price of this vegan body lotion to organizations working in the areas of environmental conservation, animal welfare, and human rights. As in, 100 percent. Those are three causes that certainly need our help now more than ever.
THINX Hiphugger Panties, $34, THINX
For the blood "coming out of her wherever." For your skeptical friend or sister you've been raving about THINX to, this makes an awesome gift — she might be too shy to try a pair for herself, but she's sure to get hooked in no time. Ethically made by women in Sri Lanka, for every pair purchased, THINX donates funds to AFRIpads, an organization that trains women in Uganda to sew and sell washable, reusable cloth pads, turning local women into entrepreneurs.
Donation To The NODAPL Protestors
Donation To The NODAPL, Varies, Fund Razr
The protests against the Dakota Access Pipeline continue, as temperatures drop. If you have a bit of extra cash, the protest group also have several expensive items left on their Amazon wish list, as many of the cheaper ones have already been purchased. If you'd like to contribute to their legal fees, they also have a fundraiser which is nearly at its $2.5 million goal.
Images: ACLU, BLM, Revel & Riot, Kennedy Space Center, Human Rights Campaign, UNICEF, International Rescue Committee, Planned Parenthood, Amnesty International, Sierra Club, THINX