The 'Gilmore Girls' Music Has Changed A Little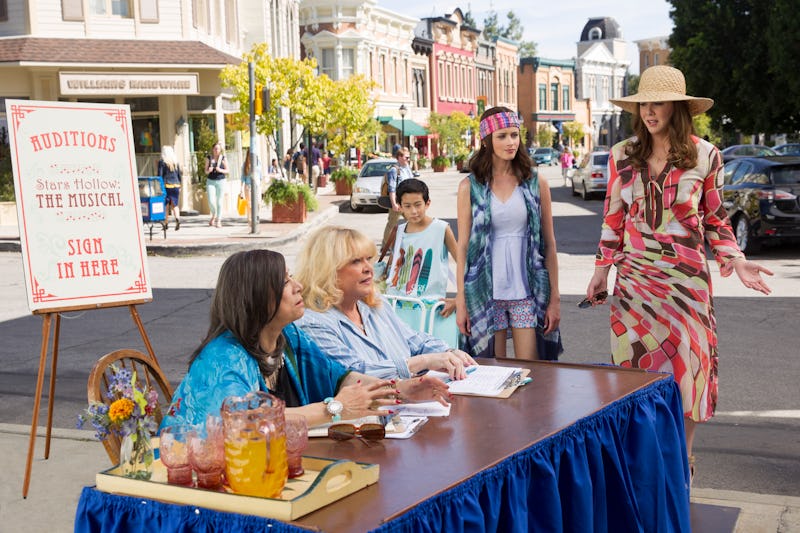 One of the most iconic aspects of Gilmore Girls is the Carole King song "Where You Lead" that serves as its theme. However, the theme song is missing on Gilmore Girls: A Year In The Life — at least, at first. There are some minor Gilmore Girls spoilers ahead; I warned you. While the episode titles ("Winter," "Spring," "Summer," and "Fall") allude to the Carole King song "You've Got A Friend," the episodes open without the folk singer's signature voice. Update: "Where You Lead" is featured in the Gilmore Girls revival's final episode, "Fall."
Earlier: "Winter" begins on a black screen with sound clips from various episodes of the original Gilmore Girls overlapping over one another — giving you all the feels before the episode even begins. Rory's boyfriend Paul alludes to the song by casually saying "I will follow," which is a nice meta reference. "Spring," on the other hand, just announces itself with a title card after the cold open. Why is there no theme song this time around? Perhaps its to distinguish the revival as a separate series. These are not typical episodes, and it's possible that the Powers That Be at Netflix thought that fans who planned to marathon all of the new episodes wouldn't like to hear the song four times in one day. I politely disagree, but it's a theory. I don't think it's a copyright issue, as the series was filmed on the same Warner Brothers studio lot as before and is produced by the same production company.
The rest of the music on Gilmore Girls: A Year In The Life, on the other hand, is familiar for fans of the original series. The Troubadour is still roaming the Stars Hollow town square. You'll recognize a lot of the Sam Phillips "la la" music cues from classic Gilmore Girls scenes and transitions. Hep Alien is still rocking as well. As for other music, a cover of The Carpenters' song "Top Of The World" (specifically, the cover that you may remember from the Parent Trap soundtrack) can be heard in "Winter," when Lorelai arrives at Friday Night Dinner, some Dolly Parton and jazz standards, to name a few.
Finally, the theme song plays over the closing credits at the end of the "Fall" episode — just in case the shock of that ending and those final four words weren't enough.
Image: Saeed Adyani/Netflix