Lo Bosworth Made Beauty Products For Your Vagina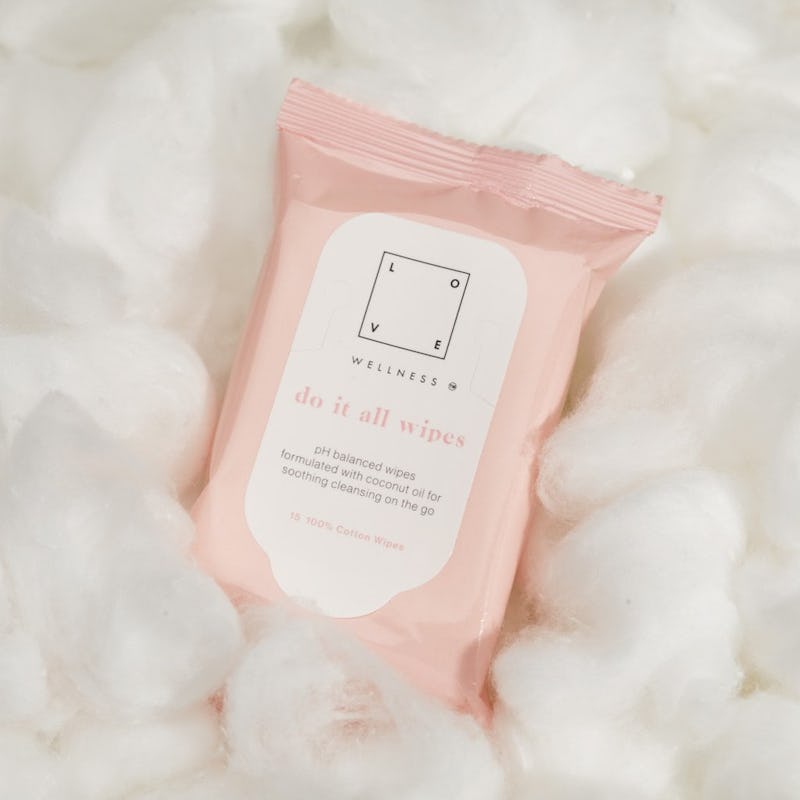 As far as our beauty regiments go, we tend to spoil certain parts of our bodies — our face, our hair, our nails — while somehow totally forgetting one very important one: our vaginas. Lo Bosworth (yep, that Lo Bosworth, of Laguna Beach fame) is trying to change that. Through her new feminine care company, Love Wellness, Bosworth's mission is to get all of us to realize how important it is to #TakeCareDownThere.
Anyone who has ever had an infection in her lady parts and found themselves standing in front of the "feminine hygiene" shelf at the drugstore knows that the options for feminine care are both overwhelming and outdated. Bosworth also found that many of them contained ingredients (like Propylene Glycol) that we shouldn't want anywhere near our precious girl-flowers, so she decided to make her own for women, by women line that's all natural and happens to come in really cute pink packaging.
"Love Wellness is here to change the status quo for good, driven by a personal mission to gain control over my body and health," says Bosworth on the brand's "About Us" page. Her inspiration from the line came from her own struggles with feminine infections, and her disappointment that the options for care were so limited. "We've created issue-specific, high-quality formulations made from natural ingredients that relieve women of infections like yeast and BV, and go a step further to address the root causes behind the most common issues women face," she says.
The line offers a multi-step process for caring for your vagina. There are wipes, creams, cleansers, vitamins and even a tea, all of which are made from completely natural ingredients and meant to help with each woman's individual needs. The infection killing products utilize medicinal strength Boric Acid, which until now has only been available in prescription form, while the cleansers are formulated with the perfect pH to match that of your vagina.
Take a look at the Love/Wellness product line, and thank your lucky stars that you'll never have to stick a scary looking suppository up there ever again.
Good Girl Probiotics, $28, Love Wellness
When you get an infection, the "good" bacteria in your vagina get all out of whack and your pH levels fluctuate, which makes it harder for your body to fight the infection. These probiotic capsules help balance out what's going on down there, and recolonizes your bacteria to "help you get your groove back.
The Killer Boric Acid Suppositories, $26, Love Wellness
These all-natural suppositories will help you fight yeast and other infections by helping bring your vaginal pH back to its normal level, and will ensure that you won't ever have to deal with messy creams in your favorite panties ever again.
3. Perfect Condition Vitamins
Perfect Condition Vitamins, $28, Love Wellness
Feminine wellness starts from the inside, and these daily vitamins (which include ingredients like Turmeric, coconut oil, grapefruit seed extract, garlic, boron and folic acid) will help you with head-to-toe health.
4. pH Balancing Cleanser
pH Balancing Cleanser, $24, Love Wellness
Most soaps and cleansers have a pH of 9-10, which can cause chronic infections and nasty irritations. LoveWellness' product is formulated to perfectly match your vagina's pH (which is around 4.2) to avoid any #situations. This cleanser was so popular when it launched last month that it's already sold out, but is available for pre-order for when the next re-stock comes around in December.
pH Balancing Moisturizer, $18, Love Wellness
This moisturizer is basically all natural, female-friendly lube, and is meant to be used when things get intimate. It never gets sticky (been there, and it's the worst), and according to the LoveWellness team it feels "really... real." This product is also sold out until December, but is available for pre-order online.
Blue Tea Supplement, $24, Love Wellness
"We like to drink this pre-gym, post-late night, and when we need a health boost," says the LoveWellness team. "Remember, great overall health means great health down there, too."
Do It All Wipes, $24, Love Wellness
Throw 'em in your bag for an on-the-go, all-natural clean up for your lady bits.
Images: Courtesy of LoveWellness