This Collection For Tall Girls Is Fabulous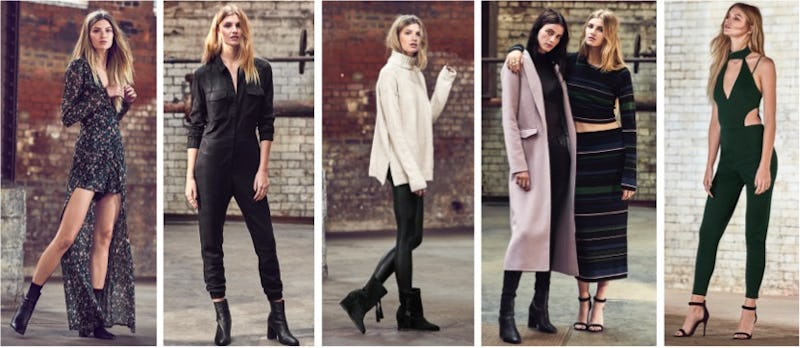 If you're a tall woman, then you might know that the struggle is real when it comes to shopping. But thanks to CURATD. x Long Tall Sally Capsule Collection, your tall frame can now be just as stylish and trendy as the rest of the women around you. With great height comes great power, but also a whole slew of sartorial grievances. Sure, we can see over everyone else at festivals, but rompers also give us wedgies and jumpsuits have a tendency to produce some un-asked for camel toe. High rise jeans are just normal jeans on our frames, babydoll dresses are basically ice skating costumes, winter coats are like shrunken jackets, and don't get me started on the trials and tribulations of finding "proper" length jeans.
But thanks to Long Tall Sally's new capsule collection, the wait is now over. "Unlike the petite and plus-sized markets, options for on-trend pieces that properly fit tall women have been scarce…until now. Announcing a new, limited edition capsule collection called CURATD. x Long Tall Sally, specifically designed for women 5'8" and taller," Long Tall Sally's press release stated.
Specifically cut for tall women, you'll be able to get some of this season's hottest trends but specifically tailored for your long body. No more buying something double your size just so you can have enough length on you!
The collection includes a bevvy of options, including a playsuit maxi, a tux mini dress, a coordinating striped crop top and midi skirt, cut-out jumpsuit, and calf-skimming winter coat. "Anchored around a dusky color palette, the collection features soft tulip prints, feminine cuts and subtle detailing," according to the press release.
To see what the collection has to offer for yourself, below are some of their hottest picks.
1. Playsuit Dress Hybrid
Dusky Tulip Playsuit Maxi, $149, longtallsally.com
Pop some tights underneath this playsuit and you can wear it well into winter.
2. Cut-Out Jumpsuit
Tapered Ankle Length Jumpsuit, $175, longtallsally.com
Just in time for the holiday party season, this dark green tapered jumpsuit will help you look fabulous throughout all the mulled wine drinking and gingerbread man snapping.
3. Ankle Skimming Winter Coat
Single Button Maxi Coat, $345, longtallsally.com
Finally, a coat that doesn't look like you grew out of about five years back!
4. Striped Skirt Set
Stripe Cord Skirt, $95, longtallsally.com
Play out your inner '90s grunge fantasies with the striped skirt and sweater midriff combo.
5. Sheer Polo Neck Top
Sheer Polo Neck Top, $45, longtallsally.com
Don't be afraid to show off that bra! Add sheerness to your winter wardrobe with the help of this fashion forward polo.
Don't settle for ill-fitting clothes anymore — check out this collection and get what your closet is lacking!
Images: Long Tall Sally (6)