We May See A Lot Of Logan In The 'Gilmore' Revival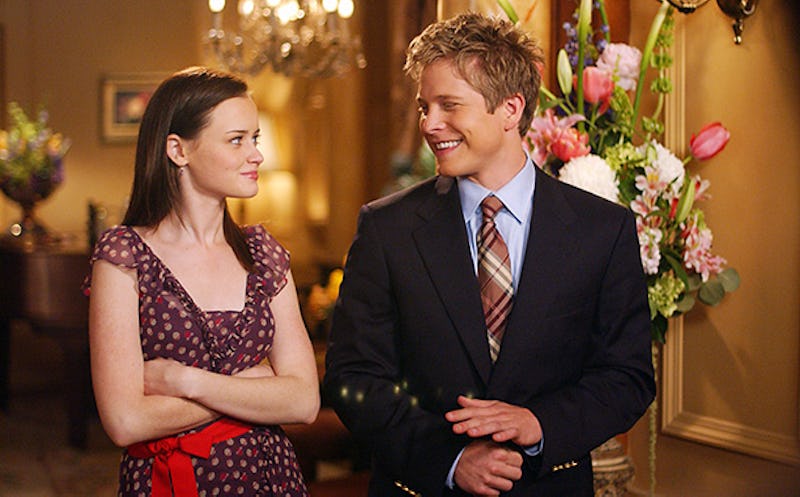 The countdown has begun. The Gilmore Girls revival premieres on Friday, Nov. 25 and one of the most talked about questions is who Rory will end up with in the end, if anyone. With no real spoilers available, fans are desperate for any clues that could help us figure it out. Even small pieces of information, like which Gilmore Girls episodes Logan is in, are being analyzed for any possible hints. Though we know all three of Rory's major exes over will appear in A Year in the Life, when exactly they each show up has not been confirmed. However, based on multiple clues, it is possible that Logan might appear in all four parts of the revival.
When we last left Logan in Gilmore Girls Season 7, he was offered a job in California and proposed to Rory at her graduation party. In the end, she told him that though she wants to be with him, she can't marry him, and he said that he didn't want to do long distance, so they broke up. Since that moment, which aired in 2007, we've been waiting to find out what happened between these two over the years. They easily could have reconciled at some point in the future, or moved on to other relationships. Personally, I thought Logan and Rory were meant to be, so I'm hoping that they'll get the happy ending they deserve in the Netflix revival. But first, we have to figure out how much we'll be seeing of him when the series returns.
The Beginning
Entertainment Weekly reported and Bustle can confirm that of Rory's exes, Logan is seen first, meaning we'll see him in the first half of the revival. And if you download the above still from Netflix, the file name has it listed as being from "Spring," the second episode. So it seems that you can expect to see Logan relatively soon once you start watching.
IMDb Claims He'll Be In All Four
Though listings on IMDb are not concrete evidence, the website does have Matt Czuchry listed as appearing in all four episodes, Milo Ventimiglia in three, and Jared Padalecki in one. I think we all knew that Dean and Rory were never going to last, so it really comes down to Jess and Logan, and if IMDB is correct, there could be some sort of love triangle brewing.
Clues From Matt Czuchry
First, in an interview with Entertainment Tonight, Matt Czuchry said about the revival, "Those four scripts, it's 90 minute movies on Netflix, and they're incredible," suggesting that he's seen all four scripts. Months later, in an inerview with Entertainment Weekly, he said about Logan and Rory, "In terms of where things are at the end of these four chapters for Logan and Rory, it's pretty special. I'll say that. It's very, very special." This quote hints that Logan could be making an appearance in the finale, "Fall."
This Robe
All I'm saying is, in this brief moment in the trailer, it looks like Rory is wearing a man's robe and ithe leaves outside her window suggest this is happening in fall. Maybe it's Jess' robe, maybe she's staying at the Dragonfly, or maybe, she's wearing Logan's robe...
Logan's Determination Is Still Strong
We know that Logan is a character who doesn't ever give up on what he wants and he's clearly wanted to be with Rory for a long time. At the premiere of Gilmore Girls: A Year in the Life, Czuchry told TVLine, "Logan loves Rory and will always love Rory, regardless of whatever ending there may be [in the revival]. I think Logan feels like Rory doesn't need anyone or anything and that [makes] Logan want to give her everything." Perhaps that means he'll spend a few seasons trying to win her back.
Sorry Jess fans, but thanks to all of these clues, I have a feeling that we'll be seeing a lot of Logan when Gilmore Girls returns on Friday, Nov. 25.
Images: The CW; Neil Jacobs/Netflix; Giphy (3)