Kendall & Kylie Now Have Text Stickers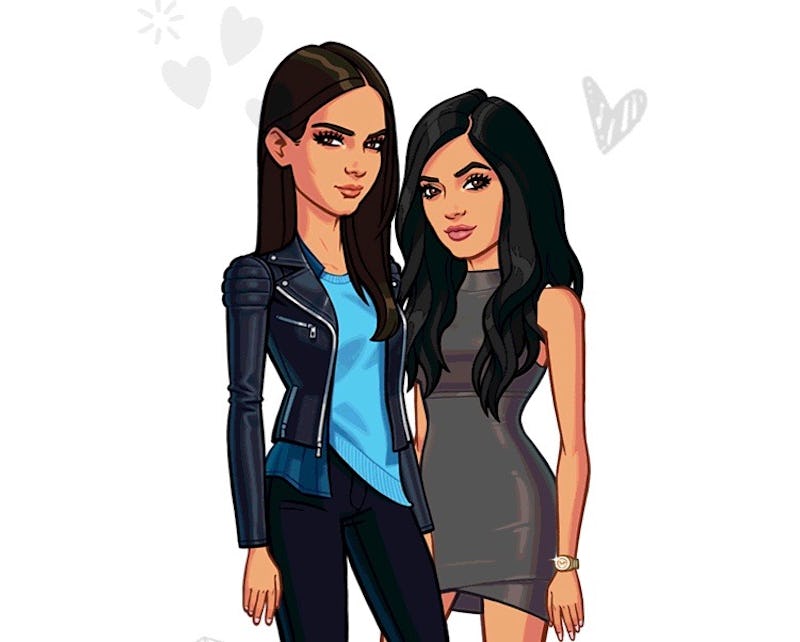 As far as app updates go, the latest addition to the Kendall & Kylie iPhone game is arguably as major as a fresh pack of Sandylion holograms. On Wednesday, Keeping Up with the Kardashian stars Kendall and Kylie Jenner launched an iMessage sticker set through their mobile game. Thanks to these brand new K&K stickers and the classic Kimoji, your text message bubbles can keep up with the Kardashian-Jenners now more than ever.
If you would like to adorn your text messages with Kendall and Kylie Jenner's stickers, first of all, you have terrific taste. Secondly, here is what you have to do to get ahold of the kollection: make sure you have the latest version of Kendall & Kylie on your phone. That's it. Just update the game and bam, your iMessages will be Jenner Sisters-ified.
And for those of you who have not been playing the mobile game since it hit the App Store back in February? Well, that will have to change. If you are serious about getting your paws on these e-stickers, you will have to mosey on over to the App Store and download K&K . Them's the breaks. Also, the app costs free-ninety-nine, so what's the holdup?
There's a pile of reasons to get into Kendall and Kylie's iMessage stickers, but my heart belongs to the anthropomorphic banana, the anthropomorphic taco, the anthropomorphic soda cup, the anthropomorphic pineapple — personally, if it is a drawing of a food with eyeballs, I am all in.
And if apples with faces are not your bag, there is always the sticker of a brick cell phone. Or the sticker of an alien. Or the sticker of a unicorn. Or the sticker of a bear wearing sunglasses. There is truly something for everyone.
Images: Glu Mobile Inc. (2)