Kylie's Holiday Collection Makeup Bag Went Fast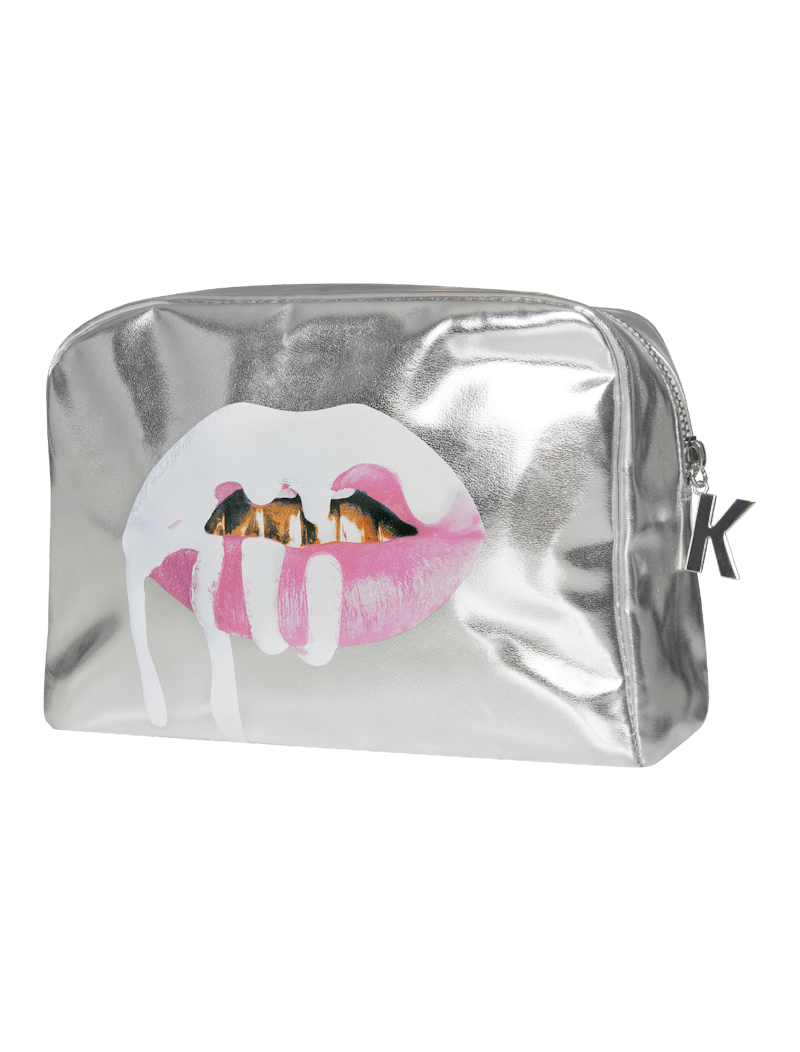 If you're a big fan of Kylie Jenner's Kylie Cosmetics, chances are you've stocked up on the makeup mogul's collection and you're looking for a space to store all those lip kits. So when Jenner included a Kylie Cosmetics holiday edition makeup bag in her limited edition holiday collection, it's no surprise that it flew off the (virtual) shelves.
Jenner's holiday collection went on sale at 1 p.m. PT on Monday, November 21, and the bag had sold out within a few hours. Can you blame fans for scooping it up? The silver bag features a "K" zipper and Jenner's signature lip logo on it. It's definitely a chic way to store all your Kylie Cosmetics products, but unfortunately if you haven't grabbed the bag already, you're out of luck until the next restock. Although the holiday products are limited edition, I have to imagine that Jenner will eventually restock the entire thing — after all, the holiday season is just beginning. If she's the businesswoman I think she is, I'm sure she has some Black Friday and Cyber Monday deals up her sleeve. I know the makeup bag will be at the top of my list when Jenner eventually does restock. I mean, look how cute it is.
Kylie Holiday Collection Makeup Bag, $36, kyliecosmetics.com
Of course, if you can't wait for Jenner to restock the bag, there's always alternatives to shop in the meantime.
Charlotte Tilbury Lip Print Canvas Makeup Bag, $20, charlottetilbury.com
This cute lip print makeup bag from Charlotte Tilbury is a great alternative to Kylie's — how cute is it?
Carley Glitter Customizable Cosmetic Case, $25, macys.com
This adorable Sam Edelman cosmetic case comes with the lipstick emoji on it, but it also includes stickers so you can customize your case.
ASOS Metallic Cat Makeup Case, $12.50, asos.com
This ASOS case brings to mind Kylie's metallic one, and I love the fun cat shape.
steph& co Silver Cosmetics Case, $22.50, nordstrom.com
This simple silver case is the perfect size to stock all your Kylie essentials.
Although the Kylie holiday edition makeup bag is the perfect one for stocking your Kylie Cosmetics purchases, these alternatives will do the trick.
Images: Courtesy of Brands