So, You Want to Know Who The Mother Is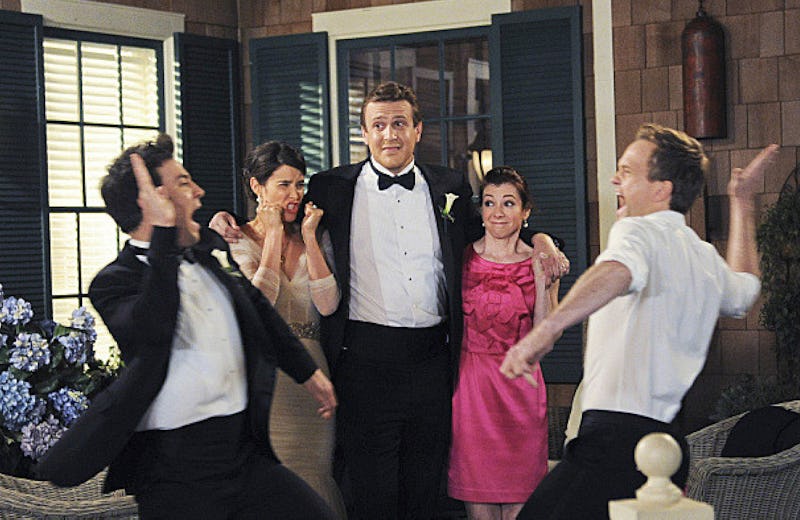 In case you're one of the many people finding yourself stuck between a rock and hard place when it comes to watching the series finale of How I Met Your Mother , you may find yourself scrambling to find a copy of the final episode online or on-demand before your coworkers' water cooler chatter (or Twitter) inevitably spoils the entire surprise ending for you. Luckily, you're not alone. The television powers that be have given us plenty of alternatives for finding the last ever episode of How I Met Your Mother on your own schedule.
So, if you arrive home to see that your DVR has unfairly recorded the wrong program — or as so often happens to me, it has recorded the program in a language you've yet to learn — fear not. You will be able to find out if the wild "The Mother is dead" theory panned out and whether or not the even wilder theory that Barney died tragically was real. All of the craziest How I Met Your Mother theories will have been laid to bed and whether you aim to access the final one-hour episode hours (or even days) after the finale or mere minutes after it's aired you will be able to rest soundly knowing that whatever obstacle came between you and your beloved series won't keep you apart for long.
So don't cancel last minute on your friend's incomprehensible weeknight wedding or bail out on a hot date. It turns out that you actually can have it all. Actually, you might want to cancel your plans to celebrate missing the HIMYM finale by crying under your desk tomorrow, okay?
Catch It Online
If you're looking to catch the episode on the go or without any prying eyes who might "ooh," "ahh," gasp, or spoil you, your best is going to be CBS.com. The official source of How I Met Your Mother generally posts the latest episode the morning after it airs. Hulu, unfortunately, does not have the rights to HIMYM. Of course, prepare to account for high traffic volume considering that even your distant cousin who "hates" TV is probably wondering how Ted wound up meeting the Mother.
Use the Power of On-Demand
If you've got Time Warner or some other cable service that offers free On Demand, new episodes are reliably available the morning after they air. Sometimes, however, with a high-demand episode, there are delays or issues with playback, so try not to break anything when you have to turn your cable box on and off again to get ahold of the show.
Take it Anywhere
Of course, if you're a very important, on-the-go sort of person, you can always download the episode and take it with you on your commute or your flight or your "I'd rather be laying in bed with my iPad than sitting on the couch" hour. Amazon and iTunes will both offer the episode in HD for $2.99, but if you like saving a dollar and hate waiting 10 minutes extra for top-notch visual quality, you can also purchase SD for $1.99. Though, if you're still watching SD when HD is available, we just might have to break out the "Intervention" banner one last time.
Image: CBS; Tumblr/thisiswhatiwantittobe