Sookie's 'GG' Revival Appearance Won't Be Long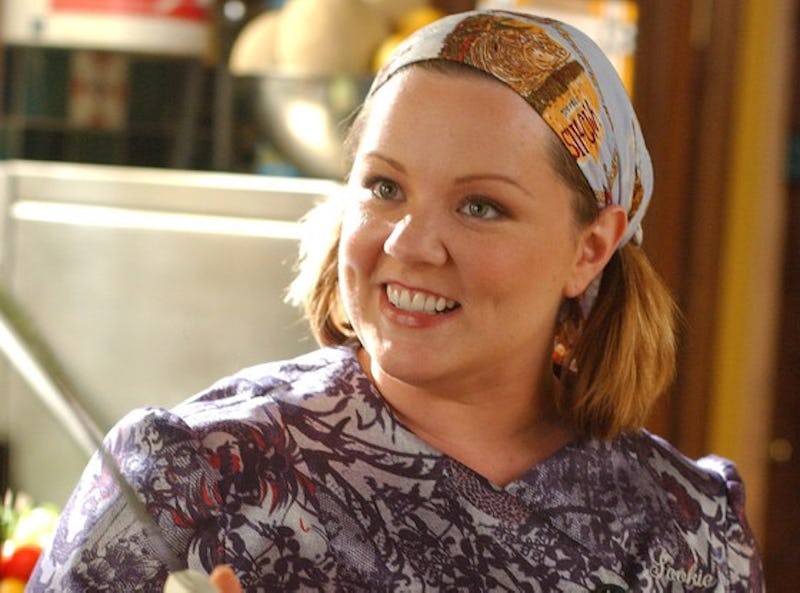 Guys, in case you haven't been counting down the hours with the rest of us, Gilmore Girls: A Year In The Life will be heading to Netflix for full marathoning on Nov. 25. It has been eight long years since the last Gilmore Girls season aired, so there is a lot to cram into these four 90-minute episodes. Luckily, it looks like Chrismukkah will come early, because almost every single one fan favorite will be returning to Stars Hollow. After all of the confusion and drama that surrounded her possible return, even Melissa McCarthy will be jumping back into our beloved Sookie's chef uniform for at least one scene in one episode. So, which Gilmore Girls revival episode will Sookie appear in?
Now, remember that the four episodes will correlate with the four seasons of the year — hence, A Year In The Life. The episode order will be, Winter, Spring, Summer and Fall. Of course, I think we can all agree that Stars Hollow just feels like it's in a perpetual state of Autumn, right? It's no wonder why the series picked the pivotal season as the finale episode for the revival. It's sure to be a jam-packed episode, too, considering Sookie will be appearing in the Fall episode, according to IMDb.
Sookie is definitely one of the best characters from the original series, and I'm sure fans would all probably love to see her in every scene of every episode. But, the reality of the situation is that Melissa McCarthy happens to be, like, a superstar goddess at the moment, so she's a little busy. Her schedule would really only allow her to be on set for one day. In the spirit of Thanksgiving, let's all be thankful for what we are getting. A little Sookie it's certainly better than no Sookie at all.
Creator, Amy Sherman-Palladino told TVLine "We had [Melissa McCarthy] for one day and of course we threw her, like, a 10-page scene, because, why not?" She added that McCarthy urged Palladino to "bring it" and Palladino assured fans, "We brought it." Is anyone else squealing with excitement right now?
If you were at all worried about whether Lorelai and Sookie would have the same amazing chemistry on the screen as they did in the original series run, you have no need to worry. Paladino also said that, "[Lauren Graham and McCarthy] are like a weird, psychotic Ethel and Lucy when they get together off camera; they finish each other's thoughts and they have a whole physical thing that they do."
So, basically, Sookie and Lorelai are besties in real life and we can look forward to their amazing relationship coming right back to life on screen — even if it's just for a brief moment of time.
Images: Warner Bros.; Giphy (2)