Tristan Looks Different On 'Gilmore Girls'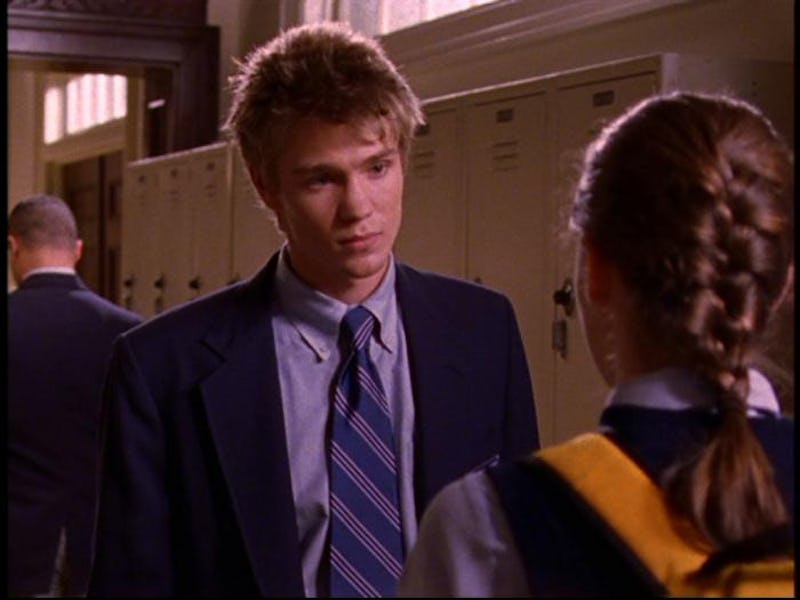 Before there was drama between Jess and Dean on Gilmore Girls, there was drama between Tristan Dugray, Chilton rich boy extraordinaire, and Dean on Gilmore Girls. When Rory transferred to private school Chilton in Season 1, Tristan started calling her "Mary" (he meant like "Virgin Mary") and generally teasing her and being a jerk. Really, he wanted her to date him, and she wasn't having it, and this played a big part in the first two seasons of the show. Chad Michael Murray, who played Tristan, left in Season 2 after Tristan got sent to military school (and Murray went on to get cast for One Tree Hill). The character does appear in the Gilmore Girls revival, though Tristan is not played by Chad Michael Murray this time around.
I actually barely remember the Tristan years of Gilmore Girls — he was such a strange character to me, and his arrogance made him even more annoying in my eyes. He liked Rory and then he got in a fight with Dean and then caused a fight between Rory and Paris and then gets sent to military school because he and his friends broke into a friend's parent's safe. Poor little rich boy stuff. That being said, I did look forward to seeing if Tristan would make an appearance on Gilmore Girls: A Year In The Life, mostly because nearly everyone else who was ever on the show for more than five minutes came back. Even Melissa McCarthy, who is a big-time movie star now, took time to film a scene as Sookie.
Tristan is only in one episode of the four-episode revival — "Winter." Rory and Paris, back at Chilton for a little alumni-student talk, see Tristan in the hallway, chatting up a teenage girl (he gets older and they stay the same age, I guess), and Paris has a mental breakdown in the bathroom because all of her feelings about Tristan come flooding back. I know Paris is prone to panic, but, girl, it was 10 years ago. Anyway, that Tristan we see in Gilmore Girls: A Year In The Life, is not, I repeat, is not Chad Michael Murray. Instead, according to IDMB, actor Anton Narinskiy filled Murray's shoes to play the playboy. They do share a great resemblance, don't they?
Why didn't CMM come back to play Tristan? In an interview with People's Choice, he said that he "didn't give [the revival] much thought" when it was announced, but he would be open to playing Tristan on one condition. "It would have to be something really cool," he said. "I always want to do something that's going to challenge me. I want a challenge, something fun, a little obscure. If they had something new and fun, absolutely."
Not to be a downer here, but why couldn't CMM just pop back in for a two-minute role as Tristan? I'm sure Gilmore Girls creator Amy Sherman-Palladino would have added a little scene for him if he wanted. Tristan was by no means the star of the show, so would have a little two-minute hello have killed anyone? No.
Instead, CMM is currently in the midst of filming Million Dollar Quartet for CMT. The show is based on the musical of the same name — it follows one studio session that took place in Memphis with Elvis Presley, Johnny Cash, Carl Perkins, and Jerry Lee Lewis in attendance. CMM is set to play Sam Phillips, the head of Sun Studios. He's also attending plenty of One Tree Hill reunion conventions.
Tristan wasn't a huge part of the Gilmore Girls canon overall, but it still would have been nice to see CMM in the role he originated. Still, it's a great opportunity for Narinskiy, and I'm glad to have him filling the rich playboy role of Tristan.
Images: The WB; Giphy (2)