How To Find A Writing Group Near You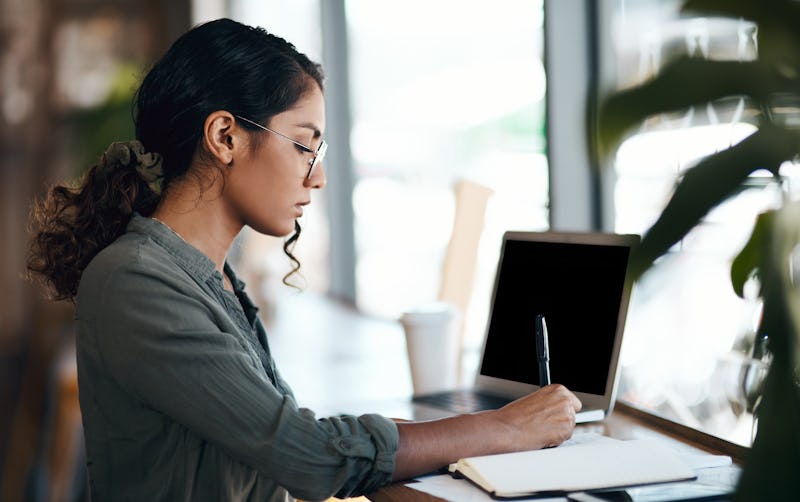 PeopleImages/E+/Getty Images
When you're a writer, work can feel lonely, even secluded sometimes, because most of what you do is alone at your desk — but it doesn't have to be that way. Whether you're an aspiring author, an experienced writer, or a participant in this year's National Novel Writing Month, there are plenty of different ways to find a writing group that can help you create your very best work.
I've wanted to be a writer since I was a little girl, and was one of those kids who carried a notebook around wherever she went (a habit I still have to this day). As a child and adolescent, I was always excited to share my newest short story or poem with my friends and family, but the older I got, the more timid I grew about my writing. By the time I was in college, the only people who read my creative writing were my professors, teaching assistants, and the peers of creative writing class. While I felt confident in my reporting skills and was regularly published in my college newspaper, the idea of sharing my fiction with strangers was absolutely paralyzing.
That is, until I found a writing group.
After college, I moved to New York City and settled into a life of publicity in the publishing industry. I was working with books, but I wasn't actually writing any of my own. I still dabbled with fiction in my free time, but I was slowly letting go of the idea of becoming a writer. Then, by chance, a coworker mentioned a writing group she was in, and asked if I was interested in joining. Though the thought of sharing my work with a new group of people made my stomach turn, I decided to take a chance and go anyways. After that first meeting, one that, to my surprise, was filled with love, support, and helpful critique rather than shame, embarrassment, and torment, I was hooked and became the proud member of several different writing groups. The rest, as they say, is history.
Whether you need a little inspiration, some healthy criticism, or just an excuse to get your novel seen by other people, here are 7 ways to find a writing group to help you achieve your goals.
1. Check in at local community centers.
While you may know your community center as that place that holds the craft fair every year, you may be surprised to find out what kind of resources your local one has to offer, including writing workshops and writing groups. Check out your town or city's community center websites for a calendar of upcoming events, including regular groups meetings. You just may find a writing group perfect for your needs, right in your own town.
2. Join a writers association.
From Mystery Writers of America to the American Society of Journalists and Authors to Romance Writers of America, there are dozens of writers associations and programs throughout the country you can join. Among the many benefits of these associations, which include advocacy for writers and training sessions, finding a local writing group is one of the best ones. Though many of the groups are national, they have local chapters all over the country that meet up to talk about writing, workshop their current pieces, and support one another's ongoing projects. It's the exact kind of support a writer who wants to get serious about their craft deserves.
3. Find a group on social media.
From LinkedIn to Goodreads to Twitter, your social media feeds are full of opportunities to find writing networks and writing groups online. The best part about them? You don't actually have to leave your house to join, or to get the benefits of the group. Facebook groups like The Write Life Community to Indie Writers Unite!, as well as other Twitter, Tumblr, Goodreads, and LinkedIn groups are a great resource for writers who prefer to be homebodies, but who are still looking for a community of support and inspiration in their field.
4. Go on a writing retreat.
While they can be pretty pricey, a writing retreat is a great way to find a writing group, if only for a week or two. A major part of most writing retreats is workshopping your project, which requires you to work with your fellow peers throughout the writing, editing, and revision process. Being immersed in this writing group-like setting will help you test out the waters of it and see if it is something you want to join long-term. You never know, the connections you make at the retreat could lead you to form your own group that lasts after you've all gone home.
5. Look at your local library.
Like local community centers, libraries have way more to offer than people realize, especially for writers. Look on your library's calendar of events for upcoming meetings for any writing or creative groups, or talk to your librarian about the happenings at your local branch. You never know — your new writing mentor could be on the other side of the stacks, waiting for you to find them.
6. Discover a group on Meetup.com.
Outside of social media, there are plenty of ways to find online writing groups. One of the best resources is Meetup.com, an online service that connects local people who share similar interests. Whether you're looking for a group to talk books with or a close-knit circle of critics, you can find one, in your town, with the help of this cool site and mobile app.
7. Make your own.
Can't find the right writing group for you? Maybe it's time you rolled your sleeves up and got ready to start your own. Gather the writers in your network, or find new writing friends, and form your own community of support. If you need help or don't know where to start, you can refer to the handy Writing Group Starter Kit from UNC at Chapel Hill to help you get your group off the ground.
Images: PeopleImages/E+/Getty Images; Giphy (4)