The 'Double Dare Reunion' Was A Trip Back In Time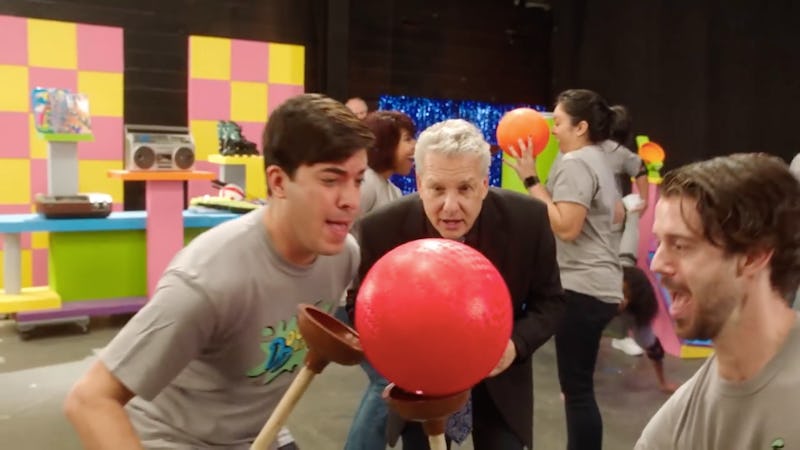 Iconic 1980s and 90s kid-targeted game show Double Dare is thirty years old, and the series is celebrating its big anniversary with the Double Dare Reunion Special on Nickelodeon, revisiting all the things that make the series a nostalgic favorite for many millennials. Wisely, in order to recreate the frantic pace of the original show, the reunion creates two teams that are a mix of regular adults (no kids this time; this special is clearly aimed at the people who grew up with Double Dare) and former Nickelodeon celebrities who are competing to win a round of the show featuring all of the most iconic games in the show's history, from picking a tiny flag out of a giant nose to the "One-Ton Hamster Wheel."
Host Marc Summers still proves adept with explaining the rules of the game and with delivering both the trivia questions and jokes that pass by so quickly, you might not even register that he's poking fun at a contestant's pratfall, and former announcer John Harvey and production assistant Robin Russo are there to fill out the crew. It's a little weird to see the crowd cheering the red team and blue team on drinking beers in a nightclub, rather than your typical game show studio audience, but shockingly it turns out that the adults playing, while all genuinely going for it as hard as possible, are no more skillful at these physical challenges than the kids they dreamed of being thirty years ago.
The show also brings back lots of other 1990s celebrities, from Kel Mitchell to Joey Fatone, that complete the teams, fight for their civilian contestants to win the contest, and to share in the nostalgia. If you miss Double Dare, chances are you also miss All That!, and this reunion special will make you feel like you're at home after school watching cable.
The centerpiece of the nostalgic reunion special is what could possibly be the very last Double Dare obstacle course of all time — unless, of course, Nickelodeon can be convinced to bring it back for a forty or maybe even fifty year reunion special in a few more decades. Right now, it seems like Summers and the rest of the Double Dare crew are just as energetic as they were thirty years ago, so jumping back on the Hamster Wheel in twenty more should be no problem.
Image: Nickelodeon