'Double Dare's Nickelodeon Return Will Be Brief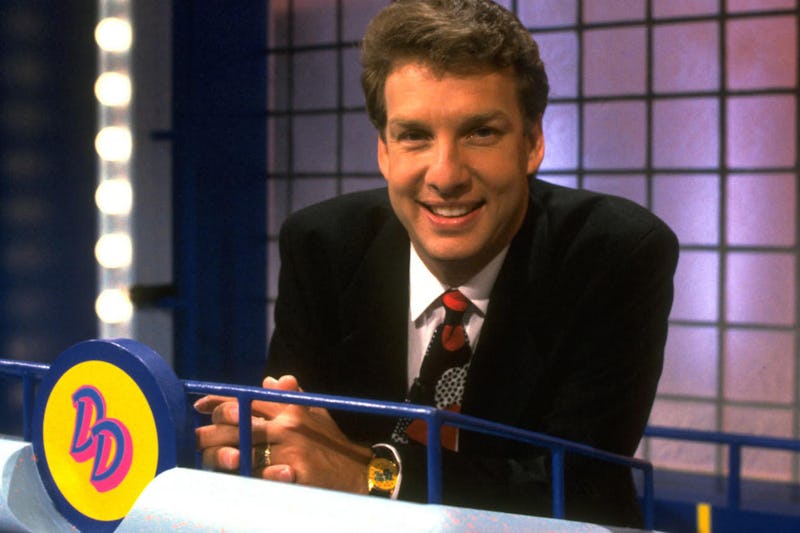 Growing up in the late '80s and early '90s, I assumed that every child in America would eventually get to compete on the messy Nickelodeon game show Double Dare — or Family Double Dare, a spin-off of the kid-centered original. Surely, my turn would come. It never did, though I never stopped dreaming of my parents, siblings, and I wearing matching t-shirts and searching gigantic shaving cream pies for one tiny flag. Double Dare seemed like the most fun a kid could possibly have, even before host Marc Summers started handing out prizes. (Space camp, anyone?) So imagine my delight when Nickelodeon announced a 30th anniversary Double Dare special, airing Nov. 23 at 9 pm ET. The nostalgia will be strong, especially since Summers and his original colleagues will be back. Does this mean Double Dare is coming back for real?
Currently, Nickelodeon does not have any plans to start producing Double Dare as a series again. The Nov. 23 episode is a reunion special, marking a milestone anniversary of the wholesome yet slime-drenched game show. Entertainment Weekly reported that Summers would be back in the hosting role and joined by Double Dare announcer John Harvey, co-host Robin Russo, and, for added '90s realness, the cast of All That. Some lucky contestants will get the chance to play classic Double Dare games, and vintage footage will round out the celebration. Summers told Entertainment Weekly that the goal was not to upgrade but to deliver the show's now grown-up audience the experience they remember from watching episodes every day after school. He said:
"We decided to keep it classic Double Dare. We haven't really changed much of anything. Maybe more whipped cream and more slime. But other than that, the physical challenges are what they are."
That's good to hear, because if someone was trying to sell me a Double Dare revival without someone sticking their hand up the nostril of a giant nose, there would be no sale.
Nickelodeon has dipped into late 20th century waters not just with Double Dare but with a planned Hey Arnold! two-part special and an upcoming TV movie adaptation of another classic game show, Legends Of The Hidden Temple. Nickelodeon franchise executive Chris Viscardi told Mashable earlier this year that these one-offs are the network's chosen strategy for revisiting shows from that golden age. "We know that these library properties are valuable and cherished and we're interested in exploring them," he said. "But we're just interested in exploring them as specials right now, because we have so much original content that we're really proud of."
It's a thoughtful programming decision, especially since Nickelodeon's target audience is still kids, not adults getting a kick out of looking in on their childhoods. I've had my turn, and I wouldn't want my memories to get priority treatment while young people aren't getting to form theirs. Still, I'll happily indulge in half an hour of a Double Dare revival, even if that's all I'm getting.
Image: Nickelodeon