Kylie Cosmetics' Black Friday Deal Is Beyond Rad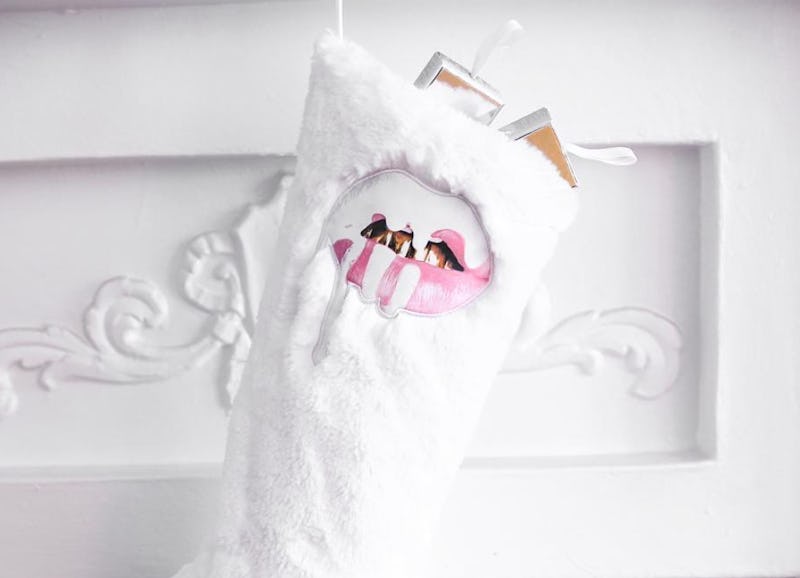 OMG, it's even better than I thought it was going to be. Kylie Cosmetics Black Friday 2016 promotion is legit awesome. It's a full restock of the silver-dipped, limited edition holiday collection, featuring new Lip Kit colors, a new KyShadow palette, a white Kyliner, new creme shadows, a silver makeup bag, and ornaments. We already knew that the brand would be giving away the plush white stocking, featuring the brand's signature dripping lips graphic, as a free gift with purchase on Black Friday, which is Nov. 25. But what else is in the Kylie Cosmetics Black Friday 2016 promotion? Oh, it's good!
Here is the critical info and further details about the brand's Black Friday deals, like how you can get other pretty freebies and how much you need to spend in order to acquire that fluffy stocking.
The Holiday Edition Collection restocks at 12 p.m. ET/9 a.m. PT, per the brand's post. Also, customers who spend at least $100 will get the holiday stocking for free. Let's pause to blow a kiss, with our matte, Lip Kit-painted mouths. Who are we blowing air kisses to? Our cash! #ByeMoney.
Additionally, customers who purchase either the Candy K, Exposed, Koko K, or Posie Lip Kits get a free gloss.
Below is the Insta post with all the intel.
To recap: You get the free stocking with an over-$100 purchase and a free gloss when you buy one of four "classic" Lip Kits.
Overall, the holiday set, which is being replenished, is massive.
The stocking adds instant glam to any holiday decor. It also broadcasts your love of Kylie Cosmetics.
Your eyes and lips are "covered" with the products in the Kylie Cosmetics 2016 Holiday Edition Collection.
Spend at least $100, get that chic, luxe-looking stocking. You may be kissing your ka$h goodbye via the Kylie Cosmetics site on Black Friday. But at least your lips will be plush, matte, and velvet-y, or extra glossed, as a result.
BTW, the first-ever Kylie Cosmetics brushes are coming on Cyber Monday, Nov. 28.
Say "Lates!" to dem funds.
Images: Kylie Cosmetics/Instagram (5)