2016 National Dog Show Dogs To Melt Your Heart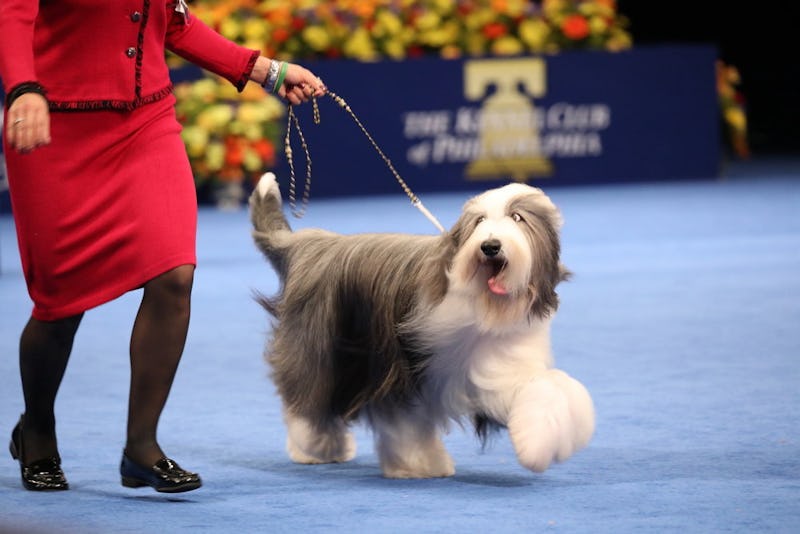 It's official Thanksgiving now that the 2016 National Dog Show winner has been announced. The majestic Gia, a greyhound, won the honor of Best in Show, making her one of the top dogs in the country right now. And it's quite an accomplishment to take home the award, because this year's competition was tough — and so darn adorable. There are so many 2016 National Dog Show dogs that will melt your heart and make you want to either go out and get a classy canine of your own.
Best in Show isn't the only big award bestowed upon the National Dog Show competitors, though — winners are chosen in groups such as Hound, Sporting, Working, Terrier, and more. Yup, they are all such good dogs, yes they are. The 2016 National Dog Show took place on Nov. 19-20 at Greater Philadelphia Expo Center in Oaks, Pennsylvania, according to the official event website, but it's just not Thanksgiving until NBC airs the National Dog Show after the beloved Macy's Thanksgiving Day Parade in New York City. It's just such a joy to watch these polished pups grace the blue carpet with their discipline, their good behavior, and their undeniable cuteness.
In addition to the big winner, here are the most adorable dogs to melt your heart.
1. Gia The Greyhound
Of course, I must start off with the Best in Show winner, who also won Best of Breeds at the Westminster Kennel Club Dog Show.
2. Sprout The Brussell Terrier
Not only is this 7-month-old pup so cute, but look at his name. He's a Brussell Terrier named Sprout. Like the vegetable. Too adorable.
3. Rondo The West Highland White Terrier
It's no wonder this cutie won the Terrier Group.
4. Timmy The English Springer Spaniel
Aww, so affectionate.
5. Slick The Border Collie
What a good boy.
6. Clue The Tibetan Terrier
I wonder if he also enjoys his namesake board game?
7. Chuck The Pekingese
Look at that amazing fur.
8. This Cutie
Those tiny legs and feet. Be still my heart.
9. This Frisbee Loving Pup
Gotta love a canine who can go after what he wants.
10. This Poodle
So gorgeous and elegant.
11. The Hungarian Sheep Dog
Nicknamed the "Mop Dog" by many, how could you not love that unique coat of fur?
12. Mr. Adorable
Love how that fur flows as the pup struts.
13. This Distinguished Dog
All he needs is to wear a cute little tuxedo with a doggy monocle.
14. This Fashionable Pup
Is this the National Dog Show or Fashion Week, because this cutie is ready for either one.
15. Best In Fur
That (fake) honor may need to go to this doggy, who has an amazing coat right there.
16. This Sweet Dog
So little, so nice, so cute.
17. Good Time Charlie the Skye Terrier
The 2015 Best In Show champ made a cameo, joining hosts John O'Hurley and David Frei in the booth for a sneak peek behind the scenes.
And that's the new round of doggies who have completed their mission of stealing our hearts this Thanksgiving. They're all such good dogs.
Images: Bill McCay (18)/NBC