11 Gifts Even Picky People Will Love This Holiday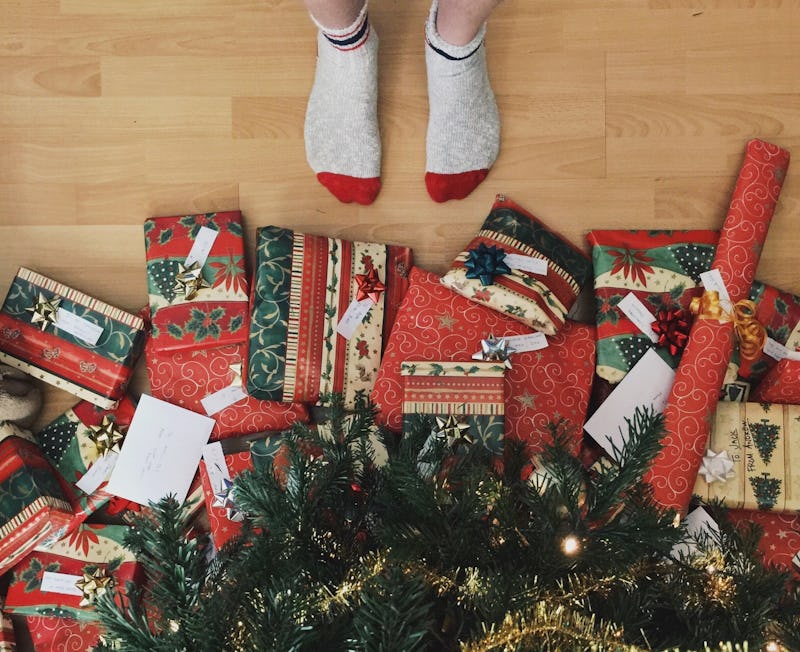 Stacking gifts underneath the Christmas tree is one of the most fun parts of the holidays, but it can get a little eye-twitch-inducing when you have that one person on your list who's fussy. But there are gifts even picky people will love to open come Christmas morning - all it takes is a little bit of imagination and strategizing.
Throwing on your scarf and shopping underneath all the Christmas lights and tinsel is about as traditional for December as it is to drink eggnog or watch Home Alone in a onesie. And while some people on your list are easy to tick off, that one person that seems to smile stiffly at each amazing gift you give them can drive you up a wall. It's almost enough to make you want to scratch them off the nice list and just give them a lump of coal and be done with it. But this year is your year — you're going to give them a present that's going to inspire them to spring into handstands. The trick with it is to keep it vague: Choose a gift that can speak to almost anyone's aesthetic and interest. Below are 11 gifts that even picky people will love this holiday season. Prepare to feel a high level of smugness come the 25th.
1. Braided Knit Scarf
Knitted Women's Scarf, $43.50, CollectionWN/ Etsy
Help them stay chic during those freezing winter temps with this stylish braided scarf. It's simple enough that it will fit anyone's style, and who would oppose pepping up their outerwear during these upcoming brutal months?
2. A Commissioned Portrait
Custom Portrait Couple, $91.50, LaurynGreen/ Etsy
Whether if it's with them and their partner, them and their pet, or just them alone being amazing, commissioning an Etsy artist to whip up a portrait is a lovely way to get them to smile come swapping-presents time.
3. Wire House Candle Holders
Wire House Candle Holders, $69, DesignAtelierArticle/ Etsy
Give their apartment a splash of fun with these out-of-the-box lantern candle holders.
4. Stylish Ring Holders
Splatter Ring Cone, $28, PotteryLodge/ Etsy
Give them the gift of organization with these pretty cone ring holders. Not only will they keep their favorite rings in one place, but they'll also jazz up their vanity.
5. Sock Attack
Windows Mint Unisex Crew Socks, $9, YuSquare/ Etsy
No matter your giftee's gender, a pair of splashy socks will always be appreciated. Even if they're not brave enough to wear them out, getting to pad around the house in playful socks will make their sweatpants all the more stylish.
6. Stack Of Quirky Notebooks
Small Cactus Notebook, $5, NotOnlyPolkaDots/ Etsy
We all need to take notes or jot down reminders every once in awhile — you might as well do it in a beautiful notebook rather than rogue notepad.
7. Minimalist Jewelry
Line Hoop Earrings, $37, AgJc/ Etsy
If their style is a total wild card, keep the jewelry minimalist and you just might hit their aesthetic.
Backpack with Metallic Fastening, $21, Zara
Whether they commute to work or just prefer not to haul around a diaper-bag-sized purse, a clean-lined backpack is a stylish alternative to their sherpa-porter-like needs.
9. A Print From Their Favorite Movie
Fight Club Print, $13, Northshire/ Etsy
Whether you reach back to their childhood (Iron Giant poster, anyone?) or suss out what their favorite movie is now, getting a print of their favorite flick will be sure to make them happy. Just try to get one that's been reworked by an artist rather than an official movie poster, to make it feel more original and special.
(Or if you want to go the wall art route, Urban Outfitters has a vast variety of posters for every style.)
Persuasion, $13.50, Target
Do you know what their favorite book of all time is? Or what their favorite childhood story was growing up? Either get an old copy for them, or try to find one with an artistic cover. A great way to track that down is to search the title on Pinterest and see if any artists reworked the covers into an original print. Nostalgia is always a great gift! (Pro Tip: Anthropologie, Barnes & Noble, Urban Outfitters, and Aha Life sell old books in cool new covers.)
If your giftee likes to bring people together, host parties, or is always the one trying to get your group of friends to come hang out, then gift them with a fun board game! Some quick, easy to play ones are Munchkin, Castle Panic, Cards Against Humanity, and Pandemic.
Whichever picky person is on your to-do list this year, you'll rock their socks off with these gifts. Prepare your smug smile accordingly.
Images: @andrewtneel/ Unsplash; Target (2); Zara (1); Etsy (8)