Christopher Returns To 'Gilmore Girls'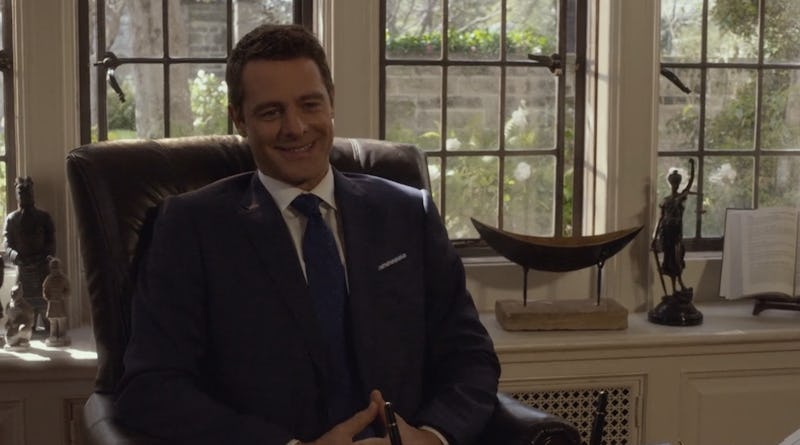 The revival of Gilmore Girls on Netflix wouldn't have been complete without an appearance from Rory's dad Christopher. Though never really a fan favorite, there's no denying that he played a big role in both Rory and Lorelai's lives and, by extension, the series as a whole. And Christopher's scene in the Gilmore Girls revival honored his importance with a brief, but pivotal moment. MAJOR SPOILERS FOR THE NETFLIX SERIES AND THE FINALE AHEAD.
When you first watch the scene it seems somewhat innocuous. It appeared as though Rory just wanted to tell her dad about the book she's writing and get his perspective on why he didn't help raise her with her mom. Rory pulled no punches with her line of questioning, and Chris seemed a tad hurt, but she wasn't wrong — Lorelai did raise Rory alone. However, it's not until the final moments of the finale that it becomes clear that Rory's meeting with her dad was much more than a heads up on her memoir. Rory is pregnant herself, presumably with Logan's baby. She was maybe looking to see how her dad reacted to his own kid as a gauge of how Logan might to his and figure out whether or not she should raise her kid on her own, too.
The parallels between Logan and Christopher don't escape me. They're both from a similar world, and I'm not sure either of them really can step up when it comes down to it. I'd like to think Logan would be a better father to his kid than his was to him, but you never really know with those things. Logan's engaged to be married to someone else and Rory is a pretty independent woman. Like her mother, she may very well choose to raise her child on her own.
She has the advantage of being 32 instead of 16 like her mother was when she was born, but, still, raising a kid by yourself is no easy feat. Rory will be in for a tough road. Fortunately she can count on her mother to be there for her, even if her own father — or the baby's father — aren't really around.
Image: Netflix