Jack Smith Is Suspicious On 'Gilmore Girls'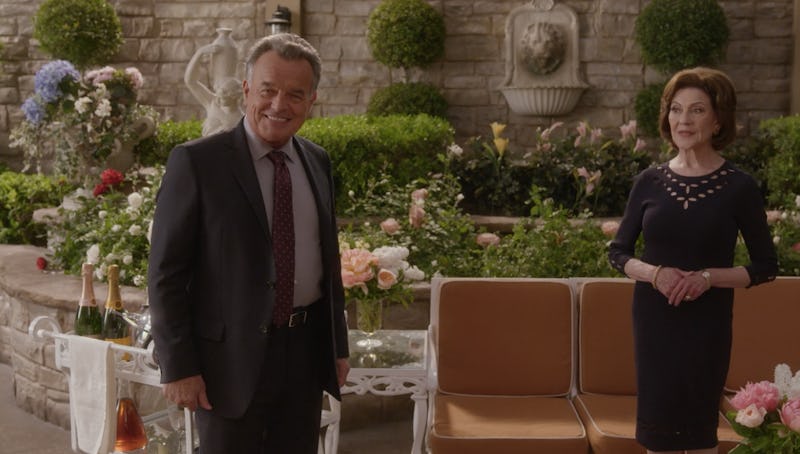 Spoilers for Gilmore Girls: A Year in the Life ahead. Amidst all of the emotions of Richard's funeral, you may not have noticed his friends who attended and shared their memories in the first episode of the Gilmore Girls revival, "Winter." However, one of them comes back later in the series, so I hope you payed to attention to Jack Smith on Gilmore Girls, played by Ray Wise (who you may recognize from Twin Peaks, Mad Men, How I Met Your Mother, Agent Carter, and more). After Richard's funeral, Jack was the friend who shared a story and pranks the two tried to simultaneously play on each other, which left them both in a compromising position with women's underwear that Richard made a joke about. It was a fond memory that showed the Gilmore patriarch's fun side, and Emily seemed to appreciate it. It seemed like that would be the only role Wise would play in the Netflix series, until the third episode, "Summer," finds him on Emily's patio.
Lorelai is shocked to discover Jack at her childhood home and outraged that he was using the bar cart — her father's domain. She becomes convinced that Emily is dating Jack, and tells Rory that she thinks he just wants Emily's money. For a moment, I was worried that she was right, but there was no reason to be concerned. Emily is more than capable of looking out for herself.
When Emily goes to Nantucket, we see that Jack is with her, and though this does raise suspicions about whether they're romantically involved, Emily makes it very clear that she couldn't care less about him. Previously, we'd seen him make her a drink and drive her to the cemetery to visit Richard's grave, and in Nantucket, he again brings her a drink. When Ray tells Emily that he has bad news, she replies, "lobster is fine," because she wasn't even listening to him. When he reveals that the bad news is that he has to leave, she is completely unfazed.
Whatever Jack's actual motives were, he ended up being nothing more than a helper for Emily. He brought her drinks, drove her around, and kept her company, all while she ignored everything he was saying. Emily may be dealing with tremendous grief on Gilmore Girls, but she's as sharp and cunning as ever, and won't be fooled by a smarmy "friend."
Images: Netflix (2)