The Kylie Holiday Edition Collection Is Back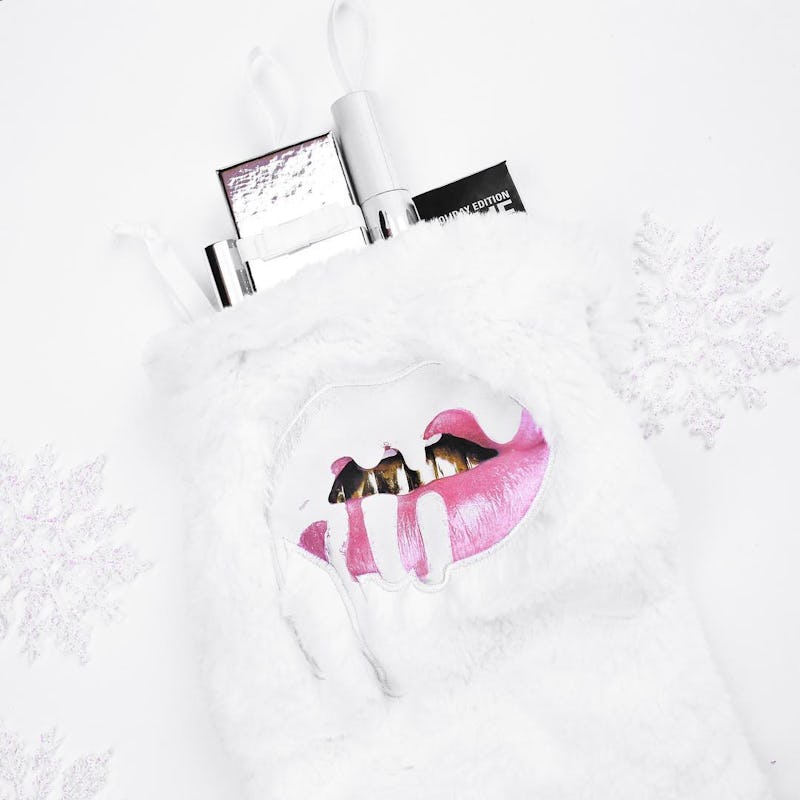 Kylie Cosmetics is having an intense holiday season. Between launching new fall lip kits, their first collaboration, and a holiday edition, the brand is basically everywhere. All these new launches have completely sold out at least once. For Black Friday, the Kylie Cosmetics Holiday Edition Collection was restocked, and it's got fans wondering if you can even still shop the mega-popular batch of products. You're in luck, fans. Some of the Kylie Holiday Edition is still around, but you'll need to act fast to snatch up the goods.
As of press time, the Kylie Cosmetics website is showing several individual and a few batched products still for sale. If you want to splurge and snag the entire collection, you're still able to do that for $325. However, if you were hoping for the mini lip kit collection of the set of two glosses and two matte lippies, you can still hope that Jenner will be gracious and restock. While those two popular items may be gone, if you're not looking to spend over $300 but wanted to get several products, the Merry Bundle, Vixen Bundle, and Holiday Edition Box are all still for sale.
As for individual buys, the Vixen and Merry lip kits, the holiday Kyshadow Palette, and Jenner's three new creme shadows are all still available for individual prices. However, before you snag just one thing, don't forget that while supplies last, those who order over $100 get a free Kylie Cosmetics stocking.
The entire Kylie Holiday Edition Collection has been a massive hit since Jenner unveiled it. The fact that so many products have already sold out during the first restock makes total sense. Plus, even during the initial launch the lip kit minis and matte and gloss set were two of the most popular items.
While you can still shop parts of the Kylie Holiday Edition Collection, the question still remains of whether or not there will be another restock. So far, there's been no update on when or if that will happen. However, if you want to snag those minis or the Jolly gloss, keep your fingers crossed.
As for the rest of the Kylie Cosmetics Holiday Edition Collection, you've still go a chance. While your options are more limited than if you'd hit up the sale right after its launch, you can still snag a product or two. Get shopping, fans!
Images: Kylie Cosmetics/Instagram