Huda Beauty's Liquid Matte Vaults Are Selling Fast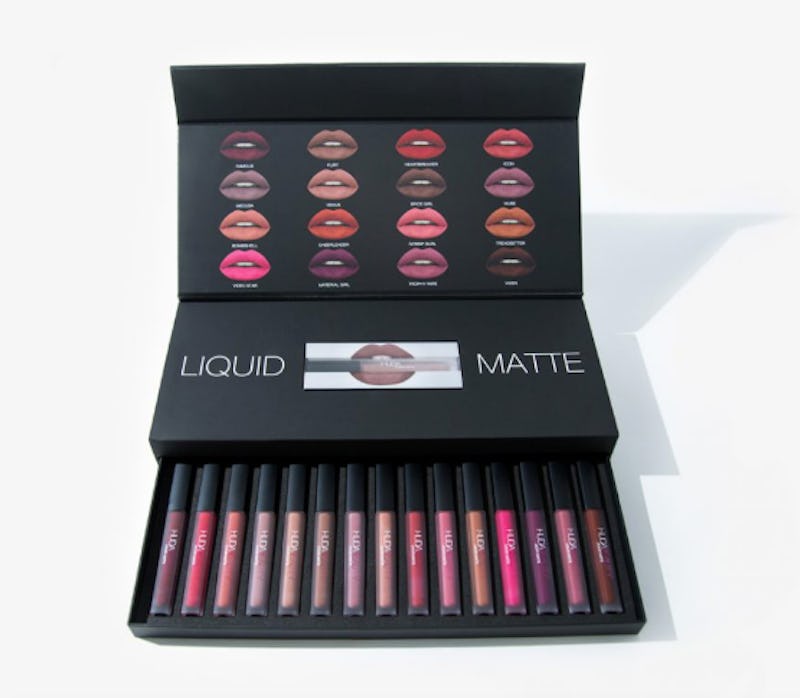 Black Friday isn't just about the savings. Tons of different brands decided to make the special shopping day their launch days, and Huda Beauty is one of them. The company launched their Liquid Matte Full Collection, and it was instantly a bestseller. If you're wondering if the vault is still available, I have some bad news. This collection went fast, and it's unclear whether this will be restocked.
It's not completely unusual for brands to create new products for the holidays. Heck, ColourPop even made a shade called Friday specifically for the shopping event. Huda Beauty's Liquid Matte Full Collection is a little different though. It held all 16 of the brand's Liquid Matte Lipsticks, which was the first full kit of its kind to hit the site.
The company announced a few days prior to the event that it would have the Back Friday launch date. Without sharing an exact date or putting any posts on their social media accounts, the Liquid Matte Vault is now sold out. That's pretty darn incredible, if you ask me. I knew that the product was a hot item, but I had no idea that so many people would be willing to splurge to get them all.
Liquid Matte Full Collection, $260, shophudabeauty
The get all 16 shades is by no means cheap. The Liquid Matte Full Collection was $260. That comes out to $16.25 a product. Considering that each one sold separately is $20, the deal was definitely worth it though. Especially considering that the products are so raved about.
Liquid Matte Full Collection, $260, shophudabeauty
As of now, there's no word on whether or not the product will be restocked. The brand hasn't posted anything on their social media or the site about it coming back. That's not to say it won't make one more appearance before the holiday though.
Liquid Matte Full Collection, $260, shophudabeauty
Fingers crossed that it makes a comeback, so everyone can get the opportunity to give the gift of amazing lippies this year. It would be awesome if they did the same for their lip contours too. Who knows what the brand has in store!
Images: Huda Beauty (3)