Kylie Cosmetics' Sale Is Offering A Freebie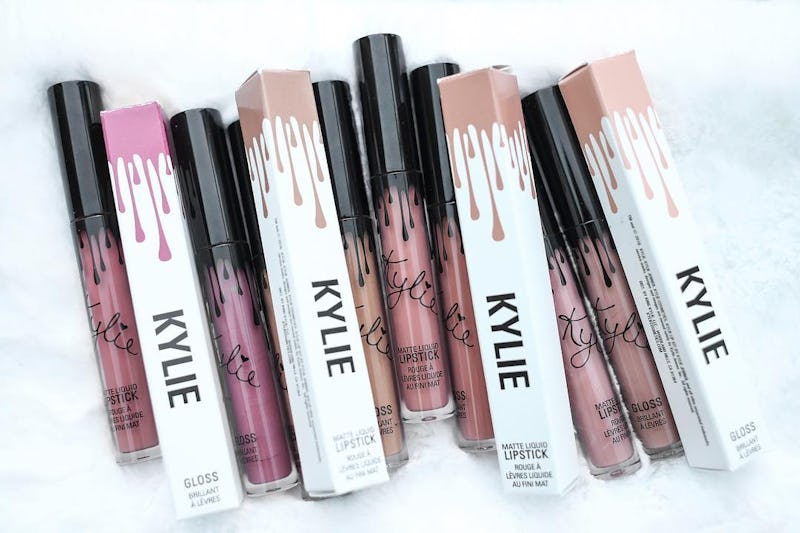 Just when you thought the Kylie Cosmetics Black Friday event couldn't get even better, it does. Of course, fans were stoked about the Holiday Edition Collection restock and that they could snag the stocking, but a free Kylie Cosmetics gloss is also in the cards for some fans. According to both Kylie Jenner's website and the Kylie Cosmetics Instagram page, customers can purchase select Kylie Lip Kits and receive a matching lip gloss for free.
The Kylie Cosmetics Black Friday sale took the form of a couple of different promotions and a restock. The entire Holiday Collection Edition restocked, and while not all of it is available any longer, you can still snag parts of it. Plus, by spending $100 or more, fans can also get the limited edition stocking the collection originally debuted in. As for fans of the products, though, the chance to snag a free lip gloss is clearly at the top of their priority list.
There are limitations to the promotion, though. According to the brand's Instagram, fans have to purchase Candy K, KoKo K, Posie K, or Exposed to qualify for the free gloss. As for what gloss fans will get, according to a post to Jenner's personal website, the gloss will be the matching shade for whichever lip kit is chosen.
According to the Kylie Cosmetics website, all four lip kits are still available which means you can snag a lip gloss no problem. Plus, if you really wanted to snag the stocking promo, if you purchase all four of the qualifying lip kits, you could get four free glosses and the stocking.
Fans should probably move fast, though. Despite the four qualifying lip kits not being some of the newest releases, it's still a sweet deal. No matter when they've been restocked or available, lip kits tend to sell out even a year after the brand's launch.
If you've been dying for a killer Kylie Cosmetics pink or neutral lip kit, now's the perfect chance to not only get one but to also grab a matching gloss. With so many killer holiday deals, Kylie Cosmetics really showed out for Black Friday, but fans wouldn't expect anything less.
Images: Kylie Cosmetics/Instagram