A Fight, a Weed Onesie, & a Canadian Diss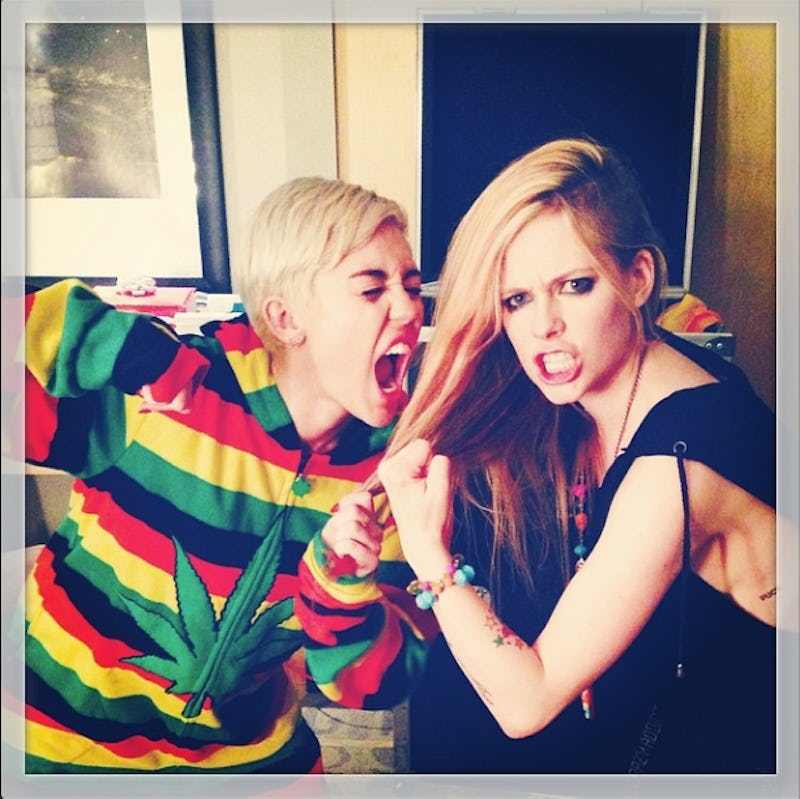 There is just no end in sight to Miley Cyrus's reign of terror. The "Adore You" singer was in Toronto on Tuesday night for a performance of her spit-filled Bangerz tour where she linked up with one of Canada's music sensations. No, we're not talking about Justin Bieber — we're talking about the other famous Canadian music star, Avril Lavigne. Apparently the pair are friends and Cyrus and Lavigne decided to play a bizarre April Fools' Day joke on their Instagram accounts that has us scratching our heads.
It's not so weird that Mrs. Chad Kroeger and Miley Cyrus hang out when the singer's tour is in town — Lavigne was all about Cyrus' MTV VMAs performance in Sept. 2013 and she also revealed that the pair share a manager. At least we know what they've got in common. What's weird is the entire series of Instagram posts from the past six hours on their respective accounts — all the way down to Cyrus's weed onesie. I know you're rolling in the dough, girl, but you couldn't think of ANYTHING better to buy? C'mon.
Here are what we assume to be April Fools' posts on the Queen of Nickelback and the Queen of "Baby Got Back" Karaoke's Instagram accounts, so that you may ponder the great mysteries with us:
Huh? Caption: "Fuck dat Canadian bitch @avrillavigne"
Caption: " Fuck you Miley "
Caption: "I'll beat your Ass Bitch"
Weird as hell, right? I know you agree — so here's a list of the most bizarre things about these posts:
- Miley's Onesie: WHY? Just, why.
- The Taped-Over Magazine Cover: They don't even put Avril on the cover of Canadian magazines? If this were a well-planned April Fools' joke, they'd at least have found a real magazine.
- Avril's Spastic Hair Flips: WHAT IS SHE DOING?
- The Captions: Where is the proper grammar and why is "Ass Bitch" capitalized? I know you're famous/semi-famous performers, use commas.
- Avril Being Braless: If you're gonna brawl with someone, why would you not wear a bra?
Is the biggest joke her the fact that Avril Lavigne is actually calling herself the most famous person in Canada? Okay, that was a little mean — but she obviously knows that Justin Bieber and Drake are from Canada too, right?
Either way, this is weird even if it's unsurprising coming from Cyrus — she would've been better off pretending to be a "Sk8r Boi".
Images: AvrilLavigne/Instagram (2)