Meet The Stars Hollow Musical's Male Lead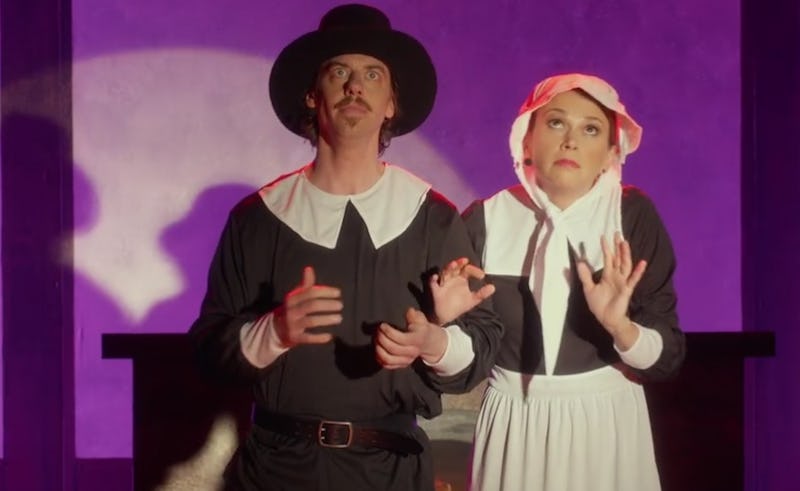 Amy Sherman-Palladino could not help but slip nods to her short-lived, but beloved series Bunheads into the Gilmore Girls revival, and the biggest one came in the form of the Stars Hollow Musical. For fans still wondering who brought Sutton Foster's scene partner Carl to life, the guy in the Stars Hollow Musical is Christian Borle. If you are a fan of Broadway, you probably started freaking out the minute you saw Borle on stage with Foster. The duo who sang and danced their way through Stars Hollow's history (as told by Taylor) were once a real life married couple who loved watching Gilmore Girls together as much as they loved making magic onstage in the 2002 production of Thoroughly Modern Millie.
While Borle and Foster split in 2010, they have remained friends. According to Playbill, it was actually Foster who recommended Borle for the role of Carl. "It was one of the nicest things anyone has ever done for me," Borle told Playbill. "It was such a gift." During their Playbill interview, Borle and Foster confirmed they found Gilmore Girls together and became fans of the show long before there were talks of a revival. For both actors, being a part of the Stars Hollow world was a special experience because they already loved the show before they became involved with it. Having the two play Carl and Violet just happened to be an extra treat for musical fans who knew about Borle and Foster's connection.
Borle's career was a huge success even before he made his Stars Hollow debut, though. The two-time Tony Award winning actor has starred in Broadway productions of Mary Poppins, Jesus Christ Superstar, Legally Blonde, and more. He has also appeared on the small screen before, most notably in NBC's Smash and in Peter Pan Live! as Smee/George Darling. Borle's career is only going to get more exciting in 2017. He has landed the role of Willy Wonka in the Broadway production of Charlie and the Chocolate Factory, which is sure to keep him busy and perhaps even nab him a third Tony.
I imagine for most Gilmore Girls fans, Borle will forever be Carl now, the singing, dancing pilgrim/war hero/modern day Stars Hollow citizen with a gift for pat-a-cake and pratfalls, but while he played an guy looking for his first big break in the revival, in real life Borle is the exact opposite of a struggling actor.
Image: Netflix