Grant Kemp & Lace Morris Are Done, Guys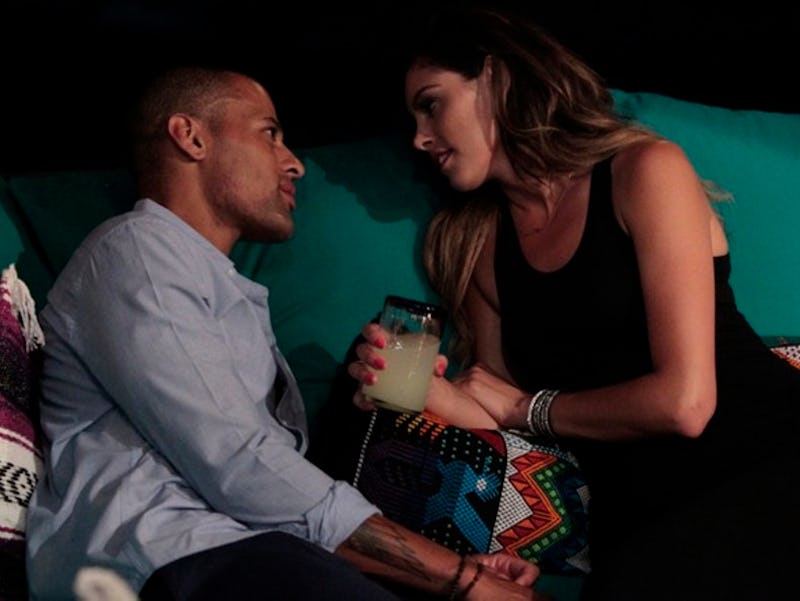 For as much as I love The Bachelor franchise, I am under no illusions that the love stories the show gives me are going to last forever. But somehow, every time there's a breakup, I'm still totally surprised, and now a couple has bit the dust that I thought was going to go the distance... again. It's official: Lace Morris and Grant Kemp have broken up after getting engaged on Bachelor in Paradise Season 3, and all I can think about is how truly awkward their matching tattoos have to be now that they've split.
Morris and Kemp broke the news to Entertainment Tonight on Monday, and even though most BIP relationships are pretty dramatic, their split seems surprisingly low key — and completely mutual. In their interview, both halves of the couple formerly known as #Grace had nothing but positive things to say about each other, and it sounds like there wasn't a specific reason for their breakup, just that things just didn't work out. And after watching them find each other and fall in love last summer, it's almost more sad to hear that these two crazy kids just couldn't make it in the end. Even after paradise.
And if you feel totally blindsided by this news, like I do, you're not alone. Until recently, they've both been posting photos together on social media, so it's a little surprising to hear that, according to Morris, things haven't been going well for awhile. Here's what she told ET:
"It really was mutual. We both have our issues we need to work on, and we can't really give each other what we need at this time. It's just not the right timing. We have so much love for each other, and it's weird because the chemistry is there, and I'm thinking, 'Why can't we make this work?' But it's just not possible right now. For a month, we were kind of starting to bicker, and it was a thing of, something's got to give. It was a cycle we couldn't break. … I think he's an amazing man. I'm super sad that it ended, but I know it's for the best right now."
Kemp's side of the story is pretty similar:
"She's a great person. There were things we were trying to work on that we expected to get better with time, and unfortunately it kind of went the opposite way. When you're in a regular relationship there's already challenges you face. We did everything backwards. … I don't regret going on the show [though]. It kind of fast-forwarded our whole situation. We figured everything out now that it takes most people a couple years to figure out."
They're saying basically everything I'd expect from two people who fell in love very quickly on reality television and then realized that path to love doesn't always work out, but that doesn't make it any less of a bummer... or change the fact that they are now just two single people with matching tattoos. It doesn't sound like they regret the relationship at all, but it has to be at least a little weird now, right? I mean, they're going to carry that tattoo into their next relationship, and I can't imagine having a constant reminder of the other person makes the whole thing any easier to get over.
But if you're feeling heartbroken about this, don't worry. Kemp and Morris both mentioned that they hope they can make it work in the future, even if it's not working right now. Morris added:
"I could only pray or hope that there is a future with us. I see one, but I just don't know when. Now I have to take it day by day and fix my issues, he can fix his. … But I pray we'd have a future, because we had something really special."
Now, all we have to do is wait... and hope that they get back together, if for no other reason than to maintain the integrity of their tattoos. What? This is Bachelor Nation. Anything could happen.
Image: Rick Rowell/ABC