Grant & Lace Are Totally 'BIP' Meant-To-Be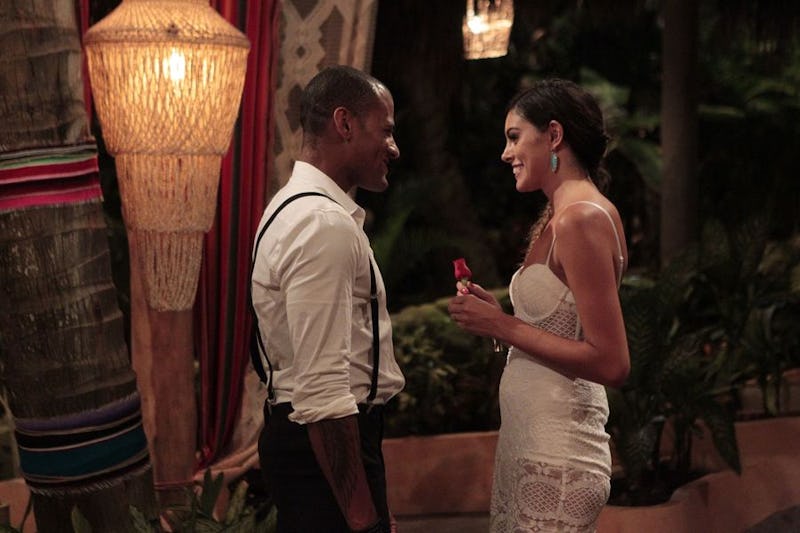 Carly may be flat-out disgusted by Evan, but it's not all puking and middle school breakups on Bachelor In Paradise. In fact, some of the new couples seem to be getting downright cozy. Take Lace and Grant, for instance — besides both being mind-blowingly attractive, they both seem really into each other. They can cuddle all they want for the next few weeks, but does Grant propose to Lace on Bachelor In Paradise ?
Lace started out her time in Paradise with Chad Johnson (also known as "The Chad"), and that definitely didn't end well. She and Chad got way too drunk, fought, made up, fought again, and then Chad passed out and allegedly pooped his pants (though he denied that on Twitter). Oh, yeah, and this was all over the course of like three hours. Lace, who had already liked Grant from the beginning, was afraid this display with Chad would ruin things with Grant, but it doesn't seem like it did. One conversation and Lace and Grant were smooching all over the Bachelor In Paradise resort. Frankly, I think even Jorge is getting a little sick of it. But, like I said — these two can cuddle all they want. What matters is if they cross the finish line or not, and I, for one, think that they will.
One of the things about reality television that has to be frustrating for producers is that you're dealing with real people on your shows, and you can't always control them. Like, for instance, when Kaitlyn Bristowe and Shawn Booth accidentally snapchatted themselves in bed together? Or when TMZ reported that Lace and Grant were hanging out together near the pool of an apartment complex in Denver, Colorado — where Lace lives? So, Lace and Grant are at least still talking at the end of Bachelor In Paradise.
Another TMZ article showed that the couple may have embraced something a bit more permanent to commemorate their relationship. Apparently, Lace got a "grace" tattoo after filming on Bachelor In Paradise wrapped. According to TMZ, this tattoo could mean Grant + Lace = Grace. Or, maybe she just wants to remember to have grace in her life and it has nothing to do with Grant, IDK. At least it's a word that she won't be embarrassed to have should they eventually split (no "Winona Forever" for these two).
Ultimately, I think that Grant and Lace are a good match. Lace has faced her own battles with alcohol (she's admitted to as much on television), and she's working on herself. Grant seems like a steady hand to help her through her tough times. On the other hand, Lace has a vivaciousness that Grant lacks, and she could probably teach him to have a little bit of fun (no alcohol required there). If Lace and Grant totally get engaged at the end of Bachelor In Paradise, I wish these two crazy kids the best. Maybe we can even look forward to another Bachelor In Paradise wedding?
Images: Rick Rowell/ABC (3)