Watch These DCOMs To Get In The Holiday Spirit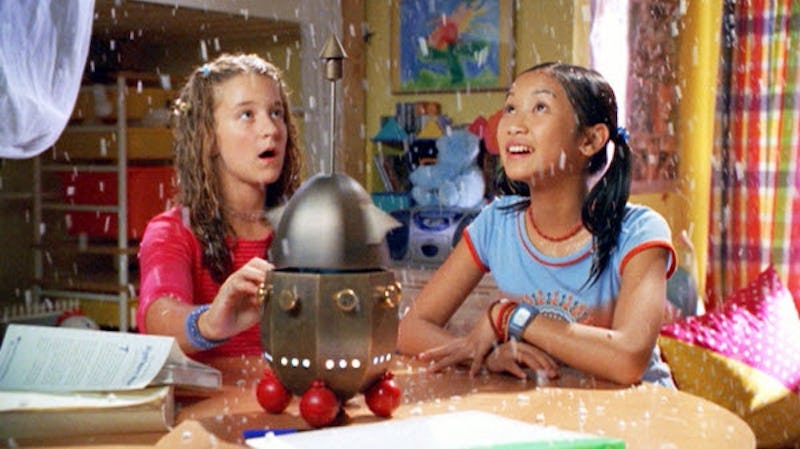 When it comes to Halloween, Disney Channel has you covered. With spooky movies that range from Under Wraps to Halloweentown, their original flicks never let fans down. However, the Disney Channel Original Movies (or DCOMs) that have premiered over the years don't overlook another highly anticipated holiday season. Even if these films are not talked about as much, Disney Channel has celebrated its fair share of Christmas, and even has one movie about Hanukkah. Despite the options remaining rare and few, there are a number of different DCOMs you can watch this holiday season.
With themes centered around family values — and some rare appearances from Santa Claus — DCOMs have proven that there's a whole lot more to a holiday movie than what meets the eye. In fact, despite the scarcity of direct Disney Channel holiday movie choices, there isn't a holiday season where watching their original movies wouldn't be the right move. Why? Because their movies don't shy away from the overall themes of the season. Whether a DCOM takes place in winter or not, almost all all of them have strived to uncover the true meaning of Christmas.
So, with any time of year in mind, here are the Disney Channel Original Movies worth re-watching. You don't need a red suit to spread the holiday cheer.
Of course, I can't ignore this classic Christmas DCOM. This one always takes the cake. The Ultimate Christmas Present follows two girls who use a weather machine to create their own snow day. But, when their weather machine breaks unexpectedly, they're in big trouble — and it's up to Santa Claus to save the day.
Before Bryan Cranston was Walter White, he was Nick Wrigley — a 14-year-old boy's crazed uncle, who led an adventure to steal Santa's sleigh. And, as a result, this holiday-themed DCOM is a Christmas adventure worth taking year after year.
Most Disney Channel shows set aside an episode or two for the holidays. But, when it came to the series, Good Luck Charlie , an entire Christmas-themed movie was made to help celebrate. When the Duncan family gets separated at the airport during their holiday travels, you just know that chaos is going to ensue. And, honestly, this movie will make a Christmas with your own family look like a walk in the park.
Be careful what you wish for. In a turn of events comparable to the classic holiday movie, It's A Wonderful Life, an older brother wishes that his younger brother had never been born. However, it takes the life he knew disappearing for him to appreciate all he's ever had. You'll want to hold your siblings close after watching this one.
If you think that your family is hard to handle, just try being the oldest sibling of five newborn babies. In Quints , Jamie (Kimberly J. Brown) learns the importance of family and responsibility when she's no longer the only child. And, as it turns out, the more really is the merrier.
This movie is just as relevant today as it was in the year 2000. One important notion of the holiday season is learning and accepting the family traditions or values of others. In The Color Of Friendship , that message can't get any clearer. When a white South-African student stays with a black American family, she learns to see the world from their point of view.
OK, yes, I do still want a cheetah print sweatsuit that I can rock in cold weather. But, otherwise, the temperature isn't the only common theme that exists between The Cheetah Girls and the holiday season. This story about four girls coming together to fulfill a common dream is one of finding acceptance, never giving up, and staying true to who you are. And I think Santa would approve of those lessons when he's placing your name on his Nice list.
Thinking of giving yourself a New Year's resolution? If there's one thing that High School Musical has taught us, it's that the end of one year and the start of another really can be the "Start Of Something New." When Troy and Gabriella meet while vacationing on New Year's Eve, they are letting the spirit of the season guide them toward who they were always meant to be. Sometimes you just need the holidays to bring you a little bit of inspiration.
I know, this movie is all about the Stevens' summer vacation. However, when you put the season aside, the family values that come with the holidays still remain the same. By watching their bizarre family adventure unfold, The Even Stevens Movie will have you appreciating the people you call family — even when they get on your last nerve.
Getting out of your comfort zone could be the key to the enjoying the holiday season. Go Figure brings together two of the season's most popular sports — figure skating and ice hockey — to prove that this could be the time for opening up your heart and your mind. Who says a figure skater can't totally rock at hockey too?
Nothing makes me think of the holidays more than snow. This more recent DCOM explores what can happen when people come together to help each other achieve their dreams. Proving that your Christmas wish doesn't have to be all on you, this shows it's all about teamwork.
This movie combines the story of Hanukkah with the game of basketball. It's both heartwarming and thrilling. And to top it all off, it's inspired by the true story of Lamont Carr, a former University of Virginia basketball player.
Sometimes the best holiday spirit can come form recognizing the people and things you love most. Thanks, Disney Channel.
Images: Disney Channel; Giphy (4)