Stephanie & Kimmy Are Team D.J. On 'Fuller House'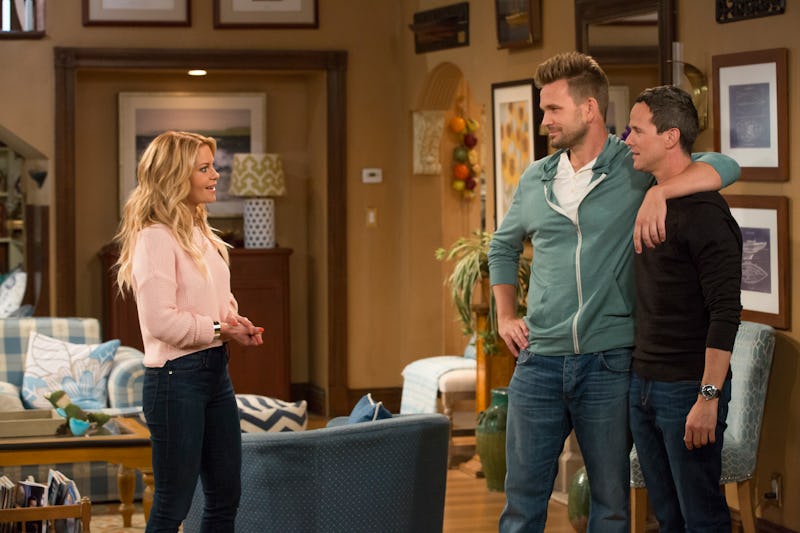 At the end of Fuller House Season 1, DJ Tanner faced a tough choice when it came to her two suitors — and she decided against picking either high school sweetheart Steve (Scott Wenger) or colleague Matt (John Brotherton). Her sister Stephanie (Jodie Sweetin) and best friend Kimmy (Andrea Barber) had their opinions about which man the eldest Tanner should pick. But in an interview with Bustle, Jodie Sweetin and Andrea Barber say they were pleased with DJ's Fuller House Season 1 ending and share their excitement for some fan favorite characters showing up during Season 2, which premieres on Netflix on Dec. 9.
When posed with the question of who they wanted DJ to choose in the Season 1 finale, Sweetin and Barber tell Bustle that no matter what, they're Team DJ. "It's hard for us to pick because John Brotherton has been such a great addition to our cast," Barber says. "We love him. But, you know, Scott's an OG, so we can't pick between one of the other." Sweetin adds: "I would not be able to pick personally. We choose DJ." Spoken like the true best friends and sisters that they are on-screen. In the revival series of the classic '90s sitcom, Stephanie and Kimmy move into DJ's home to support her and her children after the death of DJ's husband.
While Season 1 showed DJ torn between Steve and Matt, Season 2 will bring back DJ's old love interest Nelson from the original series, as well as some other surprise guest stars. During the original run of Full House, Nelson was played by actor Jason Marsden and the character will be played by Hal Sparks in Fuller House . "We had to do a little recasting," Barber tells Bustle. Marsden tweeted a series of videos in August in which he explains that he declined to reprise the role of Nelson when asked.
So could Nelson be yet another contender for DJ's heart? In Full House, Nelson showed more affection for DJ than she ever did for him and they'll encounter each other again at their high school reunion, according to TVLine. Sweetin and Barber say that second season will also feature the return of Stephanie's rebellious friend Gia (Marla Sokoloff), the introduction of Kimmy's previously unseen brother Jimmy (Adam Hagenbuch), and, according to Entertainment Weeky, a guest appearance by the '90s band New Kids on the Block, but it's unknown if they'll play themselves or other roles.
"There's a few other fun characters," Sweetin says of Season 2's guest stars. Added Barber: "There are others, but the fans of the original series will be very delighted. I can guarantee."
And of course, the rest of the Tanner family (and extended family) will be returning to the show as well. According to EW, Full House cast members Bob Saget, Dave Coulier, John Stamos, and Lori Loughlin will make guest appearances throughout the second season.
It'll be so good to have new episodes of Fuller House on Netflix to see the old favorites and newcomers who show up next — and to see who (if anyone) wins DJ's heart.
Images: Michael Yarish (2)/Netflix